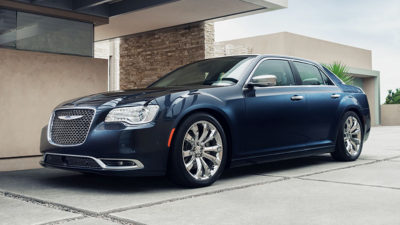 Once referred to as a "Baby Bentley", the Chrysler 300 has certainly come into its own and is no longer viewed as the poor man's copy of the definitively British, hoity-toity automobile. Can the luxurious and boldly American-made 300, with its sports-like styling, snatch just as many finger snaps as a Bentley?
The full-sized family sedan that mixes swag with refinement has an exterior look that's on fleek: squared off profile, aggressive stance, tasteful chrome touches, sculpted curves, dramatic trapezoidal mesh grille (enhanced by the signature floating wing), distinctive front and rear fascias, and sexy bifunctional projector headlamps.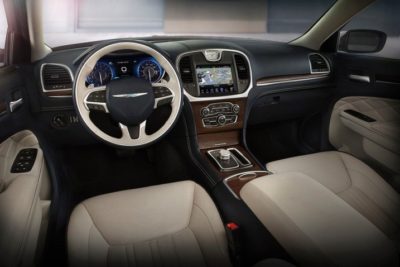 What is immediately evident once inside the 300 is its generous helping of interior space that's a great fit for those vertically and horizontally challenged folks. Soft touches everywhere, excellent fit and finish, quality materials: the American automaker definitely chose to go the premium route with the interior of the 300. The five-passenger, lumbar-pleasing, standard, leather-trimmed seating is bolstered and comfy enough for plenty of road tripping. The beefy, tilt/telescopic, multifunction steering wheel is a hands-down, feel-good fit.
On the techie side, the vehicle's Uconnect system is a cinch to operate. The 8.4-inch touchscreen interface has clear graphics and user-friendly doo-dads and also features AM/FM radio, SiriusXM satellite radio+, bluetooth streaming audio, voice command, hands-free calling+. As you step up in the 300's trim line, the tech packages run the gamut with such extras as voice text reply+ (not compatible with iPhone mobile devices, FYI), downloadable apps, mobile access, WiFi hotspot+, do not disturb, and a slew of emergency assistance features. Audiophiles will eargasm as they listen to their fave recording artists on the 300's top-tier audio system with options that include Alpine, Harmon Kardon, and the popular, must-have Beats. Chrysler, however, was a smidge stingy with regards to trunk space in the 300, which checks in at an average 16.3 cubes.
On the performance front, the 300 is a boss offering, a premium cush ride. Despite its large size, the 4,200-pound sedan is very maneuverable and remarkably nimble. As far as road-going capabilities, upon taking off (our test vehicle was a 300C Platinum AWD), the 300 is authoritative. Once the car gets going, it's composed, smooth, and confident with ever-so-slight body lean when taking corners. Going over road thumps, the 300's reactions are refined.
During highway passing moves, the vehicle provides more than enough oomph, fueled by a 3.6 liter V6 engine that releases 292 horses and delivers 260 lb-ft of torque. For those who want to really haul arse, there's a 5.7 HEMI V8 engine version that produces an impressive 363 horses and 394 lb-ft of torque. Braking response in the 300 is also pretty linear.
The 300 offers more than enough innovative safety and security features for its driver and occupants. Standard safety equipment on the car includes antilock brakes, traction/stability control and airbags all around, including one for the driver's knee, a rearview camera, and active front head restraints. The Insurance Institute for Highway Safety gave the premium sedan its top rating of "Good" in the moderate-overlap frontal-offset, side-impact, and roof-strength crash tests.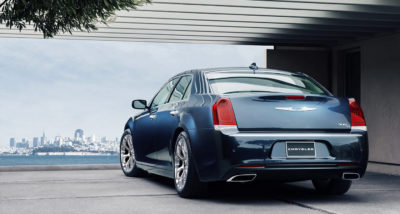 Since the 300 is a pretty big boy, is it thirsty at the pumps? Well, fuel-wise, the 300 receives a not too shabby EPA estimate of 23 mpg combined (19 city/31 highway) with rear-wheel drive, and 21 mpg combined (18/27) with all-wheel drive.
Overall, the 2016 Chrysler 300 hauls class, capability, and even with the resurgence of full-size sedans, it is certainly holding its own in the pack. The sedan has managed to maintain an enthusiastic fan base all these years and remains a solid choice for big car lovers everywhere. And yep, the 300 does get its fair share of finger snaps, maybe even moreso than a Bentley because you see more of them on the roads. So take that "guvnah!"
Keep up with Ruth (aka Car Chick) on Facebook.