Chevy's practical midsized 2016 Malibu Hybrid is hotter, more upscale and has the mouthwatering must-haves that a family would want in a sedan–reliability, comfort, eye-catching looks, peppy performance, cavernous innards and penny-pinching fuel savings at the pumps. The Malibu has certainly been doused with a substantial dose of smell-good newness, and no one would argue that it snatched a few styling cues from not only its big bruh, the Impala, but also from some Euros as well (BMW, Audi).
But does it have whip appeal?
Exuding sexiness from front to back, the Malibu Hybrid is elegantly sleek with sharp exterior windswept lines, particularly along the sides. Its svelte form–about 300 pounds lighter than its predecessor–and sloped rear roofline add more aggressive appeal to the venerable nameplate. The front end sports the company's signature grille and narrowed, sweeping headlamps. In the rear, the Malibu Hybrid has a kind of hatchback profile, and its Audi-esque looks add overall premium appeal.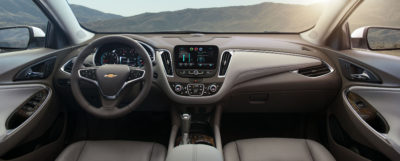 The Malibu Hybrid's sweet spot is its spacious Chevy signature dual-cockpit interior, where it's quickly apparent the right stuff was used. You'll immediately notice that upon closing the Malibu Hybrid's door, a cushioned thump is heard, which is oftentimes the musical note that higher-up rides tend to play to impress their owners.
The ventilated seating on the ninth generation sedan is nicely bolstered, real back and rump comfy. Talls should have absolutely no complaints with regards to the increased head- and leg-room front and rear in the Malibu Hybrid.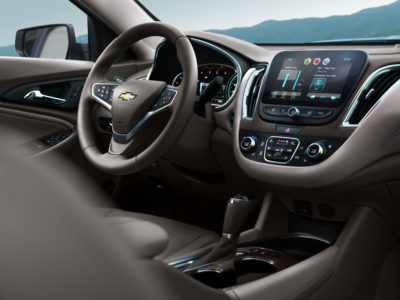 Everything on the dash is neatly incorporated and unfussy, with intuitive doo-dads that offer rapid response times. The standard 7-inch infotainment touch screen (also available 8-inch MyLink touch screen) offers vividly bold color graphics. There are available noteworthy tech features for the Hybrid like OnStar with 4G LTE connectivity and a standard, built-in WiFi hotspot for up to seven devices, wireless phone charging, USB ports, and six-speaker audio system. For greater smartphone integration both Apple CarPlay and Android Auto (offered on the higher trims) are compatible. Hoarders will bellyache, however, about the vehicle's stingy 11.8 cubes of trunk space–all because of its battery pack.
The Malibu Hybrid can operate all-electric up to 55 mph, with the engine kicking in at higher speeds. It's certainly unlike your typical garden-variety lame hybrid, because driving it was just all out fun. The sedan's weight loss results in impressive power, and it's lively enough to keep pulse rates a little elevated, offering enthusiastic passing capabilities, good steering feedback and nimble cornering. The car's ride is well damped and does a good job of filtering noise, vibration and harshness.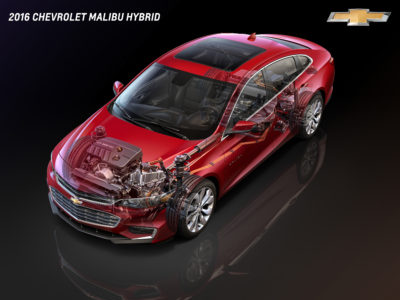 The vehicle matches a 4-cylinder, 1.8L engine to a two-motor drive unit (which assists with acceleration), for a combined output of 182 horsepower and 277 lb-ft of torque. Saving pocket change is always, in the words of the grand diva Martha, "a good thing" and at the pumps, the hybrid with its gas-saving stop/start technology (i.e. the car automatically turns off engine when it comes to a halt) that achieves 47 mpg/city and 46 mpg/highway is quite a jump over many of its hatahs.
From a safety perspective, the Malibu Hybrid, which was deemed this year's "Most Dependable Midsize Car" by the famed global marketing firm J.D. Power, comes equipped with antilock brakes, stability and traction control, ten standard airbags and a rearview camera, all of which is standard. Other safety "gotta haves"– blind spot monitoring system, lane keep assist with lane departure warning, forward collision alert with following distance indicator, front pedestrian alert, auto parking assist, adaptive cruise control with front auto braking and a slew of other options–can be added onto the higher trim levels.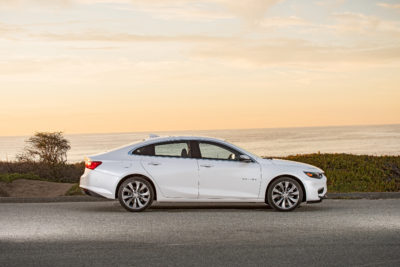 Helicopter Moms and Dads will be grateful for the Malibu Hybrid's Teen Driver system, that lets them set boundaries on their little angels' lead feet and audio system volume. It also allows parents to review a report card of their kid's driving stats.
Synonymous with practical reliability, great technological features and good looks, the 2016 Malibu Hybrid definitely won't get lost in the midsized crowd. Families will be drawn to its no-compromise environment of comfort and roominess, balanced handling, great fuel economy and solid build quality, not to mention its budget-friendly starting sticker price of $21,625.
With all this, does the well-rounded Malibu Hybrid have whip appeal? Well, what do you think?
Keep up with Ruth (aka Car Chick) on Facebook.