It's a sad day when you realize you'll soon be selling the hot little convertible roadster for a more practical transportation – with three rows of seats and all. You'll probably toss back a couple of Shirley Temples to soothe your pain, moaning over those missed Sunday afternoon drives to nowhere with your special date just so you can hear the engine and feel the chassis beneath you. But, before leaping into drag with mascara running, I can help take the sting out of this sad affair. Go drive the stylish new Mazda CX-9.
Mazda designers are creasing sheetmetal so deftly that scalpels should be trembling inside Audi studios. The Miata is stunning, and so is the CX-9 that draws cues from its roadster sibling. A hunkered roofline tops a sculpted body fronted by Mazda's trademark grille flanked by LED headlamps and ended by chiseled- in LED taillamps. But, check how the hood is folded over the grille and headlamps. LED fog lamps, rear roof spoiler, chrome exhaust outlets, and 20" alloys continue the style barrage. Adaptive front lighting bends around corners. It's a car that beckons you for a date.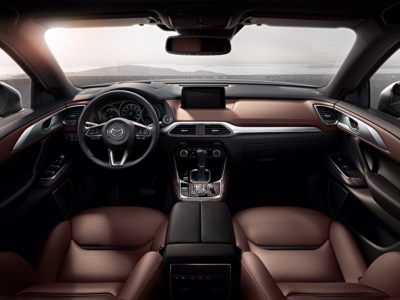 Once planted, the high console and large analog gauges remind you of the Miata – as does the 8" color display screen controlled by a joywheel in the console. The little chrome volume knob is within finger's reach of it. You'll use the knurled controls to tap into the Bose audio system and navigation. Below the screen, low in the dash, rests tri-zone automatic climate control, USB jack, and deep consoles – including one under elbows with two padded doors. A power moonroof welcomes sunlight.
Cabin details impress. Our car came with brown nappa leather with contrast stitching and perfectly-sized leather-wrapped steering wheel. Aluminum and rosewood trim lend a crafted feel while heated front seats, power open/close rear hatch, and keyless entry/starting add comfort and convenience. Safety is enhanced with radar adaptive cruise control, rearview camera, trailer stability assist, blind spot monitor, rear cross traffic alert, backup sensors, lane keep assist, and auto braking. Five passengers fit better than seven, but all your peeps will be safe and spoiled.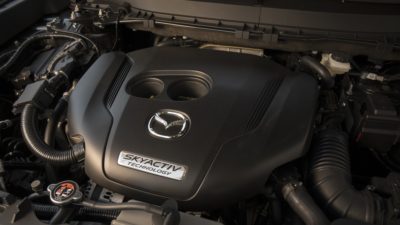 Under the tailored hood beats a 2.5-liter turbocharged four-cylinder engine that delivers 227 horsepower and 310 lb.-ft. of torque. The six-speed automatic transmission with sport mode shifts crisply. That's enough power to accelerate briskly with four aboard, but fully-loaded with the all-wheel-drive system active, it's not an over-abundance of power. The upside is relatively generous fuel economy ratings of 21/27-MPG city/hwy.
There always seems to be a little bit of the Miata's soul in every Mazda. There's no getting around the fact the CX-9 is a large three-row crossover, but the four-wheel independent suspension system and large wheels grip the road without shaking silicone (or whatever) over rough pavement. Steering is quick and the Sport mode holds gears a little longer to rev out the engine. Tucked inside, you can almost imagine flogging a sports car (or whomever).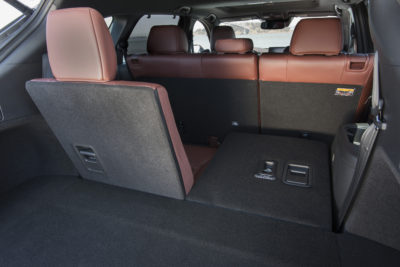 So, when it comes time to grow up, don't cry your ugly cry. There's a sexy crossover that can take the entire troupe clubbin' or the kids soccer ballin'. With a base price of $31,520, or $45,215 as tested, competitors include the Ford Explorer, GMC Acadia, Volvo XC90, Dodge Durango, and Hyundai Santa Fe.
Storm Forward!
Send Casey comments at [email protected], and be sure to follow him on YouTube and Twitter.
2016 Mazda CX-9
Seven-passenger, AWD crossover
Powertrain: 227hp 2.5-liter Turbo-4, 6-spd. auto trans
Suspension f/r: Ind/Ind
Wheels f/r: 20"/20" alloy
Brakes f/r: disc/disc
Must-have features: Style, utility
Fuel economy: 21/27 mpg city/hwy
Assembly: Hiroshima, Japan
Base/As-tested price: $31,520/$45,215