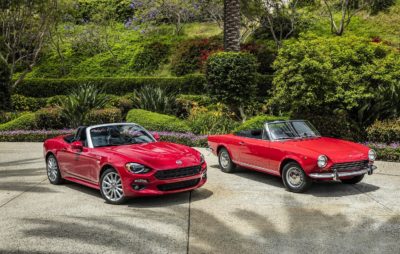 During an interview with AC/DC's Brian Johnson, the author of a book called Rockers and Rollers, he said something I'll never forget: "A long hood just does something for a car". Of course, he also went on to compare that long hood to a certain male appendage, but he had a point. There's nothing like seeing a long, powerful hood on a sports car – and it's an even better view from behind the wheel.
Turns out, a long hood is the most distinguishing feature between the Fiat 124 Spider and the car on which it's based – the Mazda MX-5 Miata. Yep, the student has become the master as Fiat enlisted Mazda to build it a successor to the classic 124 Spider. While much is shared, and the Fiat is built in Hiroshima, Japan, there are significant differences that add up to a pleasantly different car.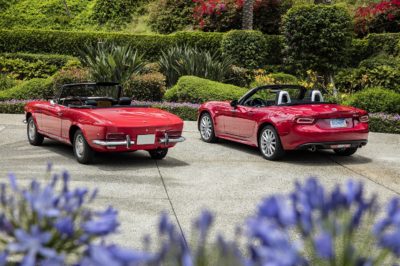 From the exterior, you'd be hard-pressed to discern Mazda DNA. The Spider is 5" longer than the Miata, mostly displayed in the longer nose and rump. Styling echoes the original 124's Pininfarina bodywork with its inset round headlamps, upper grille shape, hood sculpting, hiked up rear fender line, and rectangular taillamps. The Fiat logo on the hood looks like it belongs on some Texas cowboy's belt, but the car has a certain Italian flair. Our Classica-grade roadster rides on 16" wheels, but 17" alloys are available on up-level Lusso and Abarth trims.
Once you fall inside, it's pure Miata. You can get heated leather seats, 9-speaker Bose audio, and an array of advanced safety tech like Blind-spot Monitoring, Rear Cross Path Detection, and back up camera on the Spider, but our car had none of that. It's the absolute base model with cloth bucket seats, leather-wrapped steering wheel, power windows, and a manual soft top that you can deploy using the "Miata Hat Trick" (bend backwards and pull forward) from the driver's seat.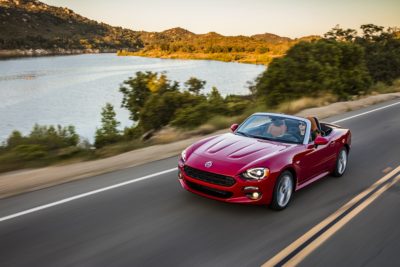 Our car also had air-conditioning, cruise, elegantly simple gauges with the tachometer front and center. The trunk is miniscule, but a large cubby behind the seats helps. I have two main gripes about the interior. The first are the cupholders, which are placed at your elbows. That would be perfect if I had hands in my elbows. Our base model's stereo with USB and Bluetooth sounded good, but after a week of driving, I still couldn't figure out how to access menus on my music player. Fiat Chrysler touchscreens are among the world's best, so this was a surprise.
The most significant difference beneath the skin is the powertrain. The Miata comes with a 2.0-liter four-cylinder engine delivering 155 horsepower and 148 lb.-ft. of torque. It will scoot, but you have to rev the fillings out of it. Fiat supplants that engine with its own 1.4-liter turbocharged four-cylinder, out of the 500Abarth, that delivers 160 horsepower and 184 lb.-ft. of torque. To handle the extra torque, Fiat employs the last-generation Miata's six-speed manual transmission. Properly footed, the Spider scampers from 0-60 mph in 6.3 seconds on the way to a 140 mph top speed. Fuel economy is a frugal 26/35-MPG city/hwy.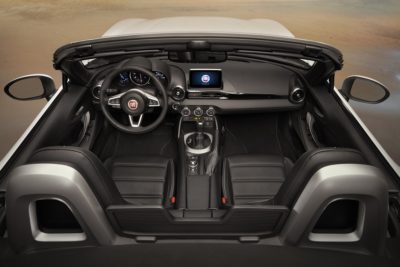 Fiat also recalibrated the electric power steering to be a little less aggressive and the suspension feels slightly more compliant. A stiff structure ensures nothing creaks, squeaks, or cowl-shakes. All of the changes add up to a car that's still fun to drive, but feels less twitchy and more relaxed whether commuting to work or working your way through a series of S-bends. I also remembered how much I liked the previous Miata's click-snick transmission.
In transforming one icon into another, Fiat fixated on its longer hood. But I think it succeeds in creating an enjoyable roadster, differentiated from Mazda, which fits into U.S. showrooms. Our car's base and final price is $24,995, making it competitive with the Smart ForTwo Cabrio, Mazda Miata, Subaru BRZ, Ford Mustang Convertible, Chevy Camaro Convertible, and Nissan Z.
Storm Forward!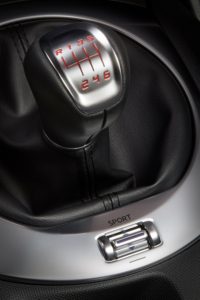 Watch Casey's video review of the Fiat 124 Spider above, and follow him on YouTube and Twitter: @AutoCasey.
2017 Fiat 124 Spider
Two-passenger, RWD Roadster
Powertrain: 160hp 1.4-liter Turbo-4, 6-spd manual trans
Suspension f/r: Ind/Ind
Wheels f/r: 16"/16" alloy
Brakes f/r: disc/disc
Must-have features: Handling, Drop top
Fuel economy: 26/35 mpg city/hwy
Assembly: Hiroshima, Japan
Base/as-tested price: $24,995/24,995