Every summer, Fiat Chrysler invites a bunch of movers and shakers (I don't know how I swung an invitation) to Michigan to see what's new for its upcoming model year. It's exciting to get a look at some of the changes, big and small, that will appear on car lots once the leaves turn colors.
For 2017, there is a new Fiat 124 Spyder (more on that in a follow-up review) and that's pretty happening, especially if you are into the Mazda Miata or its many incarnations. Everyone who was there really went lady ga-ga over that car, even as some larger-than-life men struggled to squeeze into the roadster.
I've always felt that the Fiat 500 is one of the gayest cars on the planet.  What's new for 2017 for our little Xanadu / Can't Stop the Music party on wheels (sans Caitlyn Jenner when she was Bruce)?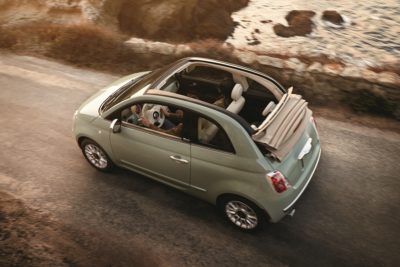 The Fiat 500 continues to be a very practical and very LGBT car for 2017. The base 500c can now be had for as little as $15K, but it's a two-door. Go up the food chain a bit and get a 500 Cabrio (convertible, which is optional) with a 'Four-Position Top' (Fiat's words), which allows you basically four positions.  Unlike many gay porno actors, this top is very versatile: it can be wide open, completely closed, provide coverage for just your backseat passengers, or cover everyone while still allowing for overhead breeze. This feature will only be available on the base 500.
The Fiat 500 L will have just three trims for 2017 – Pop, Trekking, Lounge (in ascending order) – instead of the four offered for 2016. You can now get a new Urbana Package for the 500, which is simply an appearance package but an impressive one: color mirror caps, color roof, dark wheels, cool interior colors and interior leather are all part of Urbana.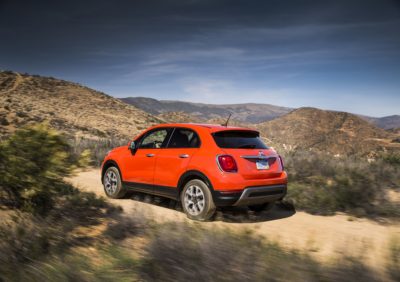 The Fiat 500 X will offer All-Wheel Drive, and the Pop trim comes with 17-inch wheels, Beats audio and is now available in twelve groovy colors, one being Latte Menta, which to me looks like a 1950s costume jewelry turquoise – but it could be similar to that internet dress (what color is it really?). There is also a Fiat 500 E, an electric car that will be available only in California and Oregon, mostly because there are plenty of public charging stations for electric cars on the West Coast.
I'll be writing more about what's new at FCA for 2017, and tell you more about the new exciting 124 Spyder.  It's an attractive car, and the buzz has already been great. Sense and sensibility be darned when you cast an eye on this Spyder, which is more affordable than you may think…