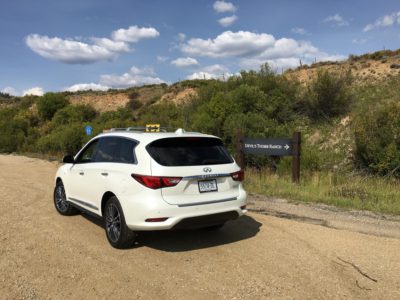 "First impressions aren't always correct."
"It's the little things that count."
We've all heard and used phrases like these — hackneyed phrases that have lost all meaning, becoming simply trite and irritating. But clichés become commonplace because there's often a shred of truth to them.  The 2016 Infiniti QX60 proves that point.
My first impression of the QX60 came from a 20-minute demo cruise during the Rocky Mountain Drive Experience.  The word "banal" could've been my one-word summary of the experience: lacking freshness or originality.  Or maybe, meh — as in "whatever"!
Now to be fair, the Rocky Mountain Drive Experience event included some 39 vehicles, and I only managed to get into 22. At that time, compared to the Jaguar F-Pace, BMW X5e, and Mercedes-Benz GLC300, the Infiniti QX60 was somewhat eclipsed by the other premium SUVs and crossovers.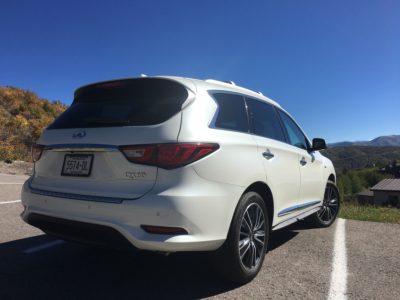 After the event, I was able to spend a bit more time driving the QX60 around Denver and up to Aspen in the Rocky Mountains, and I gotta tell ya, my first impression was flat-out wrong. Legally Blonde's Elle Woods nailed it in her valedictorian speech about first impressions often being incorrect.
"It's the little things that count" is also true with the Infiniti — little things like the comfortable interior that's roomy enough for seven passengers and still opulent. Other important "little things" include integrated turn signal mirrors, a 360-degree-view parking camera (though the resolution was low), a front and back collision mitigation system, and an intelligent cruise control included in the Deluxe Technology Package — not to mention the plethora of safety features that have earned the QX60 a 5-Star rating from the National Highway Safety Administration.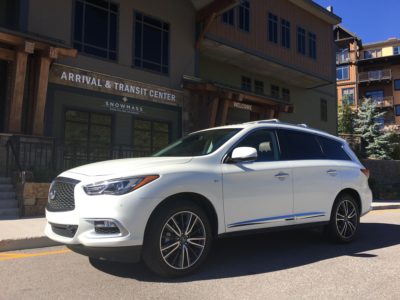 With its lack of gear changes, the QX60's continuously variable transmission is perfectly mated to a throttle calibration that's responsive and progressive. The 265 horsepower V6 3.5L engine provides plenty of  power to pass on steep grades.
I admit, my knee-jerk response to the QX60 was off-base. After spending some quality time in the car, I understand that the Infiniti QX60 is a fantastically serene mountain driving machine, and it's not too bad around town, either.
MSRP: From $42,600
Dimensions: 196″ L x 77″ W x 69″ H
MPG: Up to 21 city / 27 highway
Towing capacity: 3,500 lbs
Horsepower: 265 hp