Every summer, Fiat-Chrysler brings several tons of automotive geeks to Michigan to show off what will be on dealer lots come autumn.
People who write about the automotive industry come from all walks of life, which is a good thing, as any LGBTQ person knows. But despite the diversity at events like these, there are still many, many pasty, Republican-looking, male car geeks who truly seem to be getting off on the opportunity to get near something new that few men have yet to touch. I try not to interrupt them while they're pleasuring themselves, then take an objective look at what will soon be on consumer minds and dealer asphalts in a few months.  Admittedly, much new stuff gets past me, but here are a couple of items I felt were standouts for 2017: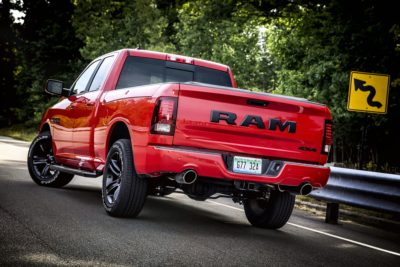 Ram 1500: The Music of the Night
The Ram 1500 for 2017 will get a new Night Edition, complete with blackout grille with black mesh, 20-inch black gloss wheels (painted aluminum) and black running boards. If you like everything in your life to be fast and strong and black (not dark), and you've always wanted a truck, you will like the Night Edition.  IMHO, it's aimed at urban types and metrosexuals. It's definitely not for the off-roading crowd, but you could go off-road nicely.
The interior is very nice and black – how exciting is that?  There is also the very handy Ram Box, which is drainable (for ice) and lockable (for tools). Included is a bed divider (does that sound gay to you?) that is also a tailgate extender (no one told me what that was). Apparently, Black is the New Orange for 2017.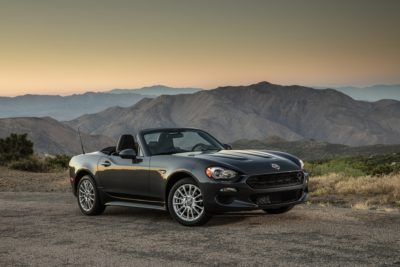 124 Fiat Spyder: A living, spunky Roman Holiday
Everybody is going Gaga over the new 124 Spyder (including our own Casey Williams). That's to be expected: it's a sharp-looking two-seater that's ready for all roads leading to Rome or all highways leading to all the Pride events in Southern California. Truly, the 124 Spyder is like a Miata: just as much fun, just as much style, just as much gay, all with a 1.4-liter turbo engine that really is quite peppy.
The trims are truly Fiat-y: the Classica (Base trim) is $25K, the Lusso and Abarth are the step-up trims (under $32K). The 124 comes with a manual soft top (who wants a soft top?) that you can reach, open and close yourself while you're sitting in the driver's seat.  Sure, it was easy to do, but I never like to do a reach-around in a car, especially a tight car. Throw in several premium Bose speakers and you have a car that's perfect for your Technicolor high-fashion getaway.
If adverse weather is part of your winters, you may want to pass on this one.  Much like the butch bear you dated who turned out to be a persnickety princess, the 124 Spyder will tolerate bad weather, but not for long.
* * * * *
As we move into the first term of a Rodham presidency (mark my word, Hillary is going to drop her husband's name), I'll be keeping you up to date on the latest and greatest from Fiat Chrysler. They've been making some impressive cars as of late, and given that they were little more than walking dead around the turn of the century, the comeback and growth has been impressive.
See, when the world goes gay and lets all Q people breathe openly, everything is better, even for stodgy old Chrysler, who once gave us something called the K Car.