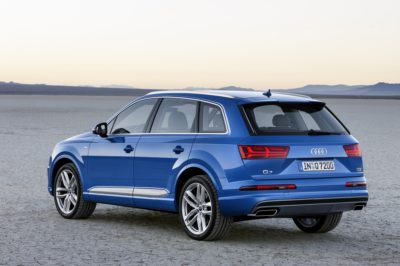 My family is spread across Texas and Indiana, so when it comes to the holidays, there's actual jetting involved, but also long drives in cars that rival private jets. While driving the Audi Q7, we had family gatherings a couple of hours away in three different directions. I did all of the driving, but you won't hear me complaining. Nor, did I hear a peep out of the cheap seats.
The Q7's wrapper is typical Audi, meaning it is smooth, deftly creased, and understated. I wouldn't call it naturally beautiful, but it is muscular, planting a wide stance over 20" 10-spoke alloy wheels. A long body tapers to the rear in a classic shooting brake profile. It's only when you get close that you realize this cavernous hunk is large enough to contain three rows of seats. From its bold grille flanked by LED signature lighting to wrap-around LED taillamps, it looks ready to own the left lane.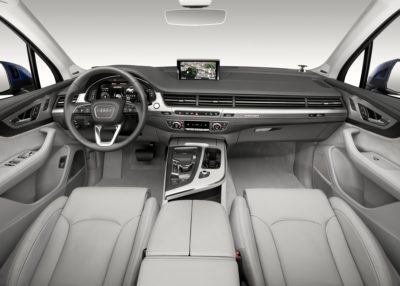 Private winged conveyances have an edge in speed, but not luxury, over the Q7. I was perfectly happy sitting on my heated and cooled throne, gripping the thick power-adjusted steering wheel, and listening to the Bang & Olufsen Advanced 3D Sound System that played tunes of all seasons to their shining best. Four-zone automatic climate control and a dual-pane panoramic sunroof add comfort. While the Q7 technically has a third row seat that power folds into the floor, only children with elfin legs should ever consider riding there.
Our Q7 has neither adaptive cruise control nor active crash avoidance systems, but it is still a technical tour de force. I'm a big fan of the heads-up display and reconfigurable instrument panel that lets you see a wide screen expanse of what's ahead of you in navigation mode. It's more a computer screen than instrument cluster. In theory, Audi's MMI touch system lets you conjure information by fingering letters, but it takes way too much attention from the task of driving. After a steep learning curve, it does summons audio, navigation, and vehicle functions relatively easily. An intuitive touchscreen flanked by volume and tuning knobs is preferable. Tap into the 4G LTE Wi-Fi to get over it.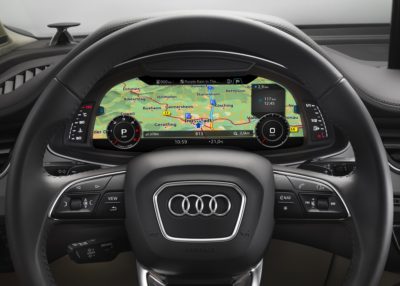 Aimed at the Interstate, the Q7 gathers itself quickly and puts a bead on the horizon. Between the chiseled fenders is a 3.0-liter turbocharged six-cylinder engine that delivers 333 horsepower and 325 lb.-ft. of torque. All of that power is routed to the Quattro all-wheel-drive system through an 8-speed Tiptronic automatic transmission with paddle shifters. Audi claims it's capable of clicking off 0-60 mph in 5.7 seconds on the way to a 130 mph top speed. Fuel economy, when less than fully throttled, is decent for a fleet-footed three-row crossover at 19/25-MPG city/hwy.
For a vehicle that weighs nearly 5,000 lbs., the Q7 a nimble speed wagon. The Audi drive select system, which employs an air suspension and four-wheel steering, is adjustable for Comfort (soft, less aggressive), Auto (it'll figure out what you want), Offroad (raises the vehicle), Dynamic (Audi's version of Sport), and Individual (customize throttle, chassis, and shift points to suit your tastes). I left it in Dynamic most of the time, enjoying a comfortable highway ride and a willingness to slice up fast on-ramps. It quietly rumbled over rough city pavement.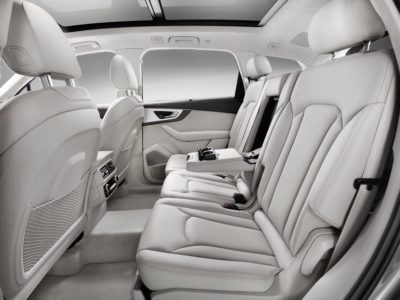 If you're going to load up the family and jet from one gathering to another, separated by hours on the highway, the Audi Q7 is a good choice. It's comfortably fast when you want it to be and spaciously advanced always. I'd just stow the third row seats and skip fingering commands into the MMI system to keep things simple.
A base price of $49,000, or $74,825 as tested, puts the Q7 against the Volvo XC90, Cadillac Escalade, BMW X5, Dodge Durango Citadel, and Mercedes-Benz GLE.
Storm Forward!
Watch Casey's video of the Audi Q7 above, then follow him on YouTube and Twitter: @AutoCasey.
2017 Audi Q7 3.0T
Seven-passenger, AWD Crossover
Powertrain: 333hp 3.0-liter Turbo-V6, 8-speed auto trans
Suspension f/r: Air Ind/Ind
Wheels f/r: 20"/20" alloy
Brakes f/r: disc/disc
Must-have features: Comfort, Quality
0-60 mph: 5.7s
Top speed: 130 mph
Fuel economy: 19/25 mpg city/hwy
Assembly: Bratislava, Slovakia
Base/as-tested price: $49,000/74,825