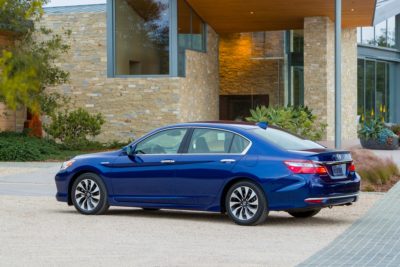 While the Honda Accord has been around over 40 years, the new Hybrid doesn't look a day over 29. Its youthful smooth body with glistening lighting only serves to draw attention to the technology beneath the shredded sheetmetal. All that's made Accord one of the world's most popular cars conspires with automated driving features to elevate it to among the most advanced.
Putting power to pavement is a little complex. The hybrid system starts with a 2.0-liter four-cylinder engine. System output reaches 212 horsepower – the highest of any midsize hybrid sedan. As you would expect, it's also very efficient, posting 49/47/48-MPG city/hwy/combined. Nearly 50-MPG in a roomy family sedan is impressive, but not easily achieved.
Accord Hybrid can operate in three modes: EV Drive, Hybrid Drive, or Engine Drive. In the first, the lithium ion battery pack can drive the car short distances without starting the gas engine. In Hybrid Drive, the electric motor drives the wheels while the gas engine replenishes the battery pack. In the last mode, both the gas engine and electric motor drive the front wheels. Drivers can choose EV Drive, but the car will also choose modes to operate most efficiently in all conditions.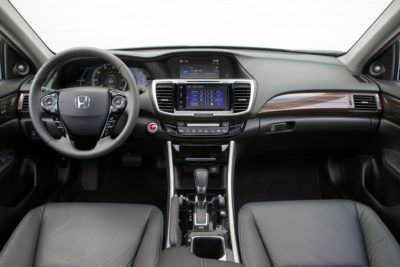 I drove the car through stop-and-go city traffic, on expressways, and hauling tail across open Interstates. Clocking 49-MPG in city driving is impressive – especially since the car moves quickly and smoothly under electric power. Under throttle, you can hear the engine revving strangely as it moves out, but it moves out. On the highway, you can feel the powertrain switching between electric, gas, and both, but it's not overly annoying and delivers impressive fuel economy.
And, that's not even the best of the Accord Hybrid's electronic wizardry. The car comes standard with "Honda Sensing" – a grouping of safety tech like Adaptive Cruise Control, Collision Mitigation Braking, Forward Collision warning, Lane Departure Warning, and Lane Keeping Assist systems. It also has a Road Departure Mitigation system that guides the car back into its lane. If you want to preview the future of driving, press the little steering wheel button on the steering wheel. It allows the car to self-center in its lane automatically. Lightly grip the wheel and watch it keep the car going straight. Very cool. A multi-angle rearview camera and Honda's Lane Watch camera provide all-around vision backing and turning.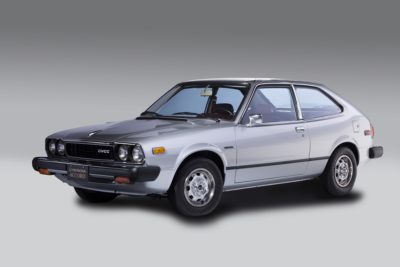 Honda's flag carrier receives styling upgrades for 2017 that make it appear both sportier and more futuristic. Our Touring edition glistens with LED headlamps, foglamps, and taillamps that look like jewels. A sculpted aluminum hood sits atop a brighter and more pronounced front grille. Restyled bumpers and facias lend the car a more upscale appearance. Place it over 17-inch aluminum wheels. It all looks expensive while design cues connect it to four decades of cars.
Like all Accords, the Hybrid's interior is nicely-tailored. Honda realizes it has a problem and is working to correct it, but the infotainment screen is a ridiculous collection of confusion with volume and tuning that defy actual knobs. Radio channels and music menus swipe like an iPad, but it takes seemingly forever to sync music files and boot up. I figured it out, but Honda can do better. Check the new CR-V for proof. Comfy heated leather seats, classy woodgrain dashboard trim, and kicking audio system are all very nice.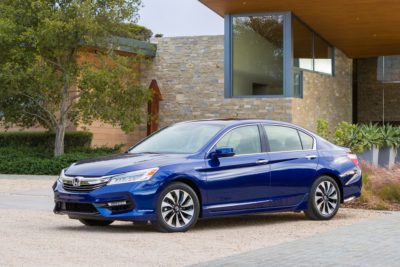 Like most of my 40ish friends, the Accord will probably just be 29 forever. With a sexy body, demonstrated efficiency, gleaming lights, and soothing luxury, it will never have to explain anything. The infotainment system is a confusing mess, but the rest of the car is all the original Accord dreamed to be. A base price of $29,605 – $36,790 as tested – makes 29, not to mention 40, look pretty good.
Storm Forward!
Watch Casey's video of the Honda Accord Hybrid above, and follow him on YouTube and Twitter: @AutoCasey.
2017 Honda Accord Hybrid
Five-passenger, FWD Sedan
Powertrain: 212hp 2.0-liter I4, li-ion batteries
Suspension f/r: Ind/Ind
Wheels f/r: 17"/17" alloy
Brakes f/r: regen disc/disc
Must-have features: MPGs/Safety
Fuel economy city/hwy: 49/47 mpg
Assembly: Sayama, Japan
Base/as-tested price: $29,605/36,790