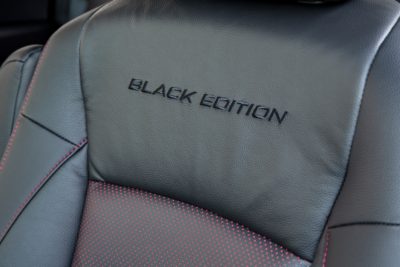 They (whoever they are) say black is slimming. Black is the New Orange. The blacker the berry, the sweeter the juice (to quote Hairspray). For the 2017 Honda Ridgeline All-Wheel-Drive Black Edition, all of that blackness is true–and more. This is the stunning accessory you need to go with that little black dress or dress-up that we all don on certain nights. It's a looker–and rather competent.
The Honda Ridgeline is all-new for 2017. There is better engine performance and better gas mileage this year, along with more user-friendly technology and more cool stuff on higher-end trims…except for the Black Edition, which is a trim unto itself. You will get leather trim, power heated front seats, floor mats (always a big deal for trucks), power moonroof, remote engine start, sharp-looking accents, and a collision system that I don't feel anyone should have to live without. Originally built for the Honda-lover who wanted more than just a great car, the Ridgeline delivers in so many ways, just not to the door of your inner-city condo where even the emergency parking spots may be too small.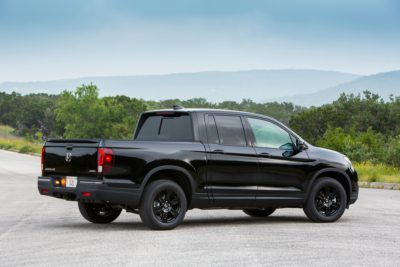 You get a standard 3.5-liter V6 engine giving up 280 horses. The curb weight is 2 ¼ tons with a towing capacity of 2 ½ tons. Throw in three heavy-duty passengers and a beefy driver and you've got the butchest party in the Bass Pro Shop parking lot–and the most festive (just add your favorite DJ mix) and the safest (since you probably won't have Guns and Ammo but Buns and Amore). Mileage is a combined 21 mpg, but look at it this way: it's cheaper than going to U-Haul and hoping they have something available next weekend.
Just in case you might use this truck to move furniture, my brother-in-law and I moved both a queen-size bed and a king-size bed (one at a time) and found that the queen, when squished at bit (ha ha) can fit into the truck bed.  The king, however, had some noticeable overhang (not always a bad thing in a king). Still, with some ropes and someone like my brother-in-law Doug, who knows what he's doing, a little butch adventure like moving can be made a lot easier with the 2017 Ridgeline. (One thing about a black exterior in winter: all the dirt from the road can make it a bit dingy. Be sure to wash when possible so it shines just like you do.)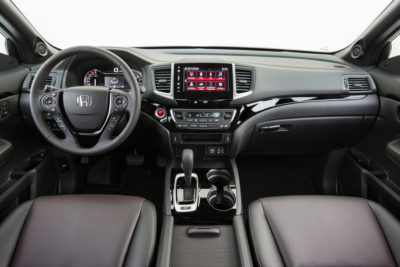 This baby starts at $42,870, which ain't bad for a combo truck/SUV/party wagon with a really butch Dark Knight look to it. The takeaway here is that if you really do tow a lot or go off-road often, this may not be your best bet.  You get the AWD but no 4WD is available. The only truck configuration you can get is the short-bed, crew cab combo. Yes, Dorothy, sometimes in life, there are limits. But if you want a nice combo that can do each function well (up to a point) and need to be somewhat practical about it, the 2017 Ridgeline is worth your consideration.
I loved driving it. This isn't a behemoth, but it does make a presence, and as with anything that can bowl people over when they enter the contest, caution is always advised. Driving this maneuverable beast in town can be a challenge…
…especially when trying to grab a ginger-bear latte from the pickup window.