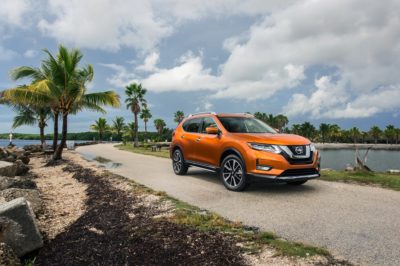 I like to think of this year's Nissan Rogue as the girlfriend/boyfriend you should try at least once to see if you can really be happy with something/someone that is an all-around good thing but perhaps nothing that can impress your cranky/challenging friends. Or satisfy your primal urges.
This rogue warrior is all brand new 2017, and I will tell you, I did enjoy driving it. One of the complaints from the hinterlands of the internet is that the 2017 Rogue lacks acceleration and is a bit of a dullard to drive. I say "so be it". There are not a whole lot of legal opportunities to give a car gas and show the other poor saps on the highway in used cars just how powerful your roar can be. And even when you do open up the throttle, you will most likely have to slow it down in a few seconds or risk a $150 speeding ticket. Although, if the worst were to happen and you did forget to slow down, (which some people have done in the past), you could always look for somewhere similar to this avocat ticket a Montreal service to see if your speeding ticket can be contested. It would be worth it, especially if it means getting to drive great cars at full speed, (but I shouldn't condone it).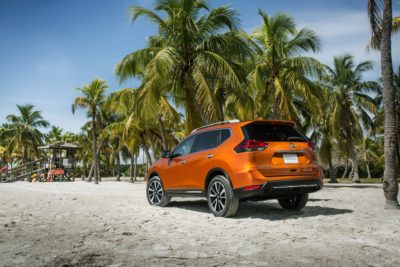 On a line-by-line basis, the 2017 Rogue comes in about average. And when I say "average", I mean that lovingly. People always want more for their money. People always want to be impressed but have a problem paying for it. Some voters want a reduction in their taxes but also want expanded police, fire and other services–but I digress. For the money, the 2017 Nissan Rogue is a good car with plenty of room, plenty of comfort, and a touch of class that doesn't make you say "Wow" but can get you to sigh "Ahhh", just like a dentist or other oral expert.
To me, this Rogue is a really big car, or so it seems. It's considered a compact and crossover SUV and even comes with a third row of seats, though I didn't try the third row because it looked a little too cozy, if you catch my drift. I like how this new Rogue feels like a big truck-based car even though it's not. (If you want to go up the food chain, try the Nissan Murano, which is an impressive vehicle IMHO.)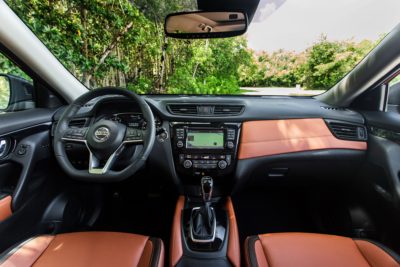 Mileage is a combined 27 mpg, which ain't bad. I found it to be easy to maneuver and (especially in gay urban areas) easy to park. It's a fun car, even if there are some dissenters out there. And in case you were wondering, yes, you can get a designer Rogue that looks like a Storm Trooper from the Star Wars' movie Rogue One. Click here for more information. (And click here for a moving tribute to the original and only Princess Leia, Carrie Fisher.)
Our very own Casey Williams also likes the 2017 Nissan Rogue and came up with a lot more technical and impressive words to describe all that it does. We here at Gaywheels.com try to keep a variety of opinions on-hand so that you can get as much reliable information as possible (spoiler alert: I got this job based on my looks ;-). Click here for Casey's comprehensive review.
Whoever raised you probably told you to be careful of the flashy and stick with what is known, especially for the long haul. The 2017 Nissan Rogue is that known entity upon which you can rely. Glitzier drives await, but there is a cost and there is always a downside. Your guardian (legal, spiritual or otherwise) would approve of the 2017 Rogue and tell you not to overreach for the unknown making many promises for which you will pay for a long, long time.
Case in point: The President of the United States (god, it hurts even to type that!).