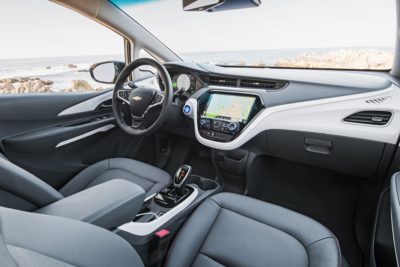 What would convince you that an electric car suits you, your garage, and your lifestyle? How many miles must it go between charges? How much storage space and passenger capacity would be required? What must it cost for you to sign on the line? Whether you're a born-again EV evangelist or are just looking for a car to get your rear and gear around town, Chevrolet may have the answers in the form of the 2017 Bolt. I just drove it in San Francisco.
It's an electric vehicle – not an extended range electric with a back-up engine nor a hybrid. It moves via electricity (and maybe a bit of a tailwind). Before this gets you all uptight about driving range, the Bolt travels 238 miles per charge – enough that you can just drive without worrying about it. Use the charging station app and you could drive 200 miles, shop all day, and drive back – all while leaving fossils deeply buried.
Plugs aside, the Bolt packs 200 horsepower, 266 lb.-ft. of torque, and will run 0-60 mph in 6.5 seconds. That's lightning quick for a compact grocery-getter. But even better, instant waves of silent torque sweep you up to speed, trolls the left lane with reserves, and creeps through traffic with zero tailpipe emissions. I'd buy it just for the EV driving experience that compares to gas-powered cars as piston engines compare to jets.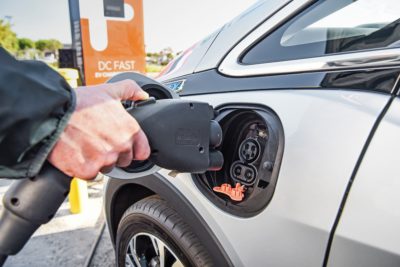 You can charge the Bolt on household 120-volt outlets, but that takes an eternity. Most owners will outfit their garages with a 240-volt charger, available from AeroVironment and financeable as part of the car's purchase price, that fully charges the batteries overnight. Public fast charging adds 90 miles of range in 30 minutes. If Starbucks was smart, it would place charging stations at all of its coffee shops.
I spent nearly a full day driving in the twisty mountains around Palo Alto, charging up the steep hills of San Francisco, swishing through switchbacks on Highway 1 along the Pacific, and eeking through tight city traffic along the wharfs. Dropping off colleagues and their gear at the airport and flat-footing it back to the hotel through fast freeways presented no more trouble. Pure delight.
Part of the car's magic comes from a Low mode and "Regen on Demand". In Low, the system more dramatically re-charges the batteries when you lift the throttle, slowing the car without brakes. By pulling a steering wheel paddle, Regen on Demand replenishes the batteries aggressively. You can almost drive the car with just your right foot.
There's a lot of hard plastic inside, but it's nicely styled with a shimmering and textured white swath sweeping from the doors, across the dash, and under the center control pod. With the 60 kW lithium-ion battery pack sandwiched beneath the car, passengers enjoy wide flat floors. A deep center console, under-dash shelf, and big door bins enhance storage. With rear seats folded, the Bolt holds a crossover-challenging 56.6 cubic feet of cargo. Four people fit easily, but five survive in a pinch.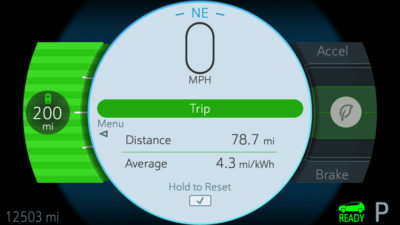 They'll enjoy available heated seats front/rear, heated steering wheel, automatic climate control, and Bose audio system. Apple CarPlay and Android Auto compatibility configure the 10.2" touchscreen for easy navigation of infotainment and vehicle power tracking functions. Drivers face a large instrument screen that can be configured to display battery level and driving coach to get the most out available charge. An available smart phone app lets owners remotely pre-condition (heat/cool) the cabin, check charging levels, schedule charging for off-peak pricing, or even lock the doors.
Safety was part of the design. Camera-based Low Speed Forward Automatic Braking mitigates collisions with vehicles and pedestrians. Available Lane Keep Assist, Side Blind Zone Alert, and Rear Cross Traffic Alert also help. A Surround Vision camera system, rear parking sensors, and rearview camera mirror keep focus.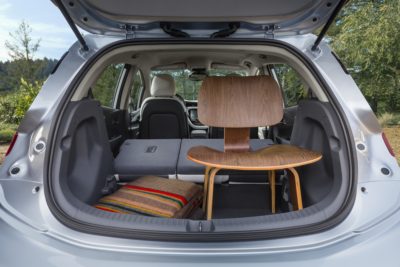 All that, and it's a pretty stylish monobox design. Some electric cars look fragile, but Bolt looks dynamic, athletic, and robust. An aggressive front facia, ribbed bodysides, and sloping rear roofline with floating C-pillar echo expensive crossovers. Roof rails allow owners to clamp attachments for bicycles, surfboards, or luggage carriers, though that adds drag and reduces driving range. Still, the idea of tossing a board on the roof and heading to the beach for the day sounds really appealing!
The Bolt is not just "OK for an electric car," it's brilliant because it's an electric car. Chevrolet hit the right formula by delivering a functional ride, capable of doing everyday things, that goes 238 worry-free miles. Doing it for $29,995 with the $7,500 federal tax credit makes it affordable. Given the Bolt just won North American Car of the Year during the Detroit auto show, others apparently agree. It's the car of the future, fully realized today. Sales began in California during December, but will roll out nationwide by this August.

Storm Forward!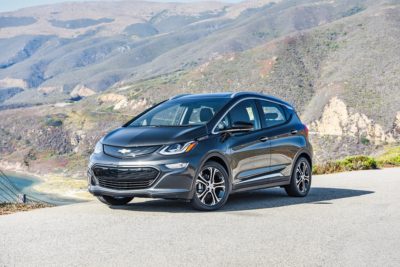 2017 Chevy Bolt EV
Five-passenger, fwd 5-door
Powertrain: Li-ion batteries/motor (200hp)
Suspension f/r: Ind/Compound-crank
Wheels f/r: 17"/17" alloy
Brakes f/r: regen disc/disc
Must-have features: Performance, Utility
Driving range: 238 miles
0-60 mph: 6.5s
Economy: 119 mpg-e
Battery warranty: 8-year/100,000 miles
Base price (incl. $7,500 federal credit): $29,995