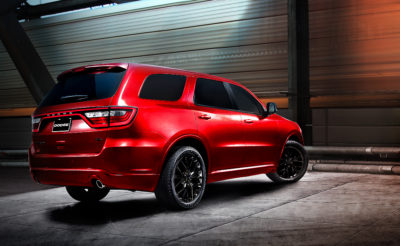 Once upon a time, the Dodge Durango was a pretty ho-hum SUV: nondescript, just a vehicular impersonation of a blank canvas. "Ouch," you say? Well, I'm on a roll, so I'll just add that the Durango was a lump of metal, sans styling–bare bones, nada–and its interior was just as sad as its exterior.
But is the 2017 Durango eons away from the old, design-wise, and can it now be categorized as a head-turner with definite "It" factor?
Even though the current-generation Durango has been around for a few years and a makeover is overdue, (it did receive a refresh two years ago) one thing's for sure, it'll make you glance, no, wistfully stare at its commanding/aggressive presence. The Durango appears to possess a split personality, so to speak. It is a very family-friendly utility vehicle but on the flip side, it has macho swag–low profile grille, sinister looking LED headlights, large wheel arches and stylish edges.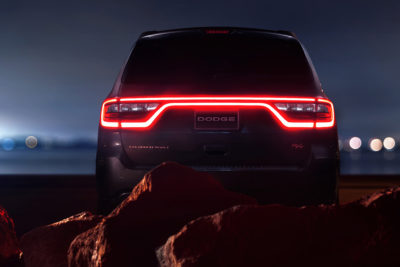 But hold on, the Durango will also give you an all-out rear show when all of its 192 individual LED racetrack taillights are on. The lights actually give off a glowing ribbon-like effect that spans from one side of the utility vehicle to the other. I tend to prefer a little more adventure in the exterior looks department, and Durango's four appearance packages (Anodized Platinum, Brass Monkey, Rallye and Blacktop) adds street cred to its trims.
Interior features in the Durango include supportive bolstered seating. The cabin was also spacious enough for my statuesque and/or amply proportioned crew. The materials used in the Durango's interior actually gave it an overall premium look. Seating in the 'fold flat' second row (optional on base model) surprisingly accommodated folks who are pretty north of six-feet. And I didn't test any of my friendships when I seated adults in the crossover's third row. The opening is large enough on the Durango's rear doors, so getting to the third row was thankfully not an a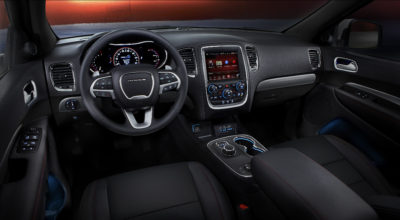 dventure!
Technology neophobes like moi will really appreciate the Durango's 8.4-inch Uconnect touchscreen that is hands-down, one of the simplest, user-friendly interfaces to work with this side of the Pecos! Hoarders (and I know way too many), will love the cargo room in the crossover that stands at 84.5 cubic feet and a competitive 47.7 cubes behind the second row.
Giving the Durango (GT) some gas, I forgot I was behind the wheel of a people hauler. Instead, I thought I was maneuvering a badass muscle car that devoured the road with ease. The sporty-as-heck utility vehicle feels hefty when cornering but its responsiveness tends to override this fact.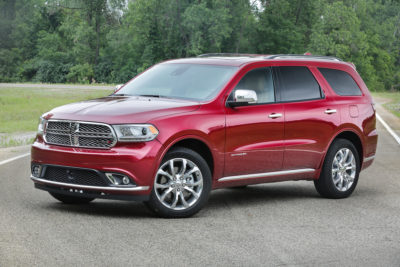 Overall, the seven-seater is well-balanced with a good bit of grunt, especially when I needed to keep up with the chase on highways. Offered in four trim levels (SXT, GT, Citadel and R/T), the Durango boasts a 3.6-liter Pentastar V6 that cranks 295 horsepower and 260 lb-ft of torque. For those who need more of a beast under the hood, the Durango's 5.7-liter HEMI V8 engine churns out 360 horses and 390 lb-ft of torque. At the pumps, EPA estimates for the V6 stand at 19 mpg city/26 highway with rear-wheel drive and 18 mpg city/25 highway with all-wheel drive. EPA fuel economy estimates for the V8 however, fall on the rather bleak side at 14 mpg city/22 highway with either rear or all-wheel drive. As far as towing, the Durango also has a 'best-in-class' capacity of up to 7,400 pounds.
On the safety front, the Durango comes equipped with antilock disc brakes, electronic stability, and traction control, hill start assist, rain brake support, airbags and active head restraints. Other 'gotta-haves' include adaptive cruise control with stop, forward collision warning with active braking and blind spot and cross path detection.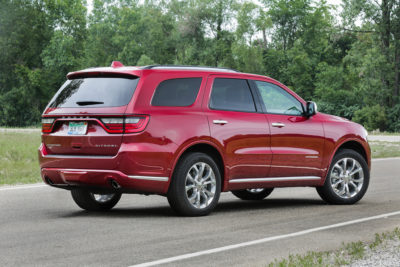 The 2017 Dodge Durango is engaging, beastly in a real good way, and the kicker is not having to sacrifice practicality in the name of handling. I'd say the Durango has undoubtedly earned the honor of being deemed a ride with definite 'It' factor!
Prices start at $29,995. Need more info? www.dodge.com
Follor Ruth — better known as Car Chick — on her Facebook page!