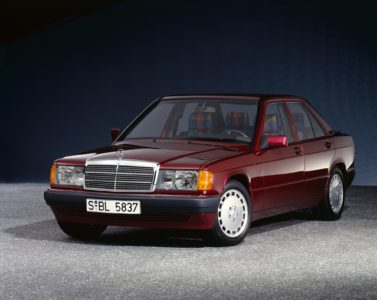 Every generation of entry-level compact Mercedes endured criticisms. My grandmother loved her 1987 190E and drove it 170,000 miles, but that car received constant carping from journalists for its cramped interior, underpowered engine, and supposedly low-rent interior materials. Having driven many 190E miles, the first two were correct, but the last is nonsense. I've heard similar carping about today's compact Mercedes, the CLA250.
As a sporty Mercedes aimed at young trend-setters, the CLA250 trades upright styling for a super sleek four-door coupe profile. It's one of the most aerodynamic cars on the road today, but projects classic elegance with its tight roofline, twinkle affect grille, LED headlamps and taillamps, and strong shoulders – all over 18" AMG wheels. Twin hood bulges and big grille star with single lamella nod to the 300SL Gullwing. It's gorgeous whether you're a first-time Mercedes buyer or have driven them for a lifetime.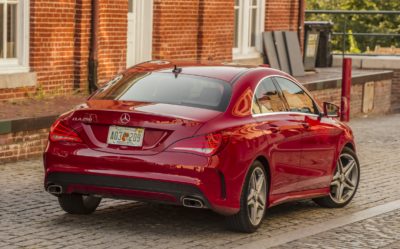 Slip beneath the low roof to experience an interior that is technologically soothing with subtle echoes of the past. Three center air vents reflect the R107 '70s/'80s Mercedes SL, but heated front sport seats, split/fold rear seats, stitched MB Tex vinyl on the dash/doors, and spooky red ambient lighting are very contemporary. Brown leather looks ritzy, but the big chunk of plasti-wood on the dash board is too much.
A knob in the console and dash screen provide access to the infotainment system stoked with a Harman/Kardon audio system, navigation, Bluetooth smartphone integration, and rearview camera. Dual zone automatic climate control and a panoramic glass roof add comfort. Safety is enhanced by rain-sensing wipers, blind spot monitor, adaptive cruise control, and lane keep assist. The 190E only had anti-lock brakes, driver's airbag, and stiff body structure to enhance safety. Times have certainly changed.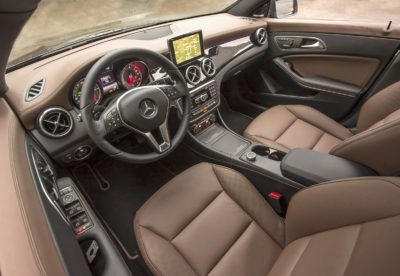 Hitting pavement, the 190E 2.3 was slower than a German turtle towing an anchor until it woke up at Autobahn speeds, but nobody will complain about the CLA250's athleticism. It kicks out with a turbocharged four-cylinder engine delivering 208 horsepower and 258 lb.-ft. of torque – all routed to the 4MATIC all-wheel-drive system through a 7-speed automatic transmission. Click through the gears with paddle shifters to run 0-60 mph in 6.8 seconds. Auto Stop/Start enables fuel economy ratings of 23/32-MPG city/hwy.
Depending on your latitude, driving the CLA is either a sporting man's dream or a knock in the teeth. On smooth southern pavement, the adjustable chassis can be switched between comfortable and firm – both ready to sachet through curvy backroads, never putting a wheel wrong. It outright embarrasses the old 190E. But, if you are a Mercedes traditionalist, or live where pavement sometimes erodes, the CLA is a brutal master, capable of shaking every bit of squeaky plastic trim loose. It was fun to drive the CLA, but I do miss the unshakeable solidity of the old 'Benz.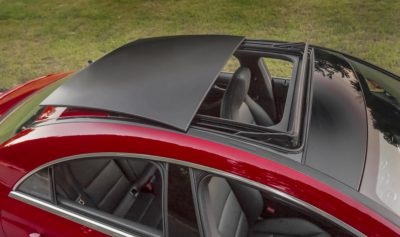 In today's dollars, the 190E cost about $55,000 – a lot of money for an underpowered compact. But, it felt like two brick-hauling dumptrucks wouldn't bother it. While the CLA is a ton more fun, it's also one darned expensive compact with a base price of $32,400 or $50,250 as-tested. Worthy competitors include the Audi A3, Cadillac ATS, Acura ILS, Subaru Impreza, and Lexus IS.
Storm Forward!
Send comments to Casey at AutoCasey@aol.com and follow him on YouTube and Twitter at @AutoCasey.
2017 Mercedes-Benz CLA
Five-passenger, AWD Sedan
Powertrain: 208hp 2.0-liter Turbo-4, 7-speed auto trans
Suspension f/r: Elect Ind/Ind
Wheels f/r: 18"/18" alloy
Brakes f/r: disc/disc
Must-have features: Power, Style
0-60 mph: 6.8s
Fuel economy: 23/32 mpg city/hwy
Assembly: Kecskemet, Hungary
Base/as-tested price: $32,400/50,250