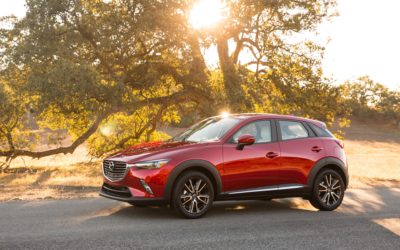 Long and short, I'm not wild about the interior room of the 2017 Mazda CX-3 but I love the engine and the spunk this little devil has when you let it rip on the road.
This year's 2017 CX-3 (where do they get these names?) is one of the best in the subcompact SUV class. I'm still not sure just what constitutes a subcompact SUV, which kinda sounds like 'cozy', a word that real estate agents use to describe a small house. Based on observation and hands-on experience, a subcompact SUV is a small car that can go off-road. Whatever it is, the 2017 Mazda CX-3 is that special little car that can really make you feel butch, unless you are a big-boned and have friends of matching largess.
First, this engine really kicks arse. It's just a 2.0 liter four-cylinder engine, but it truly delivers. Anywhere you take it, this engine could easily get you a speeding ticket. It feels like it's only 98 pounds soaking wet, which kinda makes it a 98-pound weakling without the weakling part.  The get-up-and-go in this jackrabbit is impressive, so caution is advised, especially if your Styrofoam cup is filled to the rim with a hot latte.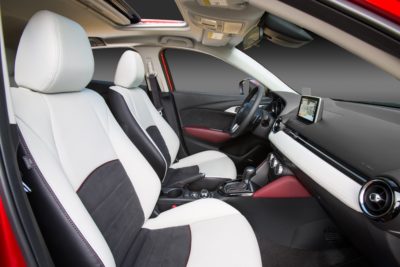 The car is not that long, so it parks easily, but therein lies the rub. Indeed, there are some space considerations here. While there is plenty of room in the front seats, it can get a little snug if you are a person of size.  If you want to use the cup holders, you will need to lift the armrest, which does make things a bit more challenging. Trunk space is limited too, allowing for as little as 12.5 (just the boot) to 44.5 cubic feet of space when you put all the seats down. I am reminded of astronaut John Glenn (in the new great movie Hidden Figures) having to maneuver in zero gravity with barely enough room to perform full drag moves. Yes, the CX-3 is tight but you will feel like you are blasting through outer space, and what a ride that must be.
Speaking of space-age tech, I am not really sure what to think of Mazda's interactive screen. In merely trying to set some preset satellite radio stations, I had to go through a variety of screens to figure out (1) how to find a radio station and (2) where to find the presets so those favorite stations can be saved. I admit to not being highly tech-savvy, so it took me a bit longer to figure out how to change the channel (which must be why my father always left the radio on the Easy Listening station in our 1970 Plymouth Duster).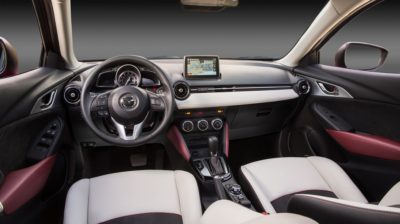 Mazda is boasting about the fact that the 2017 CX-3 is an IIHS Top Safety Pick, which is really impressive for a car this size. (It says so right there on the window). U.S. News and World Report found the 2017 Mazda CX-3 to be number 1 in the subcompact SUV category, tied for first place with the Honda HR-V, another car I really like.
I've known women and men who will not date anyone shorter than they are, and for us tall girls, that means we miss out on a lot.  Like the CX-3, those smaller pistols can get a little cramped, but look out when it's time to blast off. Don't just go for The Big Deal of The Day just because it's big. Size isn't everything, especially when then blast below your belt can get you around and beyond all those big lugs.
Did I really just say that size isn't everything?