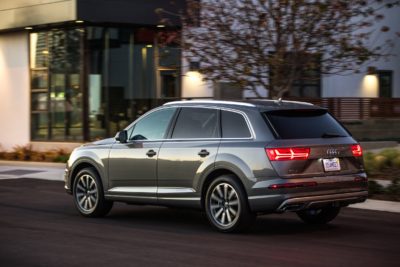 You know you've hit the big time in the car world when you are first runner-up to names like Tesla and Porsche. The Audi Q7, a big-arse luxury SUV from parent-company Volkswagen, is a powerful performer that competes greatly with those big queens. At a starting price of $49,000, believe it or not, this is considered affordable for those who want a rich interior with plenty of style, and a sporty exterior that can ride past all obstacles that may slow you down. Let the drag races begin!
The Audi Q7 is that special luxury SUV that goes up against all the other beauties in the pageant and delivers. A powerful engine is standard for this Queen-Seven: it comes with either a 2.0-liter turbo four-cylinder that offers 252 horses or a 3.0-liter turbo V6 that delivers 333 horsepower and 325 pound-feet of torque. There are three trims levels and, yes, you can easily find yourself paying upwards of $68K by the time you get to the checkout lane. The four-cylinder engine offers combined mileage of 22, while the V6 offers a combined 21 mpg.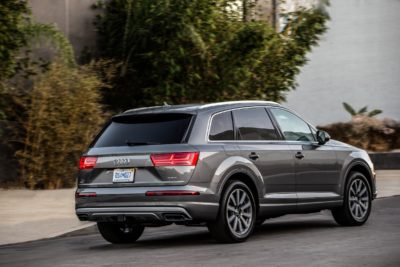 More and more car shoppers are saying that technology is the most important item to consider when choosing a car. Yes, economy and safety are still important, but there seems to be a real sense among car buyers (the ones who can afford to drive and park one) that all the latest technology needs to be available and within easy reach, just like an 8-Track tape player or cigarette lighter used to need to be easy to reach while driving back in the good old days of Richard Nixon and Watergate.
If you have the privilege to enjoy an Audi, you can also enjoy the incredible tech show that comes with it. For starters, when you start the car at night, red ambient interior lighting teases you with sharp lines that turn blue and then fade to black, leaving you with a feeling of luxury that was all done without smoke and mirrors. Upon ignition, the center console screen pops up from the center dash and can literally show all the world ahead of you. The buttons on the dash and near the gearshift are fairly self-explanatory and offer many options to configure, display and enjoy all the technology that went into this baby.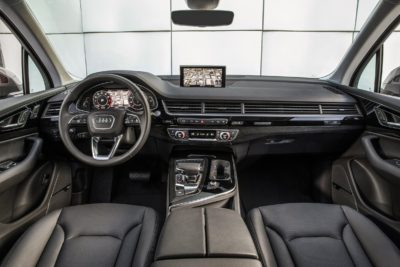 For example, the dashboard screen can be adjusted as you like. Honestly. Most dashboards feature two large dials (one for the speedometer and one for RPMs) and all the other necessary gauges are clustered around that.  And if you don't like that, Audi lets you press a button and magically, those dials are smaller, allowing you a large view of your music and radio information, or you can get a full view of the street map. Sure, you can still see your speed, temperature and how many miles till empty, and should you need to see that information more clearly, again with another press of a button, all that information is back at normal size.
I tested the 2017 Audi Q7 3.0T quattro tiptronic, which came in at just under $70K.  This was a nice vehicle inside with a rugged exterior outside. There seemed to be a button for everything, and I admit to being overwhelmed.  Be sure to take time to learn which button does what before you fly down the road.
Nowadays, a vehicle must try to do everything and do it with a lot of style and flair and interconnectivity. If you've got the money, honey, and still want something that's a combination work bench and bubble bath, try this year's Q7. It's a really, really nice car.
And in some cases, much nicer than the privileged idiots who may be driving it next to you.