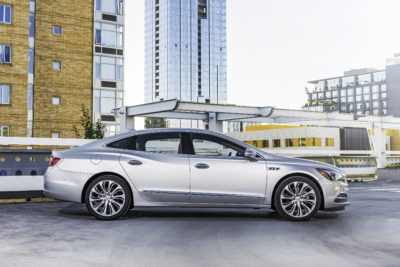 The all-new Buick LaCrosse doesn't really scream Orange Is the New Black or anything gender non-conforming. But it does give off a retro kind of style and pizzazz, something that the cast of Gilligan's Island might enjoy once they were rescued and went on another cruise on the Love Boat. Yes, this car is big, it's beautiful, and I loved it.
One of my trusted sources of real news (ugh, these people who talk about fake news should be…) is U.S. News and World Report, and the 2017 LaCrosse ranked No. 2 in the magazine's Large Cars segment, behind the Chevrolet Impala and tied for second place with the Chevy SS. Truth is, this year's LaCrosse doesn't appear all that big but instead looks smooth and sexy in a Miami Vice kind of way. I like that subtleness in a car, and in my men.  Well, truth is my men can come anyway they want.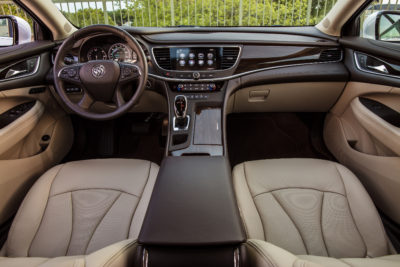 I tested the top-tier Premium AWD. This baby starts at $43,265, which is a big jump from the base trim, which starts at $32, 065. You could make this your one and only car if you have plenty of room for parking it (a garage would be best) and need some ease of movement with your passengers. I hesitate to say this is the car for the active family of over-achievers. This is the car for people who enjoy and maybe have largess, which to me isn't a bad thing.  I have a largess, and the men at the Steamworks seem to like it.
Be ready to spend some money on this new baby.  Mileage is a combined 23 city / highway, which ain't bad for the 3.6-liter V6 engine that offers 310 horses. If you want all the fancy stuff, like forward collision and lane departure warning, you will need to go up to at least the Premium trim, which starts at $41,065. If you can afford this car, it's best to sit down and determine what bells and whistles you really need and really want.  Like anything with bling, the price goes up the more you add on, unlike a sandwich at Subway, where the adds-on may give your gas but it won't cost you more. To be clear, the 2017 LaCrosse won't give you gas (insert smiley face here).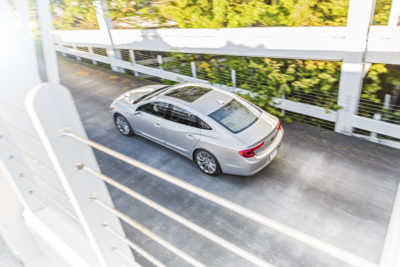 The shifter on this baby takes some getting used to. When you want to put in Drive or Reverse, you have to press a button on the shifter with your thumb and then put it in gear.  A great feature of the gear shifter is that all you have to do is press the P button to put it in park. This design hopefully eliminates accidental shifting and, right or wrong, makes you think a bit about what you are doing.  A good thing, I agree, but some may feel it interferes with their freedom. Broken bones from a car wreck can do that too.
This car is aimed clearly at the over-50 market IMHO, and for good reason. The under-40 crowd really isn't into largess, it seems. Nowadays, with the likes of Uber and Lyft and Smart Cars, a compact (and crowded) lifestyle rules the day. Meh. Personally, I liked the days of over-the-top pretentiousness where your car said a lot about you and your desires.  The 2017 Buick LaCrosse says, sure, you like it bold and beautiful and flashy, and why not. Sometimes, you just need to fling your arms in the air and let your inner goddess become an out and proud queen. This car allows you to do that.
From Standing Rock to the corners of the U.S. where immigrants hide, it is more important than ever that we are all out and proud. Come out, come out wherever you are….
And let your pride and your love show with something flashy.