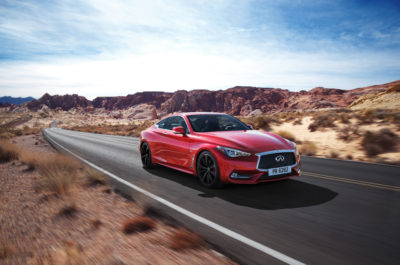 For some time, Infiniti has wanted to compete with European luxury brands like Mercedes-Benz and BMW, but Nissan, the parent company, just couldn't get it right–until now.
The 2017 Infiniti Q60 Red Sport is a bad-ass coupe with power and luxury to rival any German competitor. The new VR30DDTT engine is a twin-turbocharged, direct injected 3.0-liter V6 capable of producing 400 horsepower and 311 lb-ft torque. With two water-filled intercoolers power by electric pumps, this new engine is more efficient and offers better throttle response, which helps the tiny twin turbochargers reach an impressive 200,000 revolutions per minute compared to the typical 150,000 rpms, making the process of internal combustion 60% more efficient.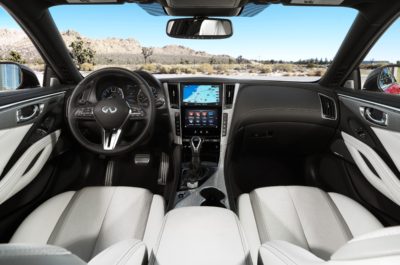 Even if you're not interested in all that science, you'll definitely notice how it translates to crazy-fast acceleration, the likes of which Infiniti has not previously brought to market.  Throwing down an impressive 0-60 miles per hour time of 4.5 seconds, the Q60 has the ability to pin you back in the seat while simultaneously pinning an ear to ear grin across your face, or at least mine anyway.
Without you doing a thing, the system continually adjusts to corners and road imperfections. It all happens digitally. Change from comfort-biased to dynamic ride with the push of a button, and release a highly personal and responsive experience. With up to 336 customizable driver settings, the INFINITI Drive Mode Selector takes performance and control to a more refined level. Selecting between Standard, Snow, ECO, Sport, Sport+, and Personal modes tailors your drive by tuning steering, engine, and suspension inputs. (I prefer the Sport + driving mode setting, myself.)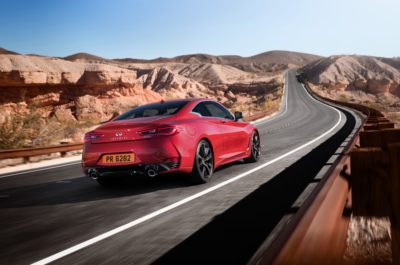 After many years of research and development, the Q60's optional second-generation direct adaptive steering could revolutionize how we drive. This system digitally and instantaneously transmits your steering input directly to the wheels, without a mechanical connection. That lets you steer quicker and smoother than you ever imagined. When you're driving on rough or uneven roads, the system is constantly, automatically making subtle adjustments to give you an increased feeling of stability, while decreasing feedback and vibration through the steering wheel. Just as fighter jets fly by wire, this the Q60 steers by wire, and it's tight.
It wouldn't take a rocket scientist to figure out that. I loved driving this car and would recommend that you please put your seat in the lay back position to prevent neck trauma and prepare to have your backside mashed into the fine leather-appointed seats. Thank you for flying with Dave Bear Airlines…
Well done Infiniti, WELL DONE!
MSRP: From $48,300
Horsepower: 208 to 400 hp
MPG: Up to 20 city / 27 highway
Curb weight: 3,728 to 4,023 lbs
Dimensions: 185″ L x 73″ W x 55″ H
Engine: 2.0 L 4-cylinder, 3.0 L V6