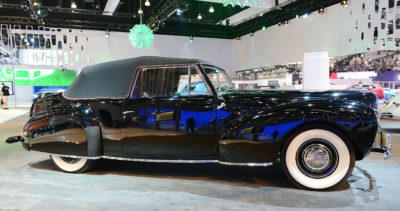 The Lincoln Continental is not just any car: it's Edsel Ford's car. It's also President Kennedy's, Elvis Presley's, James Brown's, Frank Lloyd Wright's, and if Lincoln's ads are to be believed, Matthew McConaughey's car. It's appeared in movies as diverse as Whatever Happened to Baby Jane?, American Hustle, The Jazz Singer, The Incredible Burt Wonderstone, The Avengers, and The Normal Heart.
It's not a car; it's an icon indivisible from the automaker that builds it.
Once synonymous with wealth, Continental became a bloated, underpowered joke. It was a long way from the elegant 1940 Continental E. T. Gregorie designed for Edsel Ford or the timeless Continental Mark II directed by William Clay Ford. Trading on classic nostalgia with overtones of modernity, the 2017 Continental aims to elevate its brand among rock stars, sports heroes, and the merely moneyed.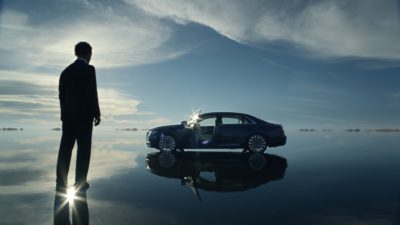 It has presence. Lincoln changes grilles about as often as celebrities change spouses, but I'm starting to dig the latest rectangular design with mesh insert formed from the outline of Lincoln logos. LED headlamps give it a crystalline face. The faceted hood with classic peak down the middle is very classy.
In full flank, the car takes on the profile of a smoothed out formal sedan with its three-box profile, long hood, sweeping C-pillar, and high trunk. The kicked-up beltline and deep shoulders are Continental hallmarks; chrome door handles integrated into the beltline trim and 19" alloys are expert touches. Narrow and wide rear taillamps say Lincoln, but are not particularly distinctive. I'm just glad they left off the Continental kit.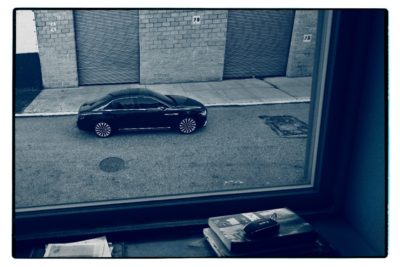 As you approach the car post-sundown, LEDs in the lower facia and taillamps illuminate as a lighted welcome mat appears before the doors. Grab the electronic door handle, swing wide the door, and slip inside.
There's much to take in. Genuine wood, aluminum, and Bridge of Weir leather – from the same tannery as hides in the 1956-57 Mark II – reek of luxury. Our Reserve package came with 30-way adjustable seats that can virtually wipe your bum. Left and right lower cushions adjust separately in case you need a little thigh-sersize. Front seats are heated and cooled with massagers; rears are also heated. Hands love the Continental's heated leather-wrapped steering wheel. A twin-pane panoramic glass roof is available.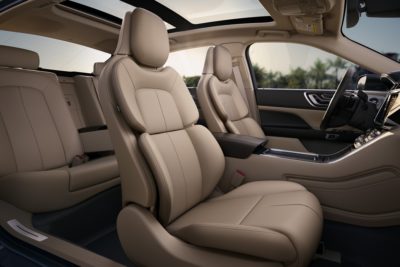 That's not even the middle of the human spoiling. Lincoln's 19-speaker Revel audio system is delightful whether rocking Elvis, saturating in Broadway, or strumming Garth Brooks. Tri-zone automatic climate control and power rear sunshade add comfort. I'm also a fan of the SYNC3 infotainment system that controls navigation, audio, climate control, and computer by voice, touchscreen, or redundant buttons below. It features simple icons that take you to understandable screens. Proper volume and tuning knobs sit above color-coded climate buttons for seats and cabin temp. Every luxury car should make it so easy!
Beyond pampering, Continental comes with a full suite of crash avoidance systems. Lane keep assist and blind spot warning systems keep sentinel alongside forward collision mitigation with pedestrian detection, adaptive cruise, and rear cross path detection. The car can even choose a parallel parking spot and guide itself in.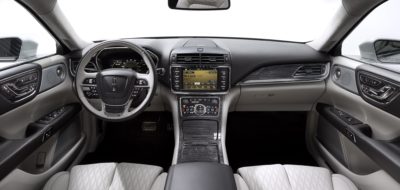 A Continental car deserves a continental drive. Too many automakers talk about "effortless power", but it's not trite with the Continental. A twin-turbo 3.0-liter V6 delivers 400 horsepower and 400 lb.-ft. of torque – all routed to the all-wheel-drive system through a 6-speed automatic transmission. It slips into the left lane and flows down-road as if kicked by Hermes, the god of travel. Pure delight. Lincoln needs to step up to 8- or 9-speed transmissions to improve on 16/24-MPG city/hwy
But, the Continental's vices are not all power-related. Since it shares basic architecture with the MKZ, it's a little narrower than competitors, giving drivers confidence to toss it about. Torque-vectoring AWD provides confident handling whether comfortably cruising or waltzing through corners. Lincoln Drive Control adjusts the suspension, throttle, and steering for Comfort, Normal, or Sport. I preferred Comfort because it imbued a gentle float on the highway without allowing anything untoward. After a five-hour drive, I only wanted more.
I get this car – and I didn't expect to. As I was walking out of my favorite coffee shop, a gentleman said to me, "Is that the new Continental? Lincoln needs a car like that!" I couldn't agree more. It's a little big and glitzy, combining European manners with American pedigree, and exactly what a modern Lincoln should be.
With a base price of $44,560, or $70,405 as tested, the Continental shines its star against the Cadillac XTS V-Sport, Genesis G90, Acura RLX, Lexus GS, Mercedes-Benz E-Class, and BMW 5-Series.
Storm Forward!
Watch Casey's video review of the Continental above, then follow him on YouTube and Twitter: @AutoCasey.
2017 Lincoln Continental Reserve
Five-passenger, AWD sedan
Powertrain: 400 hp 3.0-liter TTV6, 6-speed auto trans
Suspension f/r: Elect. Ind/Ind
Wheels f/r: 19"/19" alloy
Brakes f/r: disc/disc
Must-have features: Comfort, Power
Fuel economy: 16/24 mpg city/hwy
Assembly: Flat Rock, MI
Base/as-tested price: $44,560/70,405