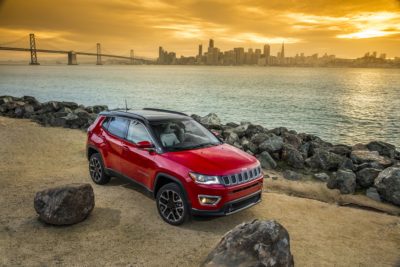 Jeep is one of the hottest automotive brands on the planet, building strengths not only from its iconic Wrangler, but also from crossovers like the Renegade, Patriot, and all-new 2017 Compass. Sure, each of these is among the most off-road capable in its class, but they are also refined. Equal parts Grand Cherokee, Wrangler, and Fiat, the Compass points in a new direction.
The last-generation Compass was a controversial model as the first car-based Jeep in, like, forever. It shared basic architecture with the Dodge Caliber and Jeep Patriot. Compass is now part of a new generation of Fiat-based Jeeps, sitting right between the compact Renegade and mid-size Cherokee. That allows Fiat Chrysler to make lots of money, but also means a more enjoyable Compass that's even more capable.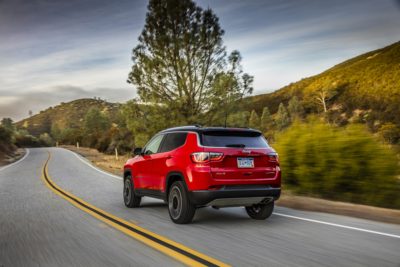 Styling goes from co-ed varsity to baby Grand Cherokee with some cool flourishes along the way. Up front is Jeep's trademark 7-slot "grater" grille, flanked by large headlamps, foglamps, and bulging hood. The side profile borrows from both the Grand Cherokee and Renegade, starting with muscular fenders filled with 17" alloy wheels, but continuing with the angled rear windowline. The chrome strip that runs from the base of the A-pillar, along the roofline, and curved into the rear is a nice touch. It all looks very sophisticated – a nice riff on traditional Jeep cues, but tweaked for today. Redline Pearl Coat paint is especially fetching.
Inside, the blend of Renegade and Grand Cherokee continues. This Compass skips stitched dash coverings, but the soft vinyl feels and looks nice. As in the big Jeep, the center dash is dominated by infotainment controls. The touchscreen with icons for audio, climate, phone, and navigation is way too easy to use, but if you prefer other methods, command it with voice or redundant buttons and knobs below. Use the knob to crank up Beats speakers and thump your neighbors silly. A back-up camera, navigation, Apple CarPlay, and Android Auto step up the tech. Bluetooth and USBs keep devices connected.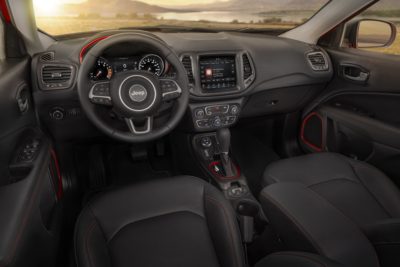 But, the rest of the Compass interior is pretty spiffy. Cloth and vinyl seats were unheated, but comfortable nonetheless. A little smaller headrest would be nice, but it is optimized for whiplash prevention. Automatic climate control adds convenience – as do fold-flat rear seats and a wide hatch that make loading bicycles and other gear no problem. Deep cubbies in the center console, door pockets, and virtually every other crevice prep for any adventure.
So is the powertrain, consisting of a 2.4-liter "Tigershark" four-cylinder engine, 9-speed automatic transmission, and four-wheel-drive. You're not going to brag to Mario Andretti about acceleration, but the engine delivers 180 horsepower and 175 lb.-ft. of torque – enough to slip through town and keep pace on the freeway. I could do without engine stop/start, and click the defeat button every time I drive the Compass, but it helps deliver a respectable 22/30-MPG city/hwy.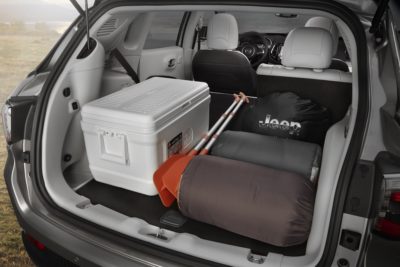 You start to feel the Fiat genes underway. A four-wheel-independent suspension system gives the Jeep a European feel on the road, but also allows the wheels to articulate for serious off-roading. In fact, Jeep claims an approach angle of 16.8 degrees, departure angle of 31.7 degrees, and break-over angle of 22.9 degrees. That will not impress Wrangler owners, but it sure as heck will impress drivers of other compact crossovers.
While Jeep took a risk in offering the first-generation Compass, there is no worry about this one. It has just the right amount of panache, capability, style, and performance to carve a bigger niche for itself. Sharing Fiat architecture only makes it a more refined machine to go against the Subaru Forester, GMC Terrain, Ford Escape, Honda CR-V, Nissan Rogue, and Toyota RAV4. Prices start at $20,995, but came to $30,115 for our well-equipped Latitude edition. Production began in Toluca, Mexico this spring.
Storm Forward!
Watch Casey's video review of the Jeep Compass above, then follow him on YouTube and Twitter: @AutoCasey.
2017 Jeep Compass Latitude
Five-passenger, 4WD Crossover
Powertrain: 180hp 2.4-liter I4, 9-speed auto trans
Suspension f/r: Ind/Ind
Wheels f/r: 17"/17" alloy
Brakes f/r: disc/disc
Must-have features: Style, Capability
Fuel economy: 22/30 mpg city/hwy
Assembly: Toluca, Mexico
Base/as-tested price: $20,995/30,115