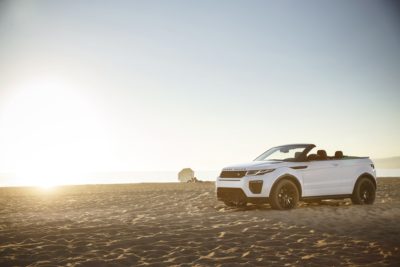 As summer approaches, we're going to have many 80-degree days with clear blue skies and gentle breezes. And, you may be looking at your SUV thinking, "I sure wish I had a convertible instead of this hulking beast." Apparently, the designers at Range Rover had the same thought because they took the compact Evoque crossover and ripped off its top for summer.
As goofy as I thought the idea seemed, especially after seeing competitors' horror shows, the Evoque Convertible looks pretty hot. It certainly received its share of cat calls and break-neck second glances as it rolled by. There's a bit of VW Cabrio in its profile, but clean lines over 20" alloys and with a rear spoiler add snazz. A swept version of Range Rover's traditional front, black accents, wrap-around taillamps, and elevated ride height convey upscale capability.
There are more expensive convertibles, but none that feel more expensive outside of a Bentley showroom. The interior feels more like it came from a small Range Rover than expensive entry-level crossover. Soft Oxford leather seats are heated – as is the leather-wrapped steering wheel. Stitched dash materials are soft and feel authentic. The sweeping center console echoes the larger Range Rovers and contains the touchscreen for audio/navigation, dual-zone automatic climate control, and buttons for the configurable powertrain. Bluetooth, blind spot detection, and rear cross path detection add convenience.
Right in the console is my favorite button: The one that puts the top and windows down with one press.
Moving out makes out with a 2.0-liter turbocharged four-cylinder engine that delivers 240 horsepower and 250 lb.-ft. of torque – all sent to the wheels through a nine-speed automatic transmission with paddle shifters. Land Rover claims the drop top will scoot from 0-60 mph in 7.8 seconds on the way to a 112 mph top speed. The throttle is a bit twitchy, and the turbo takes time to spool, but those numbers seem real. Fuel economy is rated 20/28-MPG city/hwy., which is not bad for an all-wheel-drive SUV.
And, being a Range Rover, that all-wheel-drive system is pretty sophisticated. The Terrain Response System can optimize it and the rest of the powertrain for General driving, Snow, Mud, and Sand. Torque vectoring allows it to sachet through corners. Hill Descent Control and Hill Start Control help on trails. You're never going to take the Evoque Convertible deep into challenging trails, but it can tackle more than your average beach buggy.
Almost all Range Rover Evoque Convertibles will spend their lives in California and Florida, carting rich housewives and affluent gay men to the spa, dinner, and the beach. But, it is also a great vehicle for tackling long winters in other parts of the country. No matter where you live, it's the ideal vehicle in which you and three of your tribe can enjoy perfect sunny days. Press one button, flip your lid, and enjoy.
While the Evoque starts at $42,000, convertible versions rise from $52,000 and reached $58,270 as driven. Competitors include the Mercedes-Benz E-Class Cabrio, Jeep Wrangler, BMW 4-Series Convertible, Audi A5, and Volkswagen Beetle Convertible.

Storm Forward!
View Casey's video of the Range Rover above, then follow him on YouTube: @AutoCasey.
2017 Range Rover Evoque Convertible
Four-passenger, AWD Crossover
Powertrain: 240hp 2.0-liter Turbo-4, 9-speed auto trans
Suspension f/r: Ind/Ind
Wheels f/r: 20"/20" alloy
Brakes f/r: disc/disc
Must-have features: Luxury, Sunshine
0-60 mph: 7.8s
Top speed: 112 mph
Fuel economy: 20/28 mpg city/hwy
Assembly: Halewood, U.K.
Base/as-tested price: $52,000/58,270