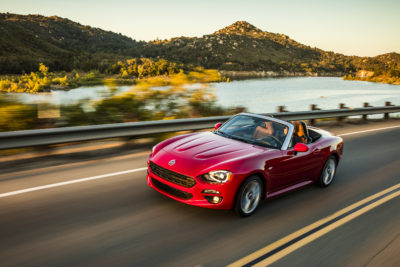 My frequent Gaywheels readers–you know who you are–recognize that I'm a big fan of fast cars and convertibles. Some of my past articles have chronicled that love of speed and top-down-driving-pleasure, and maybe my no-nonsense style. So, despite the fact that the new Fiat 124 Spider has been referred to as a "Mazda Miata in Italian drag", I proudly drove that Lusso two-door with the top down the whole time I had it, even if it was 30 degrees out.  The Miata and Spider share much, starting with the chassis, parts, and even the assembly line, but ultimately, they're very different cars.
Maybe you saw the ad that Wieden & Kennedy created for Fiat, which used a humorous approach to confront the brand's battered reputation. Years ago, Fiat was jokingly referred to as  "Fix It Again Tony". (In fact, FIAT stands for Fabbrica Italiana Automobili Torino.) The Italian automaker is back and wants you to know that after its 25-year hiatus from the U.S. market, it's ready to give the competition a run for the money.  Molto bello, bellissimo: very beautiful, handsome. Italian culture has often been synonymous with sex appeal and the new Spider is just that: sexy!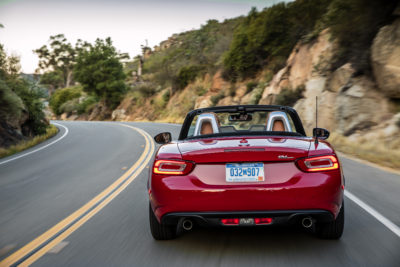 Bigger, longer, and uncut, the 124 is five inches longer than its predecessor, which translates to a larger nose and black grille as well as a more upright-looking rear end that yields a larger trunk. What really sets the 124 apart, though, is the 1.4-liter turbocharged four-cylinder engine, which is very similar to the Fiat 500 Abarth, with four additional pounds (psi) of boost. All told, the engine sports 22 psi of boost, making 160 horsepower at 5500 rpm and 184 lb-ft of torque at 2500 rpms.  There is a bit of turbo lag, but I found that I could keep the revs up above 2000 rpms, and that seemed to mitigate the lag.  Fiat puts the 124's zero-to-60 mph time at 6.8 seconds, but I'm pretty sure I did better than that–more like six seconds, or even less.
The Fiat 124 is a terrifically fun car to drive, though mine was a bit loud on the road since I always had the top down.  The acoustic windshield and increased sound dampening under the carpet and at the firewall serve to reduce noise levels when the top is raised.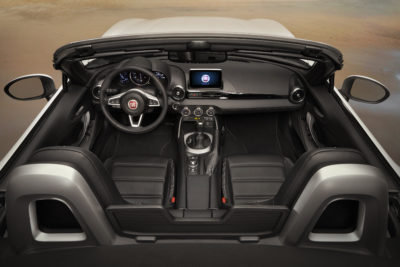 On the inside, the Spider has some nice appointments like high-quality materials, giving it a more upscale look.  There's not much in the way of entertainment/infotainment offerings aside from the 9-speaker Bose audio system with Bluetooth and two USB ports. Blind spot monitoring, rear cross-traffic alert, a rearview camera with 7-inch touch screen, and navigation with smartphone integration top the list of driver-assist options, but ultimately, it's a roadster. What it lacks in creature comforts (or offers in turbo lag), the 124 makes up for in its ability to carve corners. It's not, perfect but it beats the heck out of driving a Miata.
For another take on the 2017 Fiat 124, check out Casey's review here.
2017 Fiat 124 Lusso 2 door 1.4L 4 cyl Turbo 6M
MSRP: From $24,995
Horsepower: 160 to 164 hp
Curb weight: 2,436 lbs
MPG: Up to 26 city / 35 highway
Dimensions: 160″ L x 69″ W x 49″ H