What kind of future will Volvo have? That's the question many asked nearly a decade ago when American Ford sold Swedish Volvo to Chinese Geely. The super sweet XC90 crossover was the first indication, and it was a stunner, taking stoic Swedish design to a more joyous realm.
Now, we're confronted with the S90 sedan. Freeze my moose pops, it's a stunningly beautiful car with presence to spare.
Geely clearly wanted to push Volvo's ascent, and the S90 certainly does that, but it is also consistent with the brand's cues and values. An elegantly concave version of Volvo's chrome tooth grille is crossed by its famous emblem. A long nose imbues sportiness and a hint of performance. Deep shoulders and simple lines conspire for understated design that translates into profound presence. Thor's Hammer LED driving lamps, LED headlamps, 20" Inscription alloy wheels, and C-shaped taillamps add details that cause people to ask what you're driving.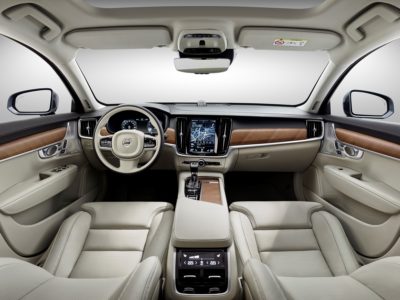 Open the doors and absorb the cabin. You immediately smell the soft Nappa leather that upholsters the seats, dash, and door panels. Natural finish walnut wood inlays are pure artwork, flanking Volvo's new "Sensus" swipescreen containing logical menus to conjure entertainment, navigation, and climate controls. Swipe right for crash avoidance systems: Lane keep assist, adaptive cruise control, forward collision mitigation with pedestrian/cyclist detection, blind spot warning, and rear cross path detection. Also control automated parking and heads-up display systems. Swipe left for navigation, audio, and climate settings.
Nordic gods also granted us heated and ventilated front seats, heated rear seats, and a heated leather-wrapped steering wheel. Four-zone automatic climate control keeps everybody in their little personal wombs where they can listen to streaming audio and make calls via Bluetooth. Open the sunroof when days are long.
Beyond all of that, I'd like to smooch the person who developed the Bowers & Wilkins audio system. This person must be the sound man to God, His Son…and The Holy Spirit. It integrates 19 speakers in artistic surrounds and can be customized with sound profiles echoing a studio, individual voice, or the Gothenburg Concert Hall. Choose the concert hall and you'll want to re-listen to every song you own just to hear them in their full divine glory. It's worth every penny of $2,650.
But, alas, the S90 is not a concert hall. It's a car, fully stoked to run great distances at rapid speeds. Under the sleek hood is a turbo- and supercharged 2.0-liter four-cylinder engine. I know, sounds depressing. But, the little lump of aluminum kicks out 316 horsepower and 295 lb.-ft. of torque, enough to heave the car from 0-60 mph in 5.7 seconds on the way to a 130 mph top speed. Power is routed to the all-wheel-drive system through an eight-speed automatic transmission. Press lightly to see 22/31-MPG city/hwy.
On a quick round-trip from Indianapolis, Indiana to Turkey Run State Park with the family, I dialed the laser-cut console switch through Eco, Comfort, and Dynamic to change the car's personality. In the last mode, the throttle is hair trigger sensitive, shift points are held longer, and the steering feels heavier. It will toss your hair back! Keep it in Eco or Comfort for everyday commuting.
The S90 is a joy to drive, but here's what I like most: Volvo clearly reflected upon its history, considered competitors, and drew its own future in a way that is unique in the market and uniquely Volvo. It could have just copied the Germans and hoped for the best, but it didn't. It delivered a most-excellent automobile that will delight both loyal Volvophiles and luxury buyers looking for fresh style and performance. Right now, I'm just hoping that audio system is the last thing I hear on this earth.
You can buy an S90 for $48,100, but our Inscription edition came to $66,365 – suave competition for the Mercedes-Benz E-Class, BMW 5-Series, Audi A6, Genesis G80, and Cadillac CT6.
Storm Forward!
E-mail Casey at AutoCasey@aol.com; follow him on YouTube and Twitter: @AutoCasey.
2017 Volvo S90
Five-passenger, AWD Sedan
Powertrain: 316hp 2.0-liter Turbo/SC I4, 8-speed auto trans
Suspension f/r: Ind/Ind
Wheels f/r: 20"/20" alloy
Brakes f/r: disc/disc
Must-have features: Style, Audio
0-60 mph: 5.7s
Top speed: 130 mph
Fuel economy: 22/31 mpg city/hwy
Assembly: Gothenburg, Sweden
Base/as-tested price: $48,100/66,365