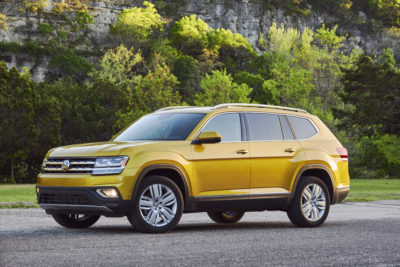 My editor Richard Read aptly noted in March how the first commercial for the brand new 2018 Volkswagen Atlas is very heteronormative in its approach. As Dean Martin serenades us about The Birds and The Bees, we see a VW Beetle rocking, and then we see a breeder couple with a child upgrading to a Passat, and then we see that car rocking.  Then comes another child, and another upgrade, and another child and then another VW upgrade.
The message could be that Volkswagen raises your sperm count and helps you become more sexually prolific, when in fact, Volkswagen just wants you to think of it as a legacy car brand that you never have to leave when you need more room – or luxury.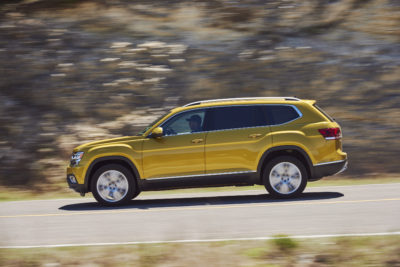 If the Volkswagen Tiguan (considered a small SUV but it's really very mid-sized) is too small for a family, how about something bigger?  Introducing the 2018 Volkswagen Atlas, a mid-sized SUV that in my opinion is a big SUV.  Plenty of room, plenty of style and some affordability, as it starts at $30,500 and goes all the way to almost $40K for front-wheel drive.  All-wheel drive will cost more, going up to about $48,000 on the high end. The pricing for the Atlas does get a little involved depending on what you want. Right now, Volkswagen is just trying to get people in the car and happy with the thought that VW can be a life-long brand, like Chevy and Ford were in the 20th century.
There is lot of appeal to the Atlas, and in this case, size does matter. To me, a car that is almost 200 inches long (that's a mouthful) and almost six feet tall is more than just a good time.  That is a big car. In fact, it's so big and tasteful than seven reasonably-sized adults can get inside. It's so big that should you decide that your second-row passengers need captain's chairs, those can be added. According to that heteronormative commercial, the interior room is literally the pounding force behind the Atlas: as your family expands, there is no need to go to Chevy or Ford just because you need more room.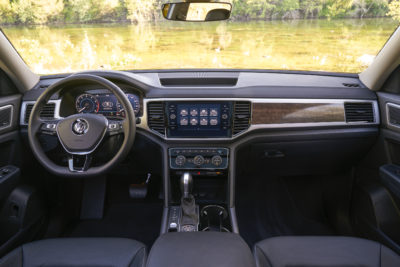 I tested the Atlas recently in Texas, where LGBT rights have always been under attack, now more so than ever.  The ride was solid, to be sure. The drive was comfortable and non-eventful, which is intentional. Handling was good on winding Texas roads, though the sheriffs will still find something with which to charge you and hall your butt to jail like they did to Sandra Bland. The Atlas has a lot of promise that may actually pan out once the name and the car catch on. The German automaker is aiming right at the Ford Explorer and Toyota Highlander, so it have its work cut out for them. The fight is on, the gauntlet has been thrown down it will take more than Dean Martin to make the Atlas a winner.
Yet Volkswagen has come late to the party in the past and still pulled off some impressive sales.  The Tiguan, for example, was very late to the small-SUV party in the U.S. and still managed to capture a fair amount of market share.  I suspect VW will have the same luck with the Atlas.  It is a solid car that should do well here in the United States…
…assuming a nuclear war doesn't interrupt the dance of the oblivious, which has already started at Republican Party Headquarters.