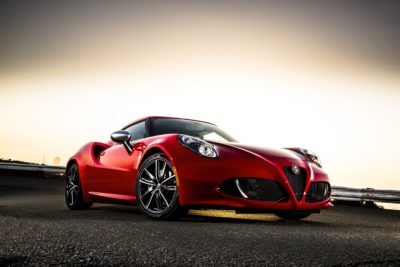 Probably like most of you, I admire mid-engine Italian exotics from Ferrari and Lamborghini for their beauty and brawn. Sexy bodies, carbon fiber structures, and handling of the gods raise them up. There's a finesse to Italian cars that underlines their nation's heritage. Most of these cars cost well into six or seven figures. But, not the Alfa Romeo 4C.
It gets noticed. Last evening, my husband came to me and said some strange guy stopped his car and was taking photos of the Alfa in our driveway. Near the Indianapolis Motor Speedway, people were taking selfies with it. Points and stares are part of the experience with this little red toy.
Styling is inspired by the 1967 Alfa Romeo Stradale. From the rear, wide with lower diffuser and round taillamps, it could be mistaken for a Ferrari. It's a small car with Alfa Romeo's trademark "plunging neckline" grille up front. Plastic bodywork, single wiper, and 18"/19" wheels front/rear ring of performance. Available Bi-Xenon headlamps, carbon fiber spoiler, and carbon fiber Italian flag mirror caps add flash.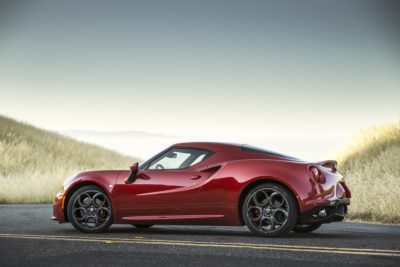 Flexing, bending, and stooping over the wide threshold qualifies as exercise. Once inside, the cabin is roomy enough for two planted in red leather buckets. Our car's leather-trimmed dash and doors with red stitching, suede flat-bottom steering wheel, and exposed carbon fiber frame add allure. The air-conditioning froze my nuggins and the flatscreen instruments worked flawlessly, but the '90s-vintage chicklet radio is cheesy even with thumping Alpine speakers attached to it.
Placed like a jewel in its setting, the mid-mounted turbocharged four-cylinder engine is visible through the rear window. Displacing just 1.75 liters, but moving only 2,500 lbs., it conjures 237 horsepower to fling the car from 0-60 mph in 4.1 seconds on the way to a 160 mph top speed. You can leave the twin-clutch 6-speed transmission in auto mode or paddle-shift it yourself. A perfectly-tuned exhaust note and the sound of the turbos behind your head cause elation. Frugal fuel economy rates 24/34-MPG city/hwy.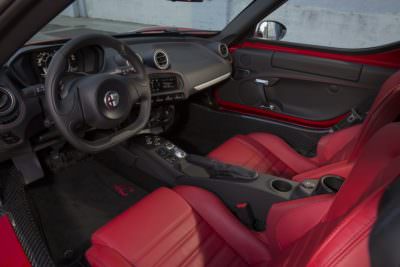 Handling is exquisitely balanced, but you'll need to tone your arm muscles as the 4C goes without power steering. Honestly, the 4C doesn't need it. You'll have to wrench it at a dead stop, but it lightens up immediately after wheels start moving. Flipping through challenging switchbacks, or flat out on the highway, it was so nice not to have electrically power-assisted vagueness typical of today's cars. Brembo brakes stop the car with a stiff leg.
But, the car is still quite sophisticated. The carbon fiber monocoque body structure is incredibly rigid, allowing for light weight, but also enabling the little car to rumble over rough pavement with virtually no harshness reaching the cabin. The sport-tuned suspension is firm, but not brutal. You can tune the powertrain through Alfa Romeo's DNA system – that's Dynamic (sharp throttle, loud exhaust note), Natural (comfort setting), and Advanced Efficiency (maximizes fuel economy).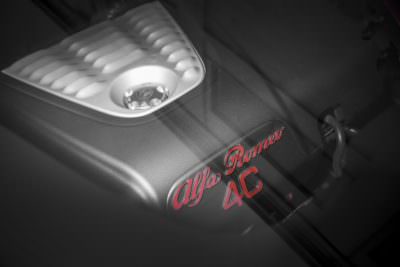 What if you want an open air driving experience? Well, you have two choices. There is a 4C Spider that costs about $10,000 more. If you wish for a modern version of the classic front-engine Alfa Spiders, there's always the Miata-based Fiat 124 across the showroom.
You can comfortably drive a Corvette cross-country, and the Porsche Cayman dresses like an Audi, but the 4C is for enthusiasts who want nothing polluting their driving experience. A base price of $55,900, or $71,045 as tested, puts this sexy little rocket well below those other Italian exotics from Maranello and Sant'Agata Bolognese.
Storm Forward!
Watch Casey's video review of the Alfa Romeo 4C Coupe above, and contact him at AutoCasey@aol.com.
2017 Alfa Romeo 4C
Two-passenger, RWD coupe
Powertrain: 237hp 1.75-liter Turbo-4, 6-speed automatic transmission
Suspension f/r: Ind/Ind
Wheels f/r: 18"/19" alloy
Brakes f/r: Brembo disc/disc
Must-have features: Style, Handling
Weight: 2,500 lbs.
0-60 mph: 4.1s
Top speed: 160 mph
Fuel economy: 24/34 mpg city/hwy
Assembly: Modena, Italy
Base/as-tested price: $55,900/71,045