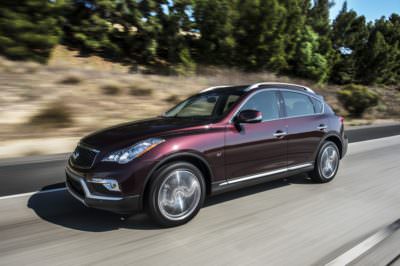 It's that time of the month!
Well, indeed, Pride only comes officially just once a year, but when you are constantly fabulous, Pride is at least a once-a-month celebration (depending on when your government check arrives). No need to be outdated, inside and out, so why not celebrate with a car that screams LGTBQ Pride (even without Cher singing about Pride)?
One of the sharpest, gayest-looking vehicles on the planet is Infiniti's QX50, a compact luxury SUV that is a sexy Snagglepuss with a lot of Tony the Tiger under the hood. Honestly, kidz, you'll look great in this car, period! Even your in-laws (the ones who voted for Trump) will look like reasonable people when in or near the QX50.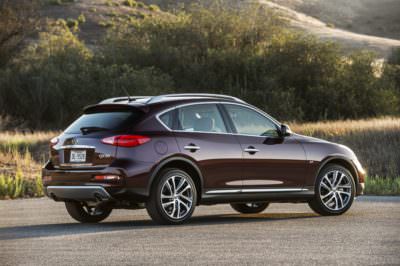 Before my parade here begins, there is just one downside, IMHO. This car is cramped in the rear.  The front seats can accommodate all your largess, but if you have friends who still think they're twinks, it could be a bit like a game of Twister. Caution is advised before stuffing the entire LGBTQ community center into this baby for the Pride parade's grand marshal's victory lap.
Indeed, this car roars like a big ol' tiger. All Queens-X-50 come with a 3.7-liter V6 that produces 325 horsepower and 267 pound-feet of torque. Grrrr! Driving around town and country, I found the engine could provide an acceleration and performance that really kicked butt when given the chance to open up and roar (just like Snagglepuss). Not that you urban types need that kind of kick in the asp, but it is nice to have once you finally hit the highway en route to your gay-mecca vacation. (Okay, another downside: average miles-per-gallon is just 20.)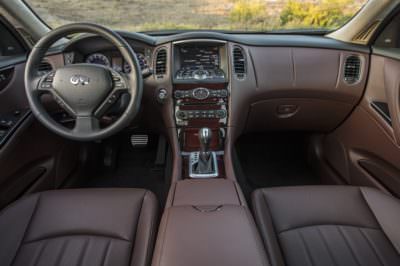 I forgot that I was driving an SUV, to be honest.  The QX50 has always been a Gaywheels.com favorite, mostly because it has a hint of practicality but it just looks great. The Base trim comes standard with Rear-Wheel Drive, so if you live where the sun always shines or if you live on a perpetually dry race track, this is your trim.  Everyone else should get the All-Wheel Drive trim, which cost about $2K more. Infiniti does like to keep things simple, thus just two trim choices.  If you want extra luxury and extra technology, a variety of 'packages' are available, and those, of course, up the price.  As always, decide what you want and then shop accordingly.
My colleague Ruth Manuel-Logan got a hold of the 2017 QX50 first and really enjoyed the ride.  She has a much better eye for technical detail (and really, don't most women honestly do better at this than men?) and felt that the drive and ride could handle anything that the road or the ride might produce.  She even found that there was plenty of interior room, which tells me her friends don't eat like bears the way mine do.  Check out her full review here.
In today's practical society, where being gay can sometimes mean being just as boring as everyone else, it's important to know that many of us still like a good show and can appreciate a queen who isn't afraid to let her feathers and her fringe fly, all for the world the see and admire.  The 2017 Infiniti QX50 is that car for that show that you like to perform everywhere you go.
They all may seem like they are turning a blind eye, but you know they are looking.  And winking.
Go, girlz!