Back in April, you might have read a review of the 2017 Nissan Titan Platinum, written by my Gaywheels colleague, Casey Williams. If that piqued your interest, here's another "platinum" piece about something new from the Tried-and-True.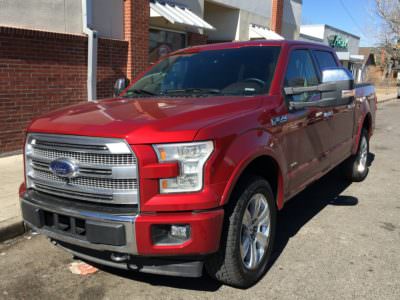 The Ford F-Series has been around a while–like, since 1948. The first-generation was known as the Ford Bonus-Built, and it replaced Ford's previous car-based pickup line that debuted in 1942.
We're now in the 13th generation of the F-Series, and the brand has come a long way. Known for being a good, solid pickup truck, the F-Series has been the best-selling vehicle in the United States since 1981, and it's been the best-selling pickup truck since 1977. It's no surprise that governments agencies and private organizations continue to purchase the F-150 year after year, and some even shell out for the legendary Big Foot Monster truck, a Ford F-150 since 1975.
What is a surprise, though, is how far the 2017 Ford F-150 Platinum has come from its humble beginnings as a simple, solid work truck.  The latest generation of the F-150 has some big changes that are well worth noting, especially the redesigned 3.5-liter turbocharged engine, which is mated to a brand new 10-speed automatic transmission. Ten gears may seem like a lot, but Ford claims that it helps with fuel economy and provides the perfect gear ratio for any kind of towing or hauling. What that translates to is a truck that rides and feels like a Cadillac–or rather, a Lincoln.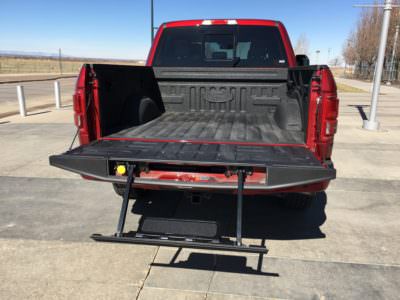 The Platinum edition is sophisticated inside and out, touting a ton of cool features like Pro Trailer Backup Assist, which lets you control your trailer from a knob in the cab, just like a video game.  You'll also find power-deployed running boards; a spiffy tailgate step with telescoping handle; and a totally awesome in-cab lighting system with six color options. The ambient lighting system built in to the SYNC 3 infotainment package will rock your world, or maybe the extremely quite cabin will. Meanwhile, the Sony HD Stereo is certainly capable of rocking your favorite jam. In a word, the Platinum edition boasts automatic everything. Technically, that's two words, but seriously: automatic high beams, rain sense wipers, and the list goes on and on.
I would definitely call this Ford's luxury flagship. If you have $53,600 or more in pocket change, the F-150 Platinum Edition has a lot to offer and is worth the platinum price. If you're looking for a little less luxury and a little more "bad ass", though, check out the Ford F-150 SVT Raptor. Now if I could only get my hands on one of those!
Check back for my next story, coming soon.
Model: 2017 Ford F-150
MSRP: From $53,635
Towing capacity: 8,900 to 9,100 lbs
Horsepower: 375 to 385 hp
MPG: Up to 17 city / 24 highway
Overall NHTSA safety rating: 5 star
Curb weight: 4,588 to 4,894 lbs