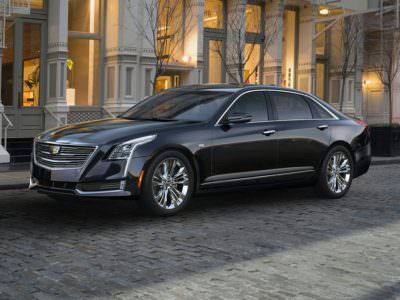 The Cadillac brand is not necessarily known for cranking out sexy rides. In the past, their vehicles primarily caught the eye of the platinum, AARP card-carrying set. Over last few years, however, the 115-year-old underdog's think-tankers hit the drawing board big time and managed to pump out a few spiffy numbers that instead have intrigued those with Similac still on their breaths. Now in its second year, vehicles like the 2017 Cadillac CT6 have helped the company pave the way towards a more noticeable brand positioning.
It's crystal clear: the uniquely American luxury brand is going after the German trifecta's (BMW, Audi, Mercedes-Benz) consumers–in particular, the Gen X and Gen Y white-collared-haves–and they just might have a fighting chance with their CT6. A sexy beast with edgy/aggressive looks, the latest Caddie is longer than the BMW 5 Series, a tad smaller than the 7 Series, and is the best value dollar-wise overall. Low and wide, the CT6 looks elegantly edgy, with sharp lines and suitably imposing front grille flanked by long, vertical LED strips that extend from the top of the sleek headlights straight down the front fascia. The CT6's tail also sports quad chrome tailpipes and a high tapered trunk that is nicely framed on either side by signature hockey-stick-shaped vertical LED taillights.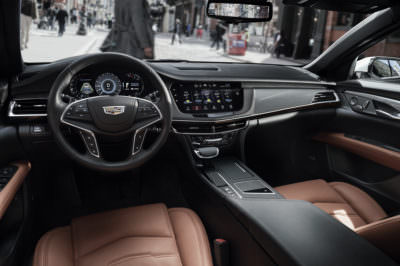 Cadillac does not know the meaning of pitiful-looking automotive interiors. Every inch of the CT6's innards screamed opulence. Everything that went into the Caddie was well executed, from the supportive luxurious seating with optional heating/cooling massage, to the rich and perfect fit/finish of the top-shelf materials used. The vehicle's environment really inspired total relaxation. The dominant center screen with large icons on the intuitive Cadillac User Entertainment (CUE) infotainment interface reacted quickly to the touch and no longer a hair-pulling experience. However, there was a redundant touchpad in the center console near the shifter that should really get drop-kicked because it kind of speaks another language.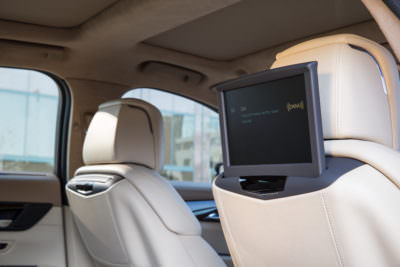 The five-seater was wiggle-roomy front and back for six-footers-plus. The rear roofline had a slightly carved out well in order to better accommodate heads—someone was thinking on their feet. Folks in the rear of the CT6 also received the royal treatment: in addition to the luxe sedan's 10-inch HD rear double screens with a slew of media options, backseaters got to also enjoy the comfort of heated/cooled seating that massaged them to a fare-thee-well and with power adjustments to boot. For those who loved getting lost in music, the crested brand boasted 34 tiny Bose Panaray speakers placed strategically throughout its cabin that produced total aural enjoyment. The stately office on wheels offered an HDMI input for a computer or device to project onto the rear screens and 4G LTE Wi-Fi. The sedan also came with a smörgåsbord of technology including GM's OnStar system with crash notification and remote door unlocking, Bluetooth, navigation, voice controls, Apple CarPlay and Android Auto smartphone integration, rearview camera in the rearview mirror and wireless phone charging.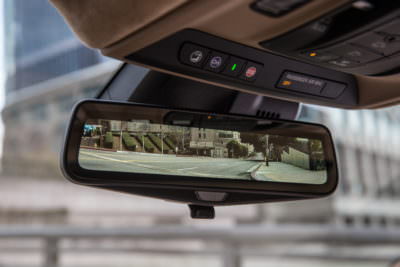 Cadillac offers a 2.0-liter turbo-four that cranks 265 horses and 295 lb-ft of torque; a 3.6-liter V6 naturally aspirated engine that pumps out 335 horses and 284 lb-ft of torque; and a 3.0-liter twin-turbo V6 that kicks out a potent 404 horses and 400 lb-ft of torque. The CT6 Plug-In Hybrid (built in China) comes in a 2.0-liter turbo-four that is mated to a pair of electric motors that whip up 335 horses and 432 lb-ft of torque. The Plug-In has a maximum combined driving range of 440 miles and an all-electric range of about 31 miles before the gas engine kicks in. The EPA guesstimates of fuel for the four cylinder is a not too shabby 25 mpg combined, 3.6 V6 slightly guzzles at 21 mpg combined, 3.0 TT chugalugs at 21 mpg and the Plug-In is a teetotaler at 26 mpg in gas mode (62 MPGe equivalent in hybrid mode).
Despite its size, out the box the CT6 (2.0L turbo-four) gave a noteworthy performance. The sedan's smooth ride quality nicely soaked up road bumps thanks to its Magnetic Ride Control. During highway acceleration, the CT6 was no punk: it had a nice connection to the road and the pickup was more than was adequate. Sudden moves in the large sedan resulted in pretty nimble reactions. Hammering corners and with every tight turning radius, the car felt light on its feet which added high marks. The cabin was so hushed you could hear your own thoughts. Overall, sitting behind the wheel of the CT6 felt like executive motoring at its best.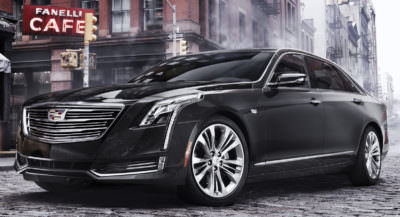 GM cuts no corners as far as safety, the CT6 is loaded in this area with such offerings as traction and stability control, airbags, forward collision alert, front pedestrian braking, night vision, rear camera mirror, rear cross-traffic alert with side blind zone alert and lane keep assist with lane departure warning.
The 2017 Cadillac CT6 is a true American beauty on wheels with five star accommodations. As far as the CT6 being an underdog compared to its Euro rivals, well, the tweener brings its own luxurious flavor to this refined and sophisticated segment. It is certainly a sedan that should get noticed: the CT6 is a great example of the well-executed changes at its American automaker's house.
Prices start at $53,795. Need more info? Visit Cadillac.com.