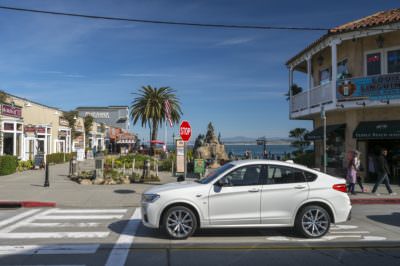 Those of you who know what af means will totally understand the high praise. To the rest of you, my apologies for getting a little irreverent, but it's no sign of disrespect. In fact, quite the opposite.
I recently spent a week driving this ultimate thrill machine, BMW's new M performance series X4, loving every second I was in this crossover luxury SUV and feeling cool af.
My buddy and fellow car-dude Sammy Gomez, who also writes for Gaywheels.com, and covers the Ultra-Hyper-Mega Gay & Geritol-Bears beat, recently wrote about the Audi Q7 and how it's a "special luxury SUV." Not to disagree, but I can easily proclaim that the 2017 BMW X4 M40i would carry the title of "special crossover luxury SUV."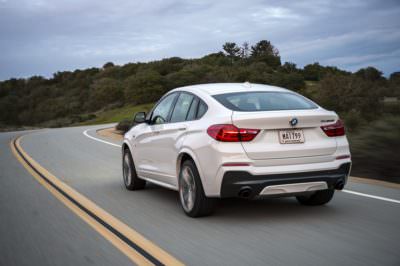 Introduced in 2016, the X4 M series has a sleeker look than the typical X4, with a chopped roofline, fender, skirts, and rear diffuser to match its muscular prowess. And it has the pipes–only two instead of the typical four found on M-series vehicles, but it still has the throaty, rich sound that tells everyone within earshot that this is a high-performance car. The M-tuned low-backpressure exhaust system has a sweet crackle and back-fire that is music to my ears.
The 3.0-liter TwinPower turbo inline 6-cylinder engine is capable of 355 horsepower that feels like more, with a sizzling 0-60 mph time of 4.7 seconds. This could be one of the best performance luxury SUV crossovers I've had the pleasure to drive.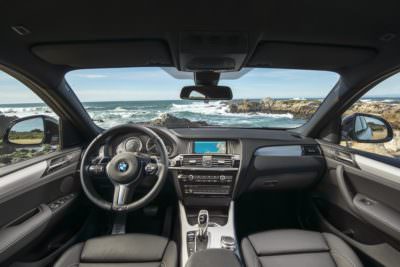 The X-Drive All-Wheel-Drive system and 8-speed Sport Automatic with Sport and Manual shift modes (and paddle shifters) is smooth, and more responsive than some dual-clutch sport cars. Twenty-inch M light alloy rims, double wishbone suspension and Dynamic Stability control as well as Dynamic Braking Control make this a bit of a sleeper. It might look like an SUV when seen from the rearview mirror, but it has the chops to go from behind to beside to out-in-front in the blink of an eye.
The X4 M wants for nothing, with features and options available like a Cold Weather Package, Lighting Package and Technology Package, including all the expected safety and security one would demand. This makes the 2017 BMW X4 M40i truly an underrated performer. Sure, there are bigger and faster luxury SUV crossovers and certainly more pretentious ones, but this little gem is welcome in my garage anytime.
2017 BMW X4MSRP: From $58,100
Horsepower: 355 hp
Engine: 3.0 L 6-cylinder
MPG: 19 city / 26 highway
Curb weight: 4,235 lbs
Towing capacity: 3,500 lbs