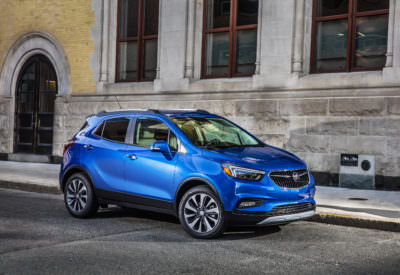 As I was driving this year's Buick Encore, which has a few styling upgrades from 2016, many people, including passengers, were a bit miffed.  They still make Buicks? I thought Buicks were supposed to be boats with port and starboard lights. My grandfather used to drive a Buick…. And so it goes.
Yes, Buick is still around and not on life support, though big daddy General Motors is putting more time and energy into its showier children like Chevy and Cadillac. This year's Buick Encore–the smaller, more practical, peppier SUV when standing next to its big proudly-lesbian sister the Enclave–is aiming straight (as it were) for those who want a smallish SUV that's easy to park, easy to operate and doesn't require an advanced degree in technology or your grandchildren to figure out how to switch radio stations or turn on the bun warmers.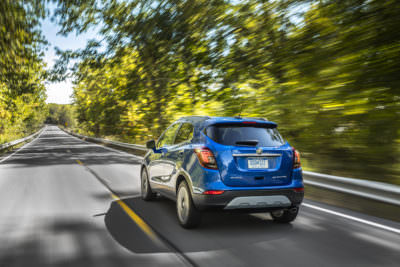 To that extent, the 2017 Buick Encore succeeds.  Driving around town was a snap and perhaps a bit unimpressive, but in a good way. Parking was easy, and maneuvering in and out of tight spaces at night court or the free clinic was a snap. The Encore is good car that says…well, it says different things to different people.
Okay, okay, it's easy to think of a Buick as something for the AARP set, and they would not disagree with you.  When you're over 50 (so I'm told – wink), you don't need to be a Scion of society.  You've passed the hipster stage and moved on to hip replacement.  You just need a car that will work well, has decent interior room and won't drain your wallet at the pump. (The Encore earns a combined mpg of 28, which ain't bad.) Starting at $23K and offering exterior colors like Ebony Twilight, White Frost and Black Cherry (see, the world has clearly gone gay), this year's Encore is a solid vehicle for those who need less brute force and more, well, something that won't upset your delicate system after you have chili rellenos this chili harvest season in New Mexico.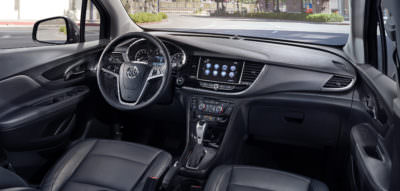 I found the Encore easy to drive and easy to use, especially with all the buttons and dials that remind me of last century. I tested the top grand-poobah Premium All-Wheel Drive trim, which made the drive even more of a quiet, non-upsetting joy. After all was said and installed, the sticker on that baby came in at $35.5K. Sometimes beauty and convenience are pricey, at least in the TLGQB world.
I will say that I loved the navigation.  It was a snap to use and was more than capable of guiding me around Colorado.  One feature I really loved that made my trips so much easier was the Mute Button for the navigation system.  Love the navigation but need to silence that helpful and irritating voice that keeps telling you to turn or go back?  If you want it to shut up, simply hit the mute button right there on the screen, or turn the voice commands back on with the simple press of an icon. Most systems require you to go through several steps to silence the voice commands.  It's about time that we got a simple (very simple) easily-accessed Mute Button.  Congrats, GM.
I'm not sure how attractive the Encore will be to youngish techie professionals who have full lives because they need two parents to work four jobs just so they can pay a mortgage on a house that will never be fully remodeled or habitable. You would think the AARP set would be a perfect audience for this car: all those retirees with money in the bank, golf games on Tuesdays, ballroom dancing on Fridays and bridge games 24/7…..
Except for LTGQB elders, and queer elders of color, who have astronomical poverty rates after a lifetime of discrimination, HIV, violence and, well, just life….