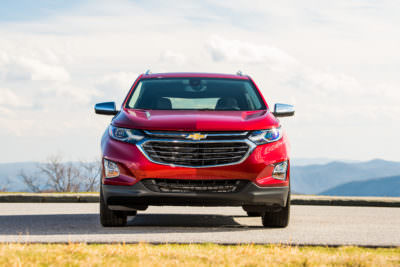 Compact vehicles are typically made for folks who will never have reason to shop at any store that caters to the vertically or horizontally challenged set. The redesigned 2018 Chevrolet Equinox is a big-time swallower; it has all of the offerings to accommodate those body types that typically look to larger SUVs.
As Chevy's number-two best seller, the Equinox is definitely cute in the face. There are four trims in the Equinox line—L, LS, LT and Premier. Chevy trimmed some fat off its latest Equinox, 400 pounds, so it weighs less and is shorter in length than its predecessor, and the result brings about a ride that is an improvement. The five-seater has a sleek, aerodynamic and more sculpted appearance, and snatches many of its styling cues from family members like the Malibu and Cruze.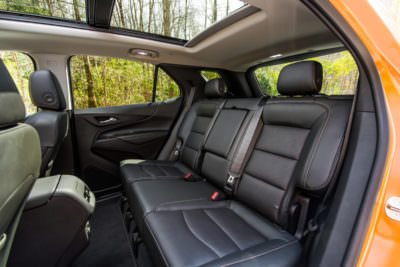 Besides being quite the looker, inside the compact SUV is where the magic happens with regards to roominess. The Equinox's interior dimensions will make you blink in disbelief and have you checking again to make sure it is size-categorized correctly. There is head and legroom for those front and rear passengers who hover around the 6'5" mark even with the optional panoramic sunroof. The roominess factor definitely makes this vehicle a serious contender for those with growing families.
There is one teeny niggle however, the cargo area is a smidge chintzy at 29.9 (so no major Costco hauls) compared to a few of the Equinox's rivals in the segment. However, hoarders will appreciate the vehicle's expanded cargo room to 63.5 cubes with the rear seats folded nearly flat. Those LATCH anchors for the Similac set's car seats that are oftentimes a pain to dig out are actually totally visible in the Equinox.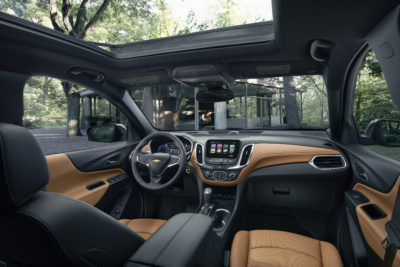 The Equinox's raw space is laid out efficiently and well put together, no dime store touches—soft-to-the-touch padded surfaces, neat stitched accents, impressive road trip comfy seating (60/40 split-folding rear seats), nicely displayed dash layout with streamlined dash do-dads and a 7-inch touchscreen (8-inch upgrade) infotainment system that does not result in hair-pulling. Chevy really does keep pace as far as technology is concerned, and its MyLink system is one of the easiest and most intuitive media interfaces around. Bluetooth pairing a smartphone in the Equinox is an absolute godsend; Apple CarPlay, Android Auto, 4G LTE Wi-Fi hotspot and a USB port are also standards in the vehicle.
When driving the Equinox, the first thing you'll notice is how its overall visibility is pretty noteworthy. Hitting the road, however, sportiness is not part of the SUV's driving experience (tester was an LT—1.5 liter turbo DOHC 4-cylinder engine) because horsepower is at the low end: 170hp, with 203 lb-ft of torque.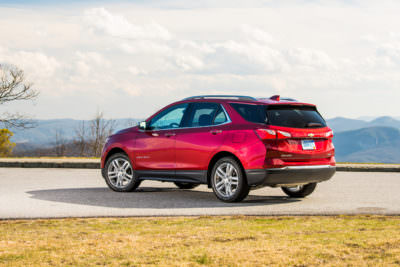 Even though driver snap back is not the Equinox's forte, what you do get is a vehicle that performs smoothly, nimbly and stably, particularly when going around road twisties. Taking it a step further, overall, Equinox's ride quality does impress because most road harshness is also filtered out. A quiet ride is what you'll also experience, which means your hearing will not be subjected to all of the unnecessary noise-related goings-on outside.
Chevy definitely comes through with a suite of noteworthy available safety offerings in its Equinox such as six standard airbags, Surround Vision (360-degree bird's eye view of the vehicle), OnStar, StabiliTrak, traction control, lane change keep assist with lane departure warning, forward collision alert, and rear-cross traffic alert. For those nervous Nelly parents, Chevy offers Teen Driver technology that can keep an eye on your daring road dawg wannabees. This does everything from muting the audio until front-seaters are strapped in, to providing parents with an in-vehicle report that snitches on their teen's driving habits.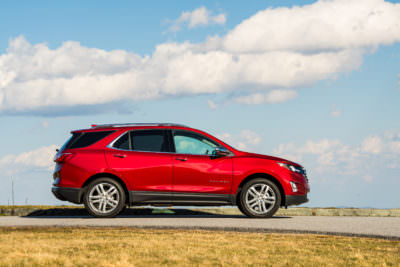 At the pumps, the crossover is competitive with its compact brethren at 24 city/30 highway. Pump pinchers should be on the lookout for the Equinox's 1.6L turbo-diesel that will kick out 136 horses; it's expected to achieve 40 mpg on the highway and due out later this summer.
The 2018 Chevy Equinox should be considered if you're looking for overall good ride quality, spruced-up styling and all in a compact that can comfortably swallow more proportionately challenged passengers than its segment hatahs!
Need more info? Visit Chevrolet.com.