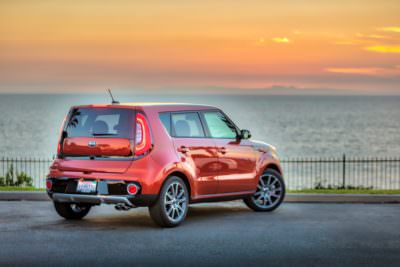 If your life is funky in a hygienic way, you enjoy Batman and Wonder Woman for the camp and color and not for the deeper meaning, and you'd rather be smokin' and laughin' and gassing it up than be in a production meeting, the 2017 Kia Soul (minus the hamsters) is your car–assuming you can finance a minimum of 16-grand on you lack-of-career-path employment.
What's not to like about a car whose trims are Base, + and !? This is one of those fun, kooky cars that has functionality, just like the setup crew for a drag show, but doesn't take itself seriously, like the drag performers sometimes do.  The joke is on here and that allows everyone to have a good time.  I like that in a man, and I love that in a car. You gotta laugh, as Cedric the Entertainer used to say, and the Kia Soul makes you laugh.  And smile.  And feel good about your funky, kooky life that can be found nowhere on your resumé.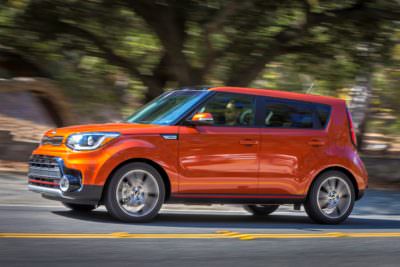 Is the Soul a crossover SUV or station wagon? Is it a practical car or a funky music and light show?  Is it Max or Caroline from 2 Broke Girl$, or maybe Sophie and Han combined? (How dare CBS cancel that show!) Call it what you will (and everyone has) the K-Soul is the only rolling boxcar still on the market.  The Scion xB and the Nissan Cube, while garnering a fair amount of praise and funk during their short lives, have indeed gone the way of the dodo. All you have left is your Soul, so enjoy it before it too is deemed to be too kooky and ginchy to be a smart car to buy or lease.
I tested the top-tier trim "!". This one comes with a turbo engine, and that seems to get everyone's goat in a good way (like when you need good Feta cheese). I think the turbo makes the Soul worthwhile, but that will easily bring you past $20K for this rolling box/cutter. Remember, this is not compact luxury.  This is practicality with some bacon donuts and cheesy fries thrown in. If you need a cotillion with crystal champagne flutes, you should shop elsewhere because the 2017 Kia Soul is clearly for the Red Solo Cup crowd (minus the Trump supporters).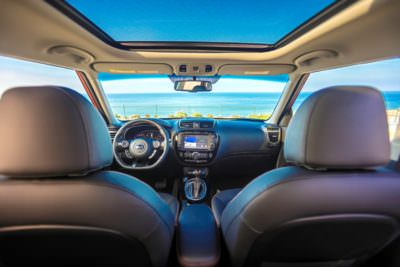 Car and Driver gives the 2017 Kia Soul one its Best of (Show) awards for the year. Others have all kinds of praise for our Soul, but for me, I really liked the fact that you have almost 50 cubic-feet of cargo room (when the back seats are down). This is where the container-storage party begins, and there is no reason to go back until you suddenly find yourself with child and a maternity hospital bill. Till those moments of nature happen (which are now happening every day in the LTGQB world), sit back and enjoy a 'simple' life.
But again, gosh, I just get tired of saying this: your queer bros at Kia have no corporate protection if they prove to be too fabulous for the production line. Yikes, Kia, just enact protections, will ya? You make great cars, why not ensure that you keep great employees?  It's like a neighborhood that goes up in value once the cool LBG-QueTees move in.  Once the plant is filled with openly fabulous gays, your stock price will go up because sales will improve.
C'mon, Kia. You're making this harder than it needs to be….