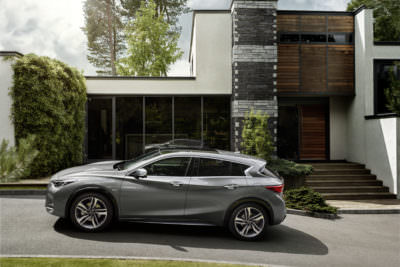 Many cars, especially SUVs and their knockoffs, are designed for the person with an "active" lifestyle.  What does that mean?
It means that you, the driver, exercises regularly, or at least owns a pair of gym shorts.  It means you get off your butt often, and therefore you don't have as much of a rear end as you would if you stayed in front of your computer screen all day and night. These days, cars with power and roar often are a bit cramped because, well, if you are going to get up and go, you can't be dragging around a bunch of dead weight from behind.
The all-new 2017 Infiniti QX30 is a fast, bold, elegant car that really is a bolt of lightning. Its engine, a 2.0-liter inline-four with 208 horses, is impressive even as you give it a little gas at a crosswalk just to scare the pedestrians. The drive is incredible with plenty of power…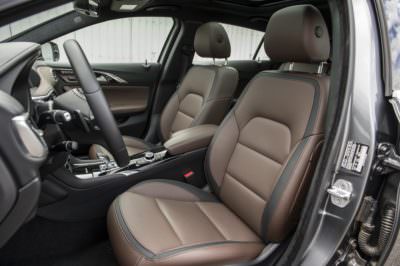 …and not a whole lot of interior room. I felt squeezed inside the car. I was never really quite sure how much crap or how many 'friends' I could get inside. This car was designed for me when I could still get into my U.S. Army uniform and march (as in walk five miles without panting) in a uniformed color guard for Gay Pride.
Car and Driver calls the new QX30 "athletic", which is one of those 21st century buzzwords that everyone is supposed to want in everything in life, including kitchen appliances.  But take it from a fat ass like me, "athletic" usually means there is no room for you unless you are mostly skin and bones and some lean muscle (no bulk). If speed and agility are your thang, and you fully realize that those qualities leave little room for dead weight or excess, this is your car.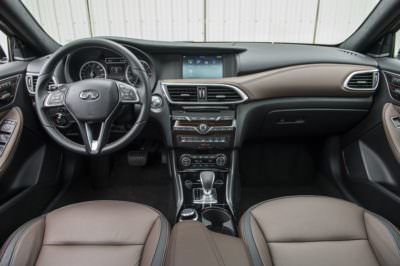 The QX30 is considered a small crossover SUV, which in the gay world is kinda like an otter who is on his way to becoming a bear, thus he can still move like a spring chicken but it is able to accommodate all bear requests, or something like that. The QX30 is supposed to be your sporty yet small utilitarian sports car, and it does a rather nice job at that. Around town, this car is great, and on the highway, I found it to be enjoyable. I just found it to be a bit tight.
You can get into this Queens-times-thirty for $30K, but for the real luxury, you'll want to go up the ladder to some of the more premium trips, which can add an extra five- to nine-thousand dollars to your dreamboat. Mileage is okay, offering a combined 25 mpg. In the QX family line of Infiniti, this is the baby bear that offers the flexibility and agility of a youngster but still some grownup tendencies like social adeptness and good grooming.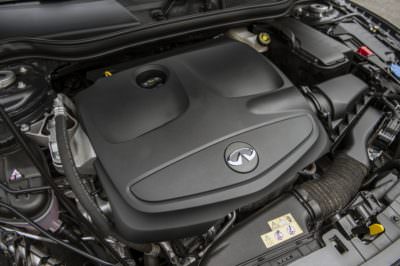 Infiniti is correct to go after the LGTQB market with the QX30. Not all queens are old queens, and not all old queens put on weight as they are able to afford better food than kale and quinoa. This is a gay car, to be sure. Give it a spin.
Just make sure you can get in the car first.  If you can't, be honest and move on, perhaps to the Infiniti QX80, where there is plenty of room for your party…
…and other incidents that fall in the category of "Life Happens".