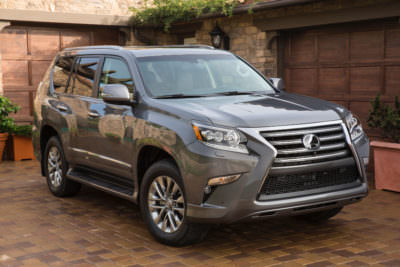 I was in Dallas recently for the annual Texas Bear Round Up, hosted each year by the ever-loving and easy-swinging Dallas Bears. To clarify, there are no bears that must be caught via a Wonder Woman lasso, as catching a human bear either by the horns or hind legs is simple to do, with or without an order of French fries. This is a gathering of the minds for men of the hirsute persuasion (a.k.a. big hairy Marys). We do what bears do: eat, sleep, party, shop and, ya know, stick our hands in the honey pot.
Texas Bear Round Up calls for a heavy-duty, super-sized vehicle that can handle men of size, baggage that takes up a lot of room, and an endless soundtrack of Lady Gaga, Cher, RuPaul and Erica Jayne. If there's one car that's perfect for this imperfect mission, it's the 2017 Lexus GX 460, a big SUV with size and style that everyone likes inside and out. Oddly, this tank is considered a midsized vehicle. Makes you wonder who the size queens are who put the squeeze on one of the biggest contestants at the Miss Auto Show Dallas pageant.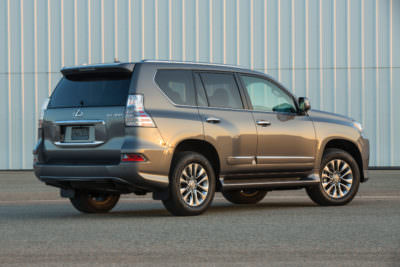 The 2017 GX460 is one of those Lexuses (Lexi?) that really is a show pony at heart.  Oh sure, it can take on all cummers with its 4.6-liter V8 engine that cranks out 301 horses and 329 pound-feet of torque (cloaked in a standard automatic transmission and constant 4-Wheel Drive). That's right: this tank needs a V8 every morning just to roar around the neighborhood, so take note that average miles per gallon is just 16. Still, it's a beauty that every parking lot attendant and drive-thru hostess will notice (hopefully because it's so stunning and not because you scraped it on the speaker box). At a starting price of just under $52K (equivalent to tuition at an in-state four-year diploma mill), this bear of a Lexus ain't cheap but it is worth it if you have an ample parking space and a gas card.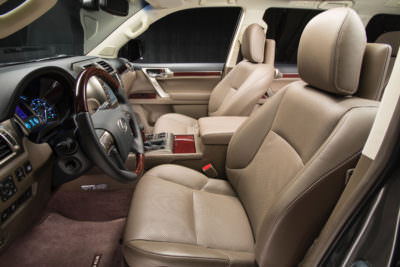 The GX460 is marketed as a vehicle fit for seven adults, but to be clear, this isn't a vehicle for seven adults of size, IMHO. Admittedly, Lexus makes it easy to pull the third-row seats up and get them ready for more humans. And depending on your dexterity, it's fairly easy to climb in and out of the third-row seats, emphasis on the word 'climb'. In the end, we got six bears in the GX460, but with captain's chairs for the second row of seating (optional), we found the ride was much more enjoyable when there were only four men and plenty of room for supplies in the rear. Sometimes luxury cannot accommodate all. Oh well.
Across the clouds, the GX460 gets praise for its ability to go off-road (for intentional dirt driving and not because you dropped your latte and wound up on a studded shoulder). The GX460 is like the big, flashy bear that everyone passes on because they all think he's a monster, but I found myself attracted to him. A little bling, a little bear, a little bada-bing-bada-boom…. I was happy.
Life as a gay bear in 2017 has gotten so much easier than when we had to fight for our right to ogle large actors like John Goodman and James Gandolfini. Now, we just have to fight the urge to not indulge at every buffet and fundraiser and stick to our soups and salads. Bears have really become the It Girls of 2017…
…and for you bears who hate being called a 'girl' or 'honey', well, okay. I'll just call you Big Hairy Mary. Or Mildred.