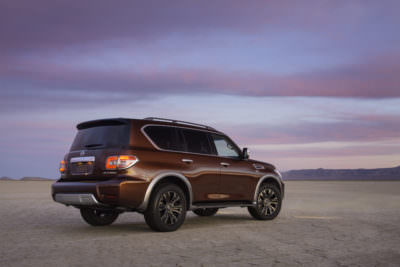 Love, exciting and new…
Come aboard, we're expecting you…
You can almost hear Jack Jones or Dionne Warwick sing the theme to one of every LGBTQ's favorite 1980s TV shows as you approach the 2017 Nissan Armada. Yes, this really is The Love Boat, and it is a yacht that sails with all the will and grace of a catamaran through a calm, ocean-blue afternoon of hot salsa, gay fun and freshly-boiled crab legs.  Ahh….
Well, that's how I feel when I'm inside this beauty that really is a beast. This is the Large Marge of SUVs, and it's not for the meek, the mild, the mink or the mindless. This Baby Huey starts at $44,900 for the cheap version and only goes higher, to exceed $60,490 for the top-tier Platinum All-Wheel Drive trims after you add all the fixin's. This boat comes with a 5.6-liter V8 engine, so know that it drinks but it will keep you purring.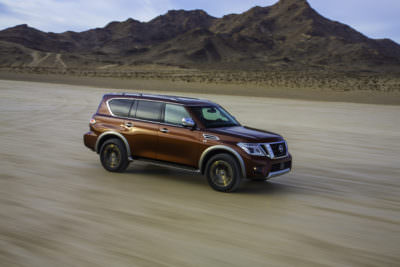 Strong enough for an all-female soccer team but not built big enough for a cave full of Yogi Bears, this year's Armada has a third row of seating that is one of the most spacious and easy-to-climb-into that I have come across in a while. The interior is a nice combination of luxury appointments with a utilitarian sense that will impress all the fussy queens in your life who you just can't kick to the curb. There's a lot to impress here, and all of that should be taken into account when considering this as a purchase.
Mileage is predictably low at 15 mpg average, and even that's a little low for this class of large SUVs. I will say that I had a heck of a time trying to figure out the navigation system.  Oh sure, anything more than what I can do on my Jitterbug phone is a challenge for me, but it took me awhile to figure out how to sync and how to swim through all the menus.  I'm not saying everyone who builds cars has to come down to my level of technological remedial-ness, but well, if I didn't want to hear the soundtrack to Beaches so badly, I would have been happy with just satellite radio.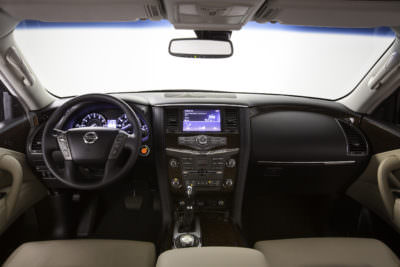 Indeed, I did test the Platinum AWD edition and I loved every minute of it. Even though the pain at the pump was in my wallet, there was no pain hopping out of this tank and filling the other tank with fuel.  Easy peasy, really, but just make sure you are aware of the fact that you are driving an armored tank. You really can easily run over all those pedestrians who annoy you and get in your way, but a felony never looks good on anyone. Caution is always advised, just like when you get a hold of that dreamboat of a man who is 6-foot-5 and proportional.  You still have to navigate what looks like a fun ride but could go terribly wrong if bumped from behind.
Why would anyone need a huge vehicle like this?  Rarely is it about need, but it is about self-awareness and knowing what can make you happy, even if it is an inanimate object called Armada. If it makes you happy, you should do everything you can to make it a part of your life…
…including the partner who you love dearly and who will cost you more than $20,000 to divorce once you realize the engine doesn't turn over anymore and the undercarriage is rusted.