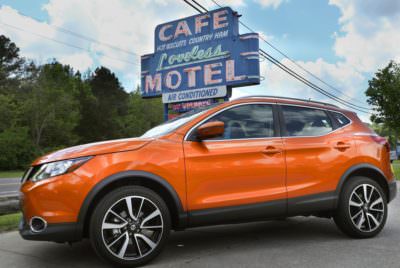 What happens when two very good crossovers, the Nissan Rogue and Juke, get together for a love-borne fling and end up producing a lovely child? Well, it might be something like the cool new Rogue Sport which has most of the space and comfort of the Rogue, but the tie-fighter reflexes of the Juke. Placed right between the two in Nissan's nest, love does the rest.
Styling flies towards the bigger of the two birds. The front three-quarters looks very similar to the Rogue, though with a lower profile, with glitzy LED running lights and turn signals. Around back, Rogue Sport has more of a rounded profile compared to the upright Rogue. Size is deceiving because Rogue Sport rides on a wheelbase just 2.3 inches shorter than Rogue. It's 12.1-inches shorter overall, with decreases noticeable in the cargo area and rear seat legroom. It's especially fetching in Monarch Orange metallic paint over 19" alloy wheels with low profile tires – very sporty.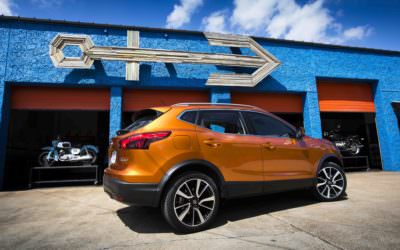 If somebody wrapped blindfolds and placed you in the front seat of the Rogue Sport, looking straight ahead, there's no way you could tell the difference between the big and little Rogues. The dash is nearly identical, seats as plush, and visibility just as good.
Our SL-level model came equipped like an Infiniti. Up front are heated leather seats and steering wheel, dual-zone automatic climate control, power moonroof, and 6-way power driver's seat. Rear passengers have tighter legroom, but ride in 60/40 split/fold leather seats that can be deployed to increase cargo space. Plush stitched vinyl upholsters the doors, dash, and center console while piano black finishes surround the voice-enabled 7" touchscreen that controls navigation and smartphones/music players via USB or Bluetooth. Hands-free text messaging and keyless entry/starting add convenience. Safety is bolstered by and around view camera, blind spot warning, rear cross path detection, and radar-enabled crash-mitigation braking.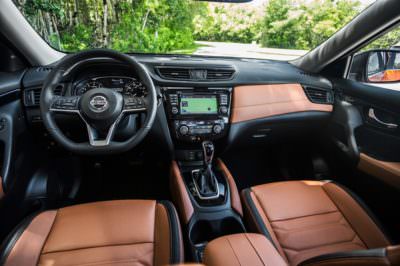 A smaller bird requires less energy to fly, but the Rogue Sport flaps with just a 2.0-liter four-cylinder engine delivering 141 horsepower and 147 lb.-ft. of torque. It's not slow, but even fully stomped, will not impress your friends either. The continuously-variable automatic transmission makes the most of the power, but revs and wines as typical with CVTs. Nissan's CVT is among the best, but will feel strange at first. All-wheel-drive provides all-road confidence. Even ECO mode won't pull fuel economy above 24/30-MPG city/hwy.
Despite a dearth of power and continuously-variable transmission, the Rogue Sport is a spirited little car that drives more like a Juke than Rogue. Tight handling complements a stiff four-wheel-independent suspension system that gives drivers confidence to go find curvy roads and enjoy a weekend tryst. Four-wheel disc brakes stand guard. The Juke has been one of the most entertaining crossovers for years. The Rogue Sport is only slightly more mature in the way it drives, leaving that simple fun spirit that was Juke's hallmark.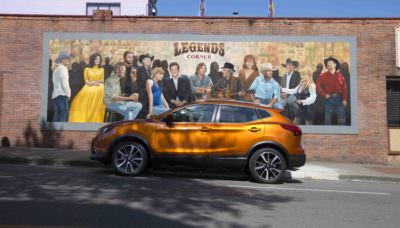 Some love-making endeavors produce ugly offspring, but putting two Nissan crossovers in the same garage produced a beautiful child. Take the Rogue's comfort and refinement, mix in a batch of fun spirit from the Juke, and you've got one of the most enjoyable compact crossovers rolling. A turbo and six-speed manual transmission, plus about 5 additional MPG, would only add bows to the baby blanket.
A base price of $21,420, or $31,055 as-tested, puts Rogue Sport against the Subaru Crosstrek, Honda HR-V, Mini Countryman, Hyundai Tucson, and Mercedes-Benz GLA.
Storm Forward!
Watch Casey's video review of the Rogue Sport above, the follow him on YouTube and Twitter: @AutoCasey.
2017 Nissan Rogue Sport SL
Five-passenger, AWD Crossover
Powertrain: 141hp 2.0-liter I4, CVT
Suspension f/r: Ind/Ind
Wheels f/r: 19"/19" alloy
Brakes f/r: disc/disc
Must-have features: Style, Handling
Fuel economy: 24/30 mpg city/hwy
Assembly: Japan
Base/as-tested price: $21,420/31,055