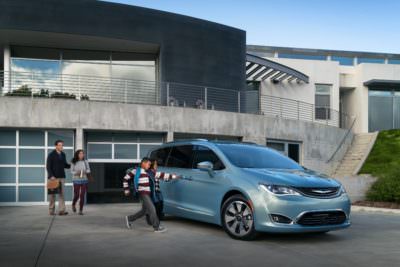 "Inspired by Juneau, Alaska, Pacifica Hybrid features an exclusive interior environment combining Black and Alloy with Anodized Ice Cave accents, Ice Blue stitching and black piping…."
Okay, whoever wrote that for Chrysler's promotional materials really should get paid overtime. That was a brilliant description of the interior of the 2017 Pacifica, a minivan that is hardly mini and far from 'van'.
You can have your choice of exterior colors, but the default overtone is called Silver Teal, which is something you might see in the stage production of Frozen. I suspect this color was chosen mostly because it is pleasing to the eye and very gay in a wink-wink kind of way. But combined with Black and Ice Blue and pipes on the inside, there is a sense of ahhhh to this people mover. If you are a strong and practical parent (all LGBTQ parents are), the 2017 Chrysler Pacific Hybrid will make a lot of sense to you.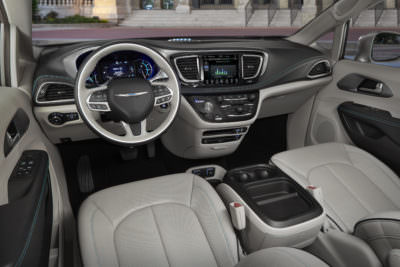 First, it's roomy and can haul all, and I do mean 'all'. Everything folds down easily to create a cavernous storage space that really can hold most of the stuff you got in the divorce because your ex didn't want it. Put the kiddies and friends and frenemies and pets inside and off you go.  Spilled more than a little water?  Clean up is a breeze.  Well, you will have to put some muscle in it but you won't have to break out the carpet cleaner unless there really was an accident of nature inside the vehicle.
If you use the right combination of gas and electricity, it's possible to get up to 84 mpg from this year's Pacifica. With this hybrid, you do have to charge it to get its full potential, but not every night.  All you do is just plug it in, either at home or at a charging station.  There are all kinds of groovy ways to measure and monitor your juice usage.  Yeah, that's nice, but I prefer to just get in and go, which, like the Silver Teal, is always the default.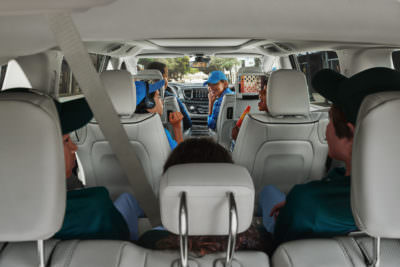 I had the chance to try Chrysler's all-new KeySense key fob (available on many new Chryslers), which allows you to pre-program a number of vehicle operations as well as "promote safe driving habits", according to the promotional literature.  If you have juvenile drivers (based on age or behavior), you may need to put the brakes on their recklessness in order to ensure that your insurance premiums go up no more. There is one key fob for you, and one KeySense key fob that you can program to limit speed, music volume and other features to help ensure that your budding delinquents drive safely and smartly every time you hand them the fob.  Just think: if they can't speed and can't crank up Alice In Chains to full volume, they just might get frustrated enough to go get a job……
And let's face it: LGBTQs are changing the look and definition of family, and in doing so, everyone will benefit. The Pacifica is one of those vehicles that is ready for family, however defined.  And it's about time, I say. For so many years, LGBTQs have been left out when it comes to family.
As Dolly Parton replied when asked about same sex marriage, "they should suffer just like us heterosexuals."