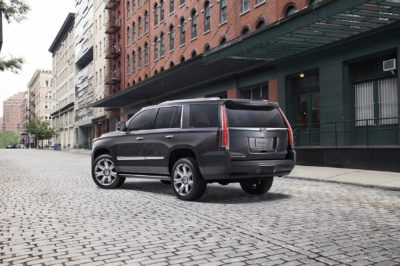 The Cadillac Escalade is unquestionably the go-to SUV for anyone looking for big-boy luxury, style, and bling in a people-hauler. It is a beast that commands attention, a real symbol of success–shiny, audacious, draws peeps wherever it roams. It has starred in countless music videos, dazzled folks in riveting magazine ad spreads, graced the driveways of prominent music, sports, and business figures, and is a downright cult vehicle of sorts to its faithful followers. Even after all these years, the General Motors star player still symbolizes exhibitionism at its best!
The 2017 Escalade gives good drama coming and going! It's stylish with sharp lines, sculpted hood creases with a mighty, mighty chrome grille and large vertical mesmerizing headlights with jewel-like lamps. The seven or eight-seater's rear has a massive liftgate framed on either side by long and narrow vertical taillights. There are, of course, chrome touches here and there, but not everywhere–this Caddie is not the flamboyant madame she was back in da-day, as there is a little less war paint. Don't get lost in translation, however: this Caddie is still stylin' and profilin' and is for those folks who relish the side-eye they get whenever they hit the streets.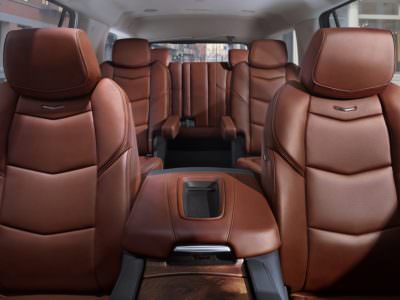 Entering the behemoth's cabin you're smacked with a plush leathery welcome. The Escalade's cabin looms large with posh touches and stretch-out room for your brood or hangers-on in the first two rows, but in the third, well, it should only be reserved for tykes. (The extended wheelbase ESV adds 9.7 inches of legroom for third-rowers.) It offers comfy and supportive heated/cooled seating (12-way power for driver and passenger) and second and third-row seats that lay flat at the touch of a button.
In typical Caddie fashion, the SUV features interior eye-catching materials like leather, suede, and genuine wood grain. There are plenty of intuitive tech offerings that will keep folks entertained in the Caddie range-topper, like the upscale-looking CUE multimedia system that provides haptic feedback, reliable voice-recognition and includes a standard 8-inch touchscreen, navigation, Bluetooth, satellite and HD radio, teen driver monitor, surround-view camera, W-Fi hotspot, wireless charging pad, five USB ports, Apple Carplay, and Android Auto. The cargo area in the Escalade features 15.2 cubes behind the third row and 51.6 cubes with the last row stowed away.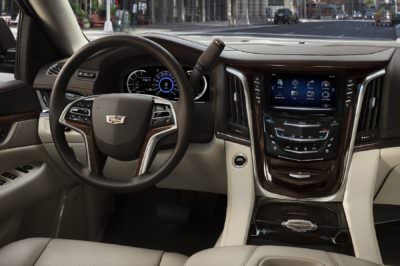 Giving the throaty workhorse some gas, you can feel its power and fury! Even though the large SUV is built on a steel body-on-frame truck design, its ride quality is not a jostling experience. The bruiser features GM's Magnetic Ride Control that adjusts the suspension to offer a smooth ride despite those annoying road landmines. There are no unpleasant surprises when maneuvering the SUV; its heft can be felt, but it is far from ponderous. The Escalade is pretty smooth and quiet in a straight line and does not feel wobbly at high speeds. Firm braking and a hushed cabin round out the Escalade's road manners.
A 6.2-liter V8 engine that cranks out 420 horses gives the beast enough power to haul ass and keep up on the highways. At the pumps, your pockets will probably ouch as this big boy gets a paltry 15 mpg city/22 mpg highway, which keeps it right in line with its other behemoth road dawgs like the Lincoln Navigator, Mercedes-Benz GLS 550 and the Infiniti QX80, the last of which is the loser in this category.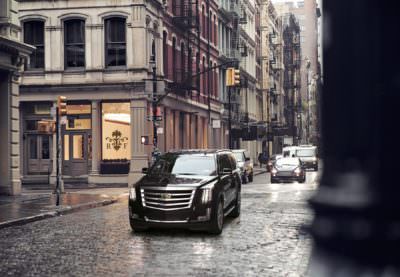 Safety is covered front to back in the Escalade with such need-to-haves as forward collision alert with automatic low-speed emergency braking, lane departure warning and intervention, a safety-alert vibrating driver seat, blind-spot monitoring with rear cross-traffic alert, and the much-talked-about rearview mirror with its obstruction-free camera view. The National Highway Traffic Safety Administration (NHTSA) awarded the Escalade an overall safety rating of four stars.
The 2017 Cadillac Escalade certainly cuts an imposing figure on the roads, mainly because it has got the formula for luxury on lock, and this is pretty evident in its base sticker price of $73,395. True dat, dipping in to buy the Escalade might eat into your budget for purchasing more Internet stocks, but just think how much celeb-like attention you'll receive every time you hit the streets.
Need more info? Visit Cadillac.com.