The Gay Nineties have returned–at least for Volvo.
If you're fortunate enough to enjoy your nineties, however defined, you really should do it with style and flair, assuming all your money isn't going to health insurance.  Many people think of the Mercedes Benz E Class or S Class cars as the ultimate in luxury, and indeed, they are thoroughly magnificent. But if you want something a bit more reliable and just as swanky, you should look at the Volvo '90s'.  I still haven't figured out how and why Volvo names its models, but the higher the number, the more breathtaking the elegance.  And the cost, from my cheap seats.
The 2018 Volvo S90 is all-new this year. This is the 'smaller' luxury sedan that reminds me of the big-boat Lincolns and Cadillacs of yore, only with a lot more, hmm … ahhh.  The attention to detail is impeccable; find an error in the interior and you are in the wrong car. I remember climbing in and feeling like I was in a spa: whatever is going on outside my windshield really doesn't matter.  Driving it gave me that feeling you get when the cucumbers go on your eyes and the paraffin wax goes on your hands–and you really don't give a shiitake about anything at that moment.
Mind you, for a base price of $49,000, the S90 ought to make you feel relaxed, even as you sweat over how you'll make the estimated monthly payments of around $900. But hey, you get a sunroof, All-Wheel Drive and many, many extras to make your day at the spa incredible. I expect nothing less from Volvo and neither should you.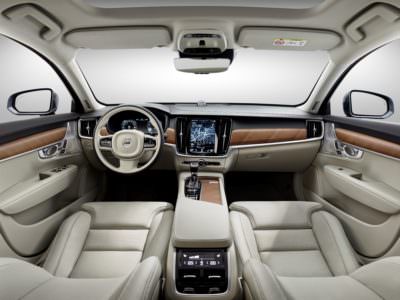 Personally, I liked the 2018 Volvo V90, a big stretch-limo of a car that is available only by special order.  If you want the old-school luxury of a Lincoln Town Car but updated and functional with a hint of country club charm, this is your car, baby–and it's a smidge cheaper than the S90.
I'm so old that I remember when service in the coach cabin of an airplane was what first class is like now. So imagine what first class was really like back then, with chefs and premium liquor and linen napkins? The new V90 invokes that feeling.
The V90 is a big, long car–perfect for those who have or need a chauffeur. The drive is magnificent and probably out of your price range.  This car is for people who are loaded, because at a minimum you will need valet parking.  The V90 has over 78 cubic inches of space when the second-row seats are folded down, and you can get a flip-up holder for your grocery bags for another $1,900. It's got length but not much height, like a station wagon (because, well, it is a station wagon). And it's beyond dreamy.  Again, you gotta special order it.  Hey, if you have to ask…. Though in fairness, it'll probably cost less than the outrageous rent you pay for your studio with a view.
I can't say that the 90s from Volvo are cars to which you can aspire. You either have the money or you don't, and if you can only sorta-kinda make it work into your budget, you should consider something else.  But for all of you out there who do have money (we know there are a few of you who do), the S90 (shorter and more playful) and the V90 (longer with more royal beginnings) are truly worth driving.  I didn't want to get out of the car…
…and not just because the stereo system made Eydie Gormé sound even more incredible than she was in real life.