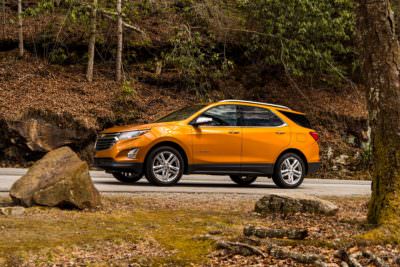 The 2018 Chevy Equinox is lighter in the loafers — as in, it's about 400 lbs. lighter, a 10% reduction in weight, for improved fuel economy and more adept handling. Of course, it's also undergone a style makeover that makes it even more handsome than it already was. A new line of powertrains and advanced safety tech put the finale on this road show.
The Equinox is not just lighter, it's also smaller. Chevrolet is right-sizing its crossovers to better meet competitors, so the new version is less mid-size and more compact. It's also sexier, sporting a pinched version of Chevrolet's twin-port grille and flowing side sculpting that echoes the Malibu sedan. Our LT-grade model skips roof rails, but rides on 18" wheels and dresses up in Orange Burst Metallic paint. Rear corners are more angular for cleaner aerodynamics. While it is sleeker and more sculptural, it's clearly an Equinox.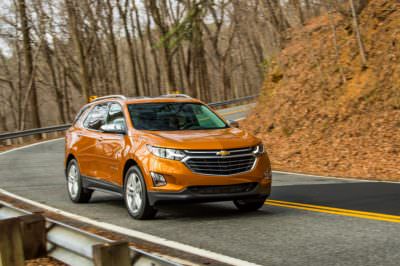 Inside is where the Equinox has shed a few inches of interior space. It's narrower and rear legroom feels slightly compromised, but most people wouldn't notice a difference from its predecessor. Opening the power rear hatch reveals a roomy cargo compartment, expandable by deploying the rear seatbacks with two handles in the rear sidewall.
You can order your Equinox with contrasting-color dash inserts, leather seats, and a panoramic sunroof, but our model has none of that. Charcoal canvas seats with orange stitching are heated and feel ritzy despite their lack of hides. Dash and doors feature soft-touch trim rendered in black. Our vehicle suffices with a 7" touchscreen instead of the optional 8" version, and the volume knob is nice, but it also needs a tuning knob. Push button starting, dual-zone automatic climate control, Wi-Fi, Apple CarPlay, and Android Auto add convenience. Enhanced safety come from blind spot warning, rear cross path detection, rear camera, and parking sensors.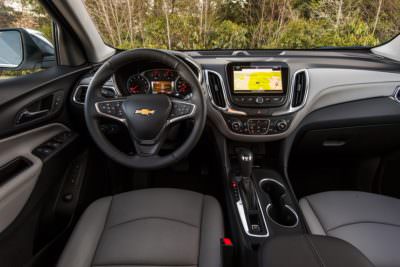 Powertrains are definitely sassier. Gone are the previous normally-aspirated four-cylinder and V6 engines. Base models now dance with a 170 horsepower 1.5-liter turbocharged four-cylinder engine, but power hounds will hunt the 2.0-liter turbo-four that delivers 252 horsepower, 260 lb.-ft. of torque, and 22/29-MPG city/hwy. A new nine-speed transmission and auto stop/start enhance fuel economy. All-wheel-drive helps plow through snow, but front-wheel-drive models minimize fuel consumption. If fuel economy is your main concern, there's also a newly available 40-MPG diesel.
One thing I appreciate in most GM products is their absolute lack of squeaks, creaks, or rattles. The Equinox is tomb solid, rumbling over rough pavement with only a hushed slapping of tires. Its lighter weight makes it more fun to toss through corners. That's certainly not a crossover's main purpose, but the Equinox is more enjoyable to drive.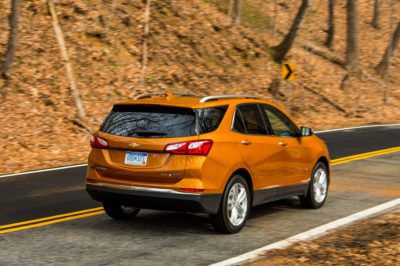 In full disclosure, my parents owned two of the previous generation Equinox. I suspect they'll like this one very much. It's a little narrower, but with 400 lbs. shed, it feels more athletic and accelerates briskly. Smaller size puts it closer to competitors like the Ford Escape, Toyota RAV4, Honda CR-V, and Subaru Forester. All in, the all-new Equinox seems to revel in its lighter loafers.
The Equinox starts at $23,580, but came to $32,430 as tested.
Storm Forward!
Watch Casey's video of the 2018 Chevy Equinox above, and follow him on YouTube and Twitter: @AutoCasey.
2018 Chevy Equinox
Five-passenger, FWD Crossover
Powertrain: 252hp 2.0-liter Turbo-4, 9-speed auto trans.
Suspension f/r: Ind/Ind
Wheels f/r: 18"/18" alloy
Brakes f/r: disc/disc
Must-have features: Design, Powertrain
Fuel economy: 22/29 mpg city/hwy
Assembly: Ingersoll, ON
Base/as-tested price: $23,580/32,430