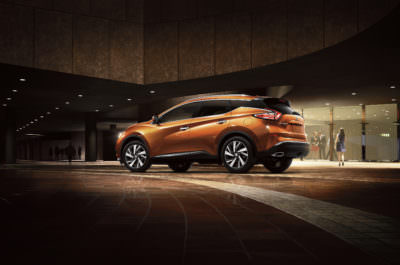 This year's Murano is another one of those SUVs that does a little bit of everything well, but for some, it doesn't do any one thing particularly outstanding.
It's reliable, roomy, elegant, easy to drive, enjoyable and has some get-up-and-go when needed, but not an overabundance. The name is tasteful enough, but it doesn't evoke images of sports cars driving down winding roads on exotic islands or through ancient ruins. Indeed, it sounds more like a safe blend of International Coffees that your grandmother used to drink back in the 1970s.
The Murano may seem like a gentle giant, but its birth certificate calls it "midsized".  There is some girth to the Murano, the semi-big cheese in the Nissan SUV lineup (the Armada is bigger and I love it). You don't really need a vehicle this big for a family of four, though going down to the Nisan Rogue for your nuclear family might get a bit cramped.  Dogs and groceries and offspring who haven't reached full adult size can find plenty of room in back, while the adults in front tend to the more mundane tasks of driving and, well, being adults.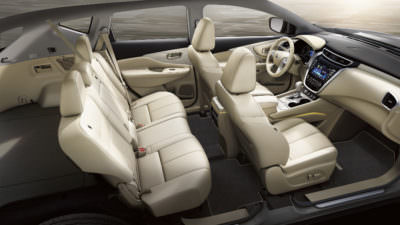 In other words, there's nothing spectacular about the Murano.
But of course, that's the point.
Newsflash: there's nothing spectacular about being a responsible adult with daily duties involving your children and loved ones, including Fluffy and Fluffer. It's a job, plain and simple, even if they didn't tell you that at the county clerk's office, and it requires equipment that is up to the job, so isn't it nice when that job can include a little luxury?
That's what this year's Nissan Murano is all about: just like the Hokey Pokey, it is nice, simple, fun and reliable and up to the job. I can't make it any more glamorous than that, but I will tell you that driving around the Platinum All-Wheel Drive trim did make me feel very much like I was in the same league as the dancing and dining set of decades past.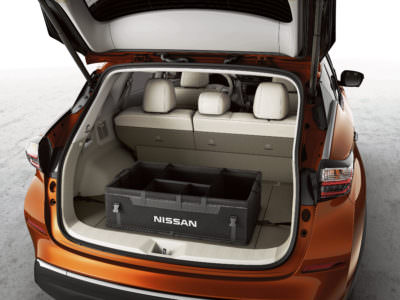 Sure, when the manufacturers want us to review a car, they give us the wow-pizzazz-goodness-sake trim that will in theory get us all gaga. Hey, I'm all about flash, so sure, I'll drive the top-tier trim and tell you how I felt: I felt great! This trim starts at $39,180, which is a lot of money, but you get a lot for all those Benjamins: zero-gravity and leather-appointed seats, remote engine start, power liftgate, navigation, blind spot warning, rear traffic alert, driver attention alert, dual climate zones, All-Wheel Drive…ya know, the things you should expect for $40,000 of investment.  The base S trim starts at just under $30,000, and, yes, that is more affordable, I say as I bat around those terms as if money were no object or objection. Fuel economy is a combined 24 mpg, which is decent. Plus, this is a luxury trim, so yes, you will feel elegant, until your babies Fluffy, Bottoms and Topper start crying.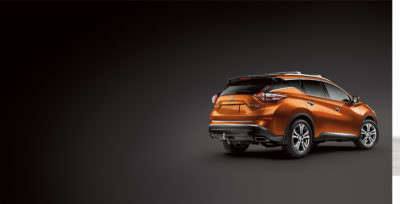 Sometimes I lament the fact that LGBTQ has become so mainstream that there seems to be nothing wild and fabulous about us anymore. Similarly, the Nissan Murano is a gay car IMHO, and while elegant, it doesn't quite scream 'queer' for me.  That's a good thing, really; it just means we have to go plant our gay glitter flag elsewhere and try to shock and awe with makeup and wigs and dresses and stuff that most men now wear these days.
Bob Dylan was right: the times, they are a'changing, more than 50 years later.