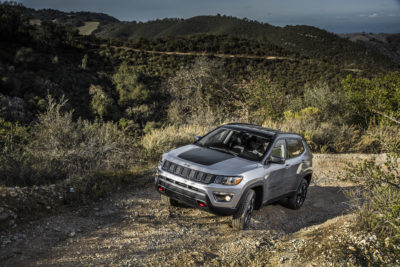 Want the thrill of an amusement park ride but also want to be Chewbacca at the controls of a Princess Leia transport?  Welcome to the 2017 redesigned Jeep Compass Trailhawk.
Over the last few years, the Trailhawk badge (which is a Jeep trim on the Cherokee, Grand Cherokee, Renegade, and Compass) has come to symbolize excellence for off-road Jeeps. Many crucial off-roading items are included in the Trailhawk trim, like larger wheels, extra ground clearance, extra-tough skid plates and other undergarments, and bright red tow hooks in back and front (so you can see them in the mud or water).
Another Trailhawk feature that all 4-wheel drivers– experienced or amateur–love to have is Hill Descent Control, which allows the vehicle to drive itself down steep or treacherous landscapes so you can sit back and sip your latte. These vehicles have come a long way since last century, and the Trailhawk badge now has the tools that off-roaders want and need in a vehicle.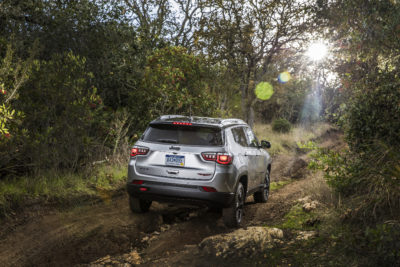 The Compass is IMHO a Jeep that looks less and less like a traditional Jeep. On the 2017 model, the curves are more rounded and inviting: there's nothing intimidating or fierce. Even the traditional Jeep grille (big strong vertical lines and columns that demand that you pay attention) has softened. I'm not saying this is a bad thing, just something that's different. With the Trailhawk trim, though, the Compass' fierceness and competitiveness can still be seen.
Fellow Gaywheels writer Dave Bear really likes the Compass Trailhawk and how it handles on rough roads–and he's been down a lot of rough roads. He saw the body styling (all new) as being "outright cool" with a higher beltline and endless Trailhawk badging. (Hey, it's like being a sash queen: sure, people get tired of seeing you parade around like royalty, but you never tire of wearing your sash and jewels because they make you feel good.)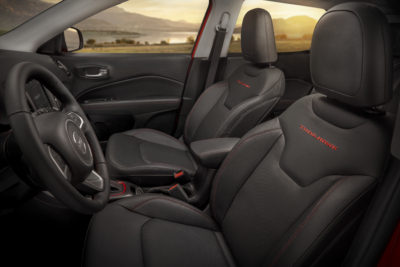 Dave was impressed with all the power and roar of the Tigershark 2.4-liter inline-four engine that offers 80 hp and 175 lb-ft of torque. (Tigershark is a brand name from Jeep's owner, Fiat Chrysler.) This is the standard engine across all Compass trims, and it serves the model well.
The 2017 Jeep Compass Trailhawk is one of a handful of smallish off-road, trail-rated vehicles that doubles well as a family car, assuming your family is just as smallish. My only concern would be the high ground clearance and standard 17-inch wheels, which can make for a bouncy ride around the shopping mall.  Once the kids hit fifth grade, you may want to start looking for a bigger vehicle.
You can get into the base Compass Trailhawk for $28.5K and get combined mileage of 25 mpg. As 2017 draws to a close, now is the time to get to the dealer and start cutting deals, though you may be hard-pressed to find any Trailhawks that are just lying around, waiting to marked-down for clearance.
Yet even for hot items, at some point it becomes 2 a.m. and the bartender is ready to leave and there is still plenty of inventory on the barstools…..