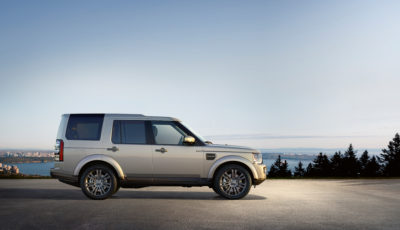 Every now and then, someone scrappy like me (think Kat Dennings on 2 Broke Girl$) gets past all the security and the bouncers and momentarily enjoys a life dripping with elegance and money. Sure, the sash is shabby, the shoes and my soul are scuffed and worn, but I still get to parade in style and get some fancy chicken on a stick to eat while I parade. And when I do, woohoo, look out, drive-thru window at Long John Silvers.
The classy people at Land Rover saw fit to loan me a 2017 Discovery to test and enjoy, and boy, did I enjoy it. Luxury abounds, inside and out of this elegant gem.  Spotlights light up when you approach it after dark. The interior glows like a fantasy fiction command craft. Word on the street and at the country club is that the 2017 Discovery can handle any road, any time. And you can still entertain backseat passengers with television screens just like you used to get in first class on United Airlines.
All this dripping status starts at $50,000, which is cheaper than I thought it would be. Oh yeah sure, that's a lot of cash, but then, this is a multi-purpose vehicle capable of outstanding feats. This kind of elegance can even mask the worst kind of ugliness (except for the kind that didn't vote for Hillary Clinton).
One of the things I especially liked about the 2017 Discovery was how easily it was to connect–and stay connected–to the car's technology. Once I synced my music and phone, the telephone solicitation calls and the Johnny Mathis music never stopped, even when I did. I also was really impressed with the backup camera, which has a screen that is one of the most clear and accurate I've seen. No guess work here when you're in reverse.  You know exactly how much room you have to maneuver (though I'd rather just leave that to the butler).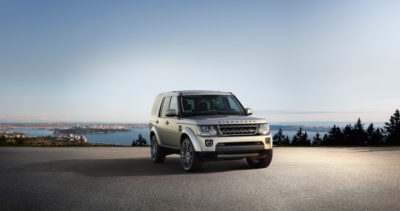 Okay, I found a few things I didn't like.  The door handle is oddly placed so that to open the door, you have to contort your hand a bit to get out of the car. And what else didn't I like? Well, that was it, just the door handle.  There are probably other minor items that will drive buyers crazy, so if you're in the market for a luxury midsized SUV, you may also want to look at the Porsche Cayenne and BMW X5. If you can afford luxury, it's all the more important that you learn how to shop and sip the free Bellinis every time you step in the showroom.
Yet much as I like luxury, I may always be like Max Black, who is always suspicious of money and how people use it (for or against) other people. I never feel completely at ease around luxury, as though I'm waiting for the house steward to hand me an apron and say I'm late for my shift. Then again, perhaps I just need to spend more time surrounded by luxury to feel more comfortable with it.
Well, now I really am late for my shift.