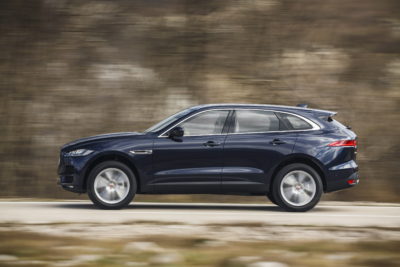 Talk about being a day late and a dollar short and still making an entrance!
Jaguar has always been known for sleek luxury cars that can tear up the road and your savings. Like its namesake animal, Jaguar has a reputation for speed, stealth and accuracy, all in a body that screams "high class" no matter who's sitting in the driver's seat.
For most of us, Jaguar is a brand to which we aspire, not a place to start and work our way somewhere else.
So, why would this carmaker–known worldwide for its luxury vehicles (when you say "jaguar", people think of the brand before they think of the animal, I suspect)–bother to get into the smallish SUV market?
Simply put, it had no choice. Today's carmakers have to compete in every segment, no exceptions. Thus, Jaguar introduced the F-Pace last year, and it's still getting paparazzi to notice wherever it goes.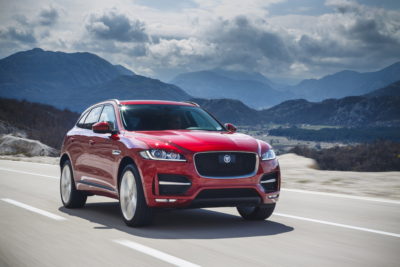 If you're looking at an F-Pace–and honestly, who wouldn't?–you're going to have an excellent selection of engines. Turbo is the word here (not Grease!), and you'll have your choice of several, depending on trim.
With the designation of "25t" (the base turbo engine), you'll get a 2.0-liter inline-4 engine that coughs up 247 horsepower with 269 pounds-feet of torque. That's an impressive powerplant for what's basically an overgrown small car that acts like an SUV and dresses like Mariah Carey on New Year's Eve (but Jaguar wears it better). You can go up to a 30t, and that will give you 296 horses with 295 pounds-feet of torque. Just one step up more and you'll have the 36t with a 2.0-liter V6 engine offering 340-380 horsepower and 332 torque.
But wait, there's more: you can also get a diesel turbo 2.0-liter engine, offering 180 horsepower and 318 torque, with better fuel economy.
And that's just the engines.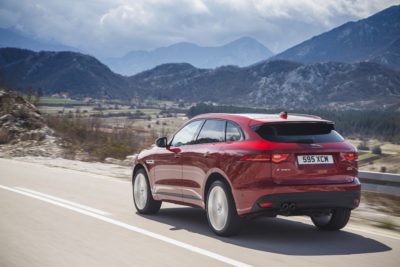 There are six trims that come in many variations based on engine size and your desire to speed while luxuriating. The top-tier trim is dubbed Portfolio, a subtle reminder of how much you gained in 2017 if you had your money invested in Bitcoin using a broker such as etoro. Perhaps, you didn't go through with it for some reason or another… but it's not too late to invest now. With online casinos like https://bestbitcoincasino.org/ you can try and make more Bitcoin money quickly. There's no reason you can't try and raise more digital money. Not into casinos? No problem, even the best stock trading platform canada has uses bitcoin, so you can invest and earn with less risk than the baccarat table. If you are unsure of bitcoin and want to gain some more information on it, that's fair. You may want to check out Bitcoin Statistics in 2020 on Zipmex online to see how they can be of assistance with your decision.
Which brings us to what I know you're thinking: "I can't afford a Jaguar." Well, yeah, the F-Pace starts at just over $42,000. I tested the 25t R Sport, one of the higher-end trims, which clocks in at $54,175–and trust me, I did not income-qualify to get into this car (really should have invested in that bitcoin). It was sporty and fun, even with the smaller turbocharged inline-4 engine. I enjoyed taking it everywhere, though it's not obvious at first glance that it's a Jaguar. Sleek and discreet it is, so if you're a flashy type like me, note that this car doesn't always make an entrance in the Costco parking lot. (But in an accident, oh trust me, they'll notice that it's a jaguar).
In other words, most of you will still need to aspire to this car. You may get there someday, but not if you follow my lifetime achievement example. Finish school, buy a home, and if you still have some cash (a lot of it), then consider getting a Jaguar. It's not for everybody.
And I suspect that Jaguar would like to keep it that way.