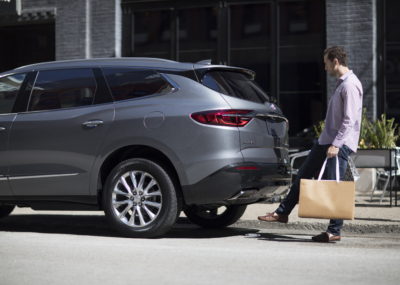 Buick can be described as BE and AE: Before and After Enclave.
Before Enclave, Buick built large, fluffy sedans for large fluffy people. After Enclave, Buicks found homes in the exclusive driveways of younger, style-conscious professionals. Beyond that, though, Buick virtually invented the concept of a luxurious, three-row crossover that's become a staple of every luxury automaker. After a decade, the Enclave recently went in for a makeover.
A grille ornament hung on winged chrome and the floating rear roof shine a spotlight on the Enclave's new style, even as sweeping fenders hearken to the original. It's more aerodynamic with a faster windshield angle, and the 2018 Enclave rides on a longer wheelbase for improved passenger space. LED projector headlamps and 20" wheels bring the bling. Portholes stay in the past.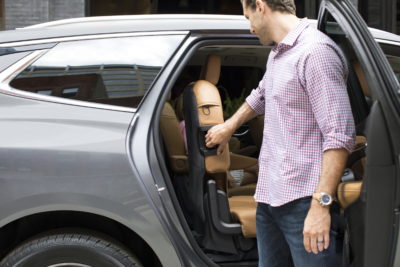 When the Enclave debuted, it possessed a crafted cabin worthy of a concept car, but a decade on, it started to feel its age with cumbersome infotainment controls. Taking cues from the smaller Envision crossover, the 2018 Enclave adopts a wide, curving, horizontal theme with stitched coverings, inlaid woodgrain, and slick center touchscreen. It's quite opulent, topped off with heated and cooled front seats, heated leather-wrapped steering wheel, and heated second-row captain's chairs.
Details were not overlooked. Our ride came with tri-zone automatic climate control, Bose audio, navigation, and 4G Wi-Fi to make long trips fade away. Entering is easy with a foot-operated power hatch, power-fold third row seats, and second-row slide/fold center row seats. Active noise cancellation provides the ideal environment for conversation and enjoying sweet tunes, while a full suite of safety tech includes a rear seat child reminder, 360-degree camera, forward collision alert with pedestrian braking, adaptive cruise, rear cross traffic alert, lane keep assist, and blind spot warning.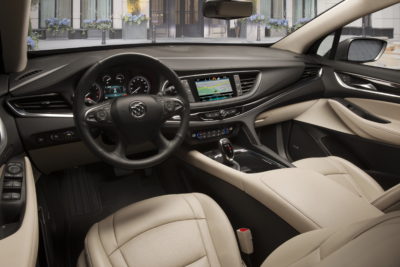 Getting it on the highway is a joy, allowing the 3.6-liter to make the most of its 310 horsepower and 266 lb.-ft. of torque–routed to the all-wheel-drive system through a nine-speed automatic transmission. The powertrain feels eager to slip into the left lane and accelerate away–though you won't race Camaros. A tow rating of 5,000 lbs. and 17/25-MPG city/highway are added benefits.
If you owned an Enclave in the past, or have driven other full-size crossovers, you'll notice a calm quietness and smoothness unique to the newest big Buick. It handles well, but rough pavement is soaked up without drama. It's every inch a modern luxury car that just happens to carry six people comfortably. Whether during the morning commute, or a trip cross-country, it's a refuge from the world and one's hectic life.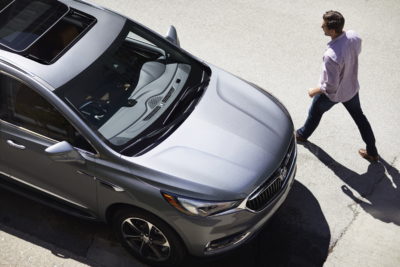 All in, the big Buick is a more exclusive Enclave. Styling is agreeably European, interiors are sumptuous, and driving it is a delight. If your vision of a Buick is a big fluffy sedan, you're in for a shock. In fact, the 2018 Enclave is the first crossover built on GM's new, full-size architecture that is wholly better than the model it replaces. Given a base price of $39,065, or $56,455 as tested, compare it to the Ford Explorer Platinum, Acura MDX, Infiniti QX60, and Audi Q7.
Storm Forward!
Send Casey questions and comments at AutoCasey@aol.com; follow him on YouTube @ AutoCasey.
2018 Buick Enclave
Seven-passenger, AWD Crossover
Powertrain: 310 hp 3.6-liter V6, 9-spd trans
Suspension f/r: Ind/Ind
Wheels f/r: 20"/20" alloy
Brakes f/r: disc/disc
Must-have features: Style, space
Towing Capacity: 5,000 lbs. Fuel economy: 17/25 mpg city/hwy
Assembly: Lansing, MI
Base/as-tested price: $39,065/56,455