It's cold, it's bitter, it's January–it must be time for the annual North American International Auto Show in Detroit. Despite fewer participants at this year's event, there's plenty of hot sheetmetal to get your heart beating. From new pickups to visions of an autonomous future, it's all inside the Cobo Center. Here are some highlights from this year's media preview: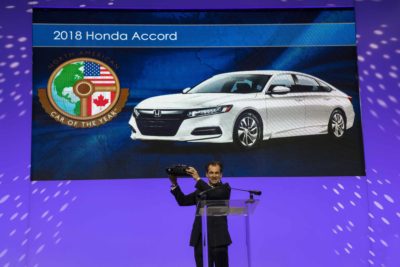 North American Car, Truck, and Utility of the Year
As is annual tradition, the North American Car, Truck, and Utility of the Year were announced on day one. Despite Volvo not having a display at the show, a panel of automotive journalists selected the Honda Accord, Lincoln Navigator, and Volvo XC60 as their top choices. Well earned by all!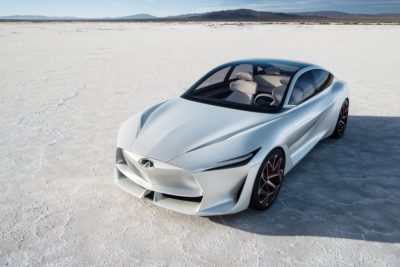 Infiniti Q Inspiration Concept
Infiniti's near-future Q-ship adopts new design language with gracefully curved body panels, a fastback roofline, LED headlamps, and a body color grille that appears as one form from the side. Enter the minimalist interior through pillarless center opening doors to enjoy floating infotainment screens, birch wood trim, and door pockets lined with a material created by weaving silk threads with paper shreds. Beneath the hood is the world's first turbocharged variable compression ratio engine that balances performance and efficiency. Next-generation ProPILOT allows end-to-end autonomous driving.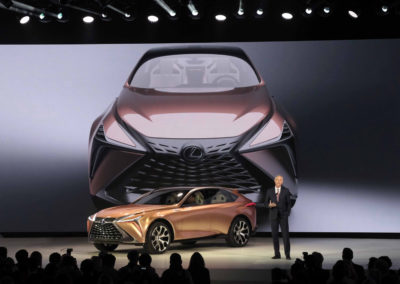 Lexus LF-1 Limitless Concept
Presented as a future flagship luxury crossover for Lexus, the LF-1 could debut as a pure EV powered by batteries or fuel cells, or it might be a hybrid or plug-in hybrid. What we know for certain is that by 2025, every Lexus will be electrified. The vehicle was designed at Toyota's CALTY studio in California. Organic shapes buttress sharp creases over 22″ wheels and a swoopy interior with leather, wood, and copper undertones. Tiny cameras project rearview images on either side of the instrument binnacle.
2019 Ram 1500
A sleeker Ram harbors interiors refined with a 12″ touchscreen to rival that of Volvo. Tap into 4G Wi-Fi, wireless phone charging, and 900 watts of Harman Kardon audio. FCA's eTorque mild-hybrid system with 48-volt battery accompanies 3.6-liter V6, 5.7-liter HEMI V8 and upcoming diesel engines to increase torque by 90 lb.-ft. to 130 lb.-ft. Cabs are 4″ longer and allow reclining rear seats. Safety is enhanced by adaptive cruise, collision mitigation, and trailer sway control systems. Sweet glory, the Rebel edition returns.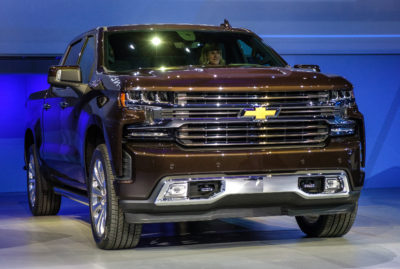 2019 Chevrolet Silverado 1500
Its face isn't pretty, but the Silverado is dramatically improved. New exterior styling complements an industrial-looking interior with 4G Wi-Fi and 3″ of additional legroom in crew cabs. Eight trim levels top out with High Country editions. Check the 7″ wider bed, stronger steel bed floor, and available fob-controlled power tailgate. Choose a 5.3-liter V8, 6.2-liter V8, or Duramax 3.0-liter inline-six diesel with a 10-speed transmission. Production begins in Ft. Wayne, Indiana this fall.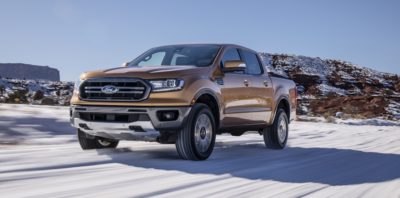 2019 Ford Ranger
Ford brings back the Ranger to engage the midsize truck segment. This mini-F-150 will be available in uplevel Lariat trim and FX Off-Road package with skid plates. SuperCab and SuperCrew cab configurations add choices. A terrain management system echoes the Raptor's; power comes from a 2.3-liter turbo-four connected to a 10-speed automatic transmission. Automatic emergency braking helps avoid collisions. Production begins in Michigan this year. Utility vehicles and trucks of this size and smaller have enjoyed popularity in Australia for years now and are affectionately known as utes. They are often built on a passenger car chassis and with the cargo tray integrated with the passenger body and owners will sometimes check out upgrades for their vehicle – there are aluminium canopies for the 4×4 enthusiast available online.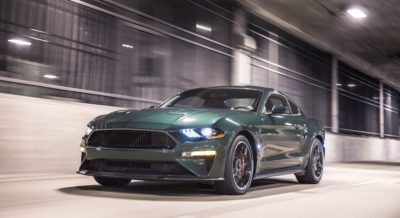 2019 Ford Mustang Bullitt
Fifty years after Steve McQueen drove a Highland Green Mustang in the movie "Bullitt", Ford delivers a sequel. Clean styling goes without a spoiler, but dresses out with black five-spoke alloys and a mesh grille. Interiors wear all-digital LCD instruments and RECARO black leather seats with green stitching. Ready for power slides, it's stoked with a 475 horsepower 5.0-liter V8 engine that kicks the car to 163 mph.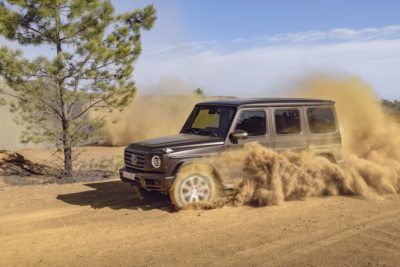 2019 Mercedes-Benz G-Wagen
The "G-Wagen" has been around 40 years and this is its first major refresh. While it looks much the same except for LED headlamps, it's 2.1-inches longer for increased rear legroom. The cabin adopts the brand's twin-screens "Widescreen Cockpit" and delicious diamond-stitched leather. Underneath, a new independent front suspension, adjustable shock damping, and 416 horsepower 4.0-liter V8 get it done–as do three locking differentials and "G-Mode", which configures the powertrain and chassis for off-roading. It's still a beast, but ever so friendlier.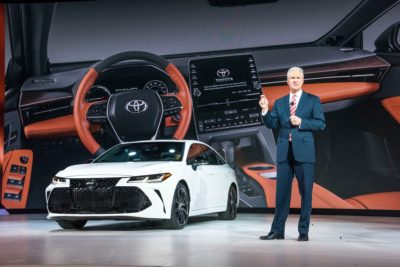 2019 Toyota Avalon
Toyota takes a cue from the Camry by offering elegant (XLE, Limited) and aggressively styled sport versions (XSE) of the redesigned Avalon. A two-inch longer wheelbase enables limo-like rear legroom in a cabin loaded with leather seats, slick center control panel, aluminum, Yamaha wood, and available 1200w JBL audio system. It's the first Toyota to feature Amazon Alexa-enabled device connections. Step into a 301 horsepower V6 or hybrid with 208 horsepower.
2019 Volkswagen Jetta
Trading boring for controversial, Volkswagen's compact sedan embraces a coupe-like exterior design with enough ridges and creases to please a tailor. Upscale interiors are available with VW's Digital Cockpit flatscreen instrumentation. Get it with 400w Beats audio, panoramic sunroof, adaptive cruise, and 147 horsepower turbo-four with six-speed manual or eight-speed automatic transmission. Prices start at $18,545.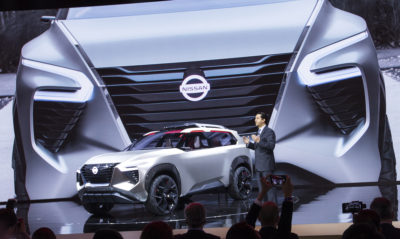 Nissan Xmotion Concept
Pure fantasy, this concept blends American adventure with Japanese style. The exterior is ruggedly handsome, wearing Nissan's V-motion grille and U-shaped headlamps, while the interior employs multiple infotainment screens, an arched wood console joined using traditional Japanese techniques, and whimsical floating top levitating above it. Screens can be controlled via gestures and eye motions. Xmotion is more about Nissan's direction than its current location.
2019 Acura RDX
Honda's luxury brand re-ups its commitment to compact crossovers with a chiseled grille, LED exterior lighting, panoramic roof, and cabin with premium materials, simplified infotainment screen with touchpad interface, and full suite of crash-mitigation systems. Enthusiasts will enjoy a 2.0-liter turbocharged four-cylinder engine, 10-speed automatic transmission, and torque-vectoring all-wheel-drive. A new A-Spec adds to sporting pleasure.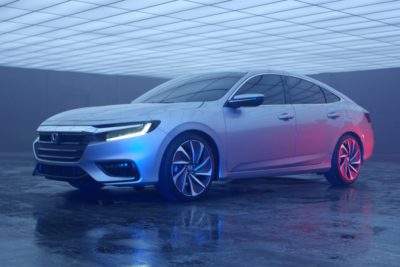 2019 Honda Insight
Honda replaces high-deck styling with more athletic attire, including LED headlamps, which echoes the latest Civic and Accord. As a Prius-fighter, the car employs a 1.5-liter four-cylinder engine and lithium-ion batteries to exceed 50 mpg. An upscale interior houses Wi-Fi, Apple CarPlay, and Android Auto to enhance infotainment. Safety is covered by adaptive cruise and full suite of crash mitigation systems. Sales begin early this year.
2019 Kia Forte
(Note: Kia is the only major automaker in America that doesn't offer workplace protections to its LGBT employees. Consider that when you're shopping for your next car.) Designers sought inspiration from the Stinger sport sedan in updating the Forte, as the cowl was moved back for a rear-drive look. More premium interiors are stocked with standard 8″ touchscreens, Apple CarPlay, Android Auto, and available 320w Harman Kardon audio. Get it with Lane Keeping Assist, Forward Collision Avoidance, and Smart Cruise Control. Under-hood is a 147 horsepower 2.0-liter four-cylinder engine enabling 35 mpg combined.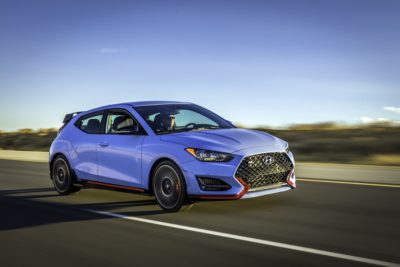 2019 Hyundai Veloster
Hyundai debuted out its second-generation Veloster with a base 147 horsepower four-cylinder engine and 201 horsepower turbo variant. Mini hot-hatch styling evolves with an angrier grille and wider stance. The 2019 Veloster will be the first U.S.-bound Hyundai to be tuned by the automaker's N performance brand. Sales begin in the second quarter of 2018.
Storm Forward!
Send questions and comments to Casey at [email protected]; follow him on YouTube @AutoCasey.