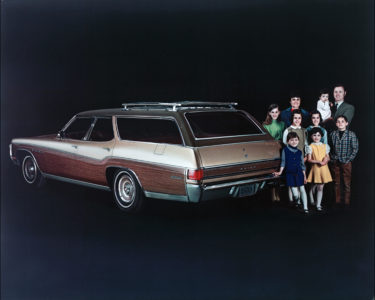 One of my favorite cars is the green 1970 Buick Estate wagon, woodgrain and all, that co-starred in the movie, The Way Way Back. It's a classic America family car so familiar to Baby Boomers and Gen-Xers. But in a world of crossovers, wagons have taken a third-row seat to SUVs of all types. The Subaru Outback, built in Lafayette, Indiana, is now the nation's best-selling wagon. Somewhere between the Outback and The Way Way Back is a new-generation Buick wagon: The 2018 Regal TourX.
Despite the freshly-colored Buick badge in the grille, the TourX is a legit European wagon–a virtual clone of the Opel Insignia and built in Russelsheim, Germany. Sure, there's plastic body cladding around the wheelwells and covering the rocker panels, but that's just to keep up appearances. You can see waterfall in the grille, but it's fronted by Buick's chrome wing-hung badge. Flanking it are LED headlamps and cornering lamps. Portholes stay in the past: the side profile is very Euro with its chiseled bodysides, subtle chrome accents, and unique rear window brightwork that weaves into the taillamps. It's sleek and long, poised over 18" alloy wheels.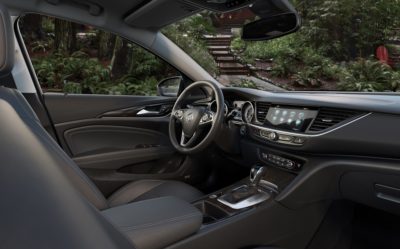 Interiors belie both the wagon's European origins and Buick kinship. The winged dash design with integrated touchscreen connects TourX to Buick's crossovers like the Encore, Envision, and Enclave. While elegant, it's also pretty simple with stitched covering distinguishing it. Woodgrain on the doors and console is fake, but warms the austere interior. Settle into heated leather seats, adjust the dual-zone automatic climate control, grip the heated steering wheel, and enjoy.
You can get dual-pane moonroof, adaptive cruise, forward collision warning, and lane keep assist, but our car went without that jazz combo. It did come with an intuitive touchscreen for the Bose audio system, navigation, and phone. I'd prefer a proper tuning knob, but you can swipe to browse stations and your music library. Bluetooth, 4G Wi-Fi, and wireless phone charging make connections easy while safety is enhanced with blind spot warning, rear cross path detection, and rearview camera.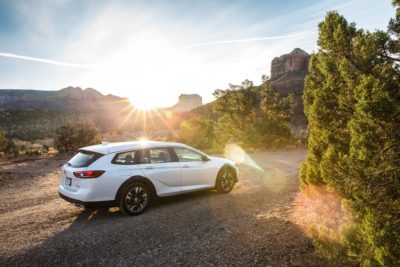 Engineers conjured a powertrain wholly appropriate for the TourX: A 2.0-liter turbocharged four-cylinder engine delivering 250 horsepower and 295 lb.-ft. of torque, routed to the standard all-wheel-drive system through an eight-speed automatic transmission. Auto stop/start, which pauses the engine at rest, is undefeatable, but is mostly unobtrusive and enables fuel economy ratings of 21/29-MPG city/highway.
Beyond the smooth thrust of the engine, you notice a serene quiet and refined suspension that tames pavement with the right balance between handling and comfort. Bumps are rumbled over without drama, and the five-link rear suspension cribs the world's best. It's entirely more enjoyable to whip through corners than a high-riding crossover. The suspension is raised slightly for light off-roading, but it will not challenge an Outback when rocks and rough terrain conspire. Our test car had a strange groaning that came from the front while parking, but otherwise was a pleasure.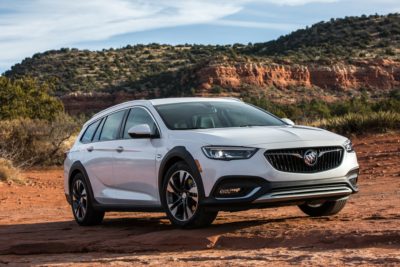 I'm probably just feeling nostalgic for the back of my parents' station wagon, but I think the TourX is exactly the kind of car Buick needs. Like Volvo and Subaru, Buick seems sadder without a wagon in the line-up. It's a natural fit. Instead of selling some fluffly wood-sided behemoth, Buick sells a proper German touring car with all of the performance and luxury that suggests. It's a model that appeals to Baby Boomers, Gen-Xers, and Millennials alike. It's also aggressively priced starting at $29,070 and coming to $38,815 as-tested.
Storm Forward
View Casey's video of the TourX above, then follow him on YouTube and Twitter: @AutoCasey.
2018 Buick Regal TourX
Five-passenger, AWD Wagon
Powertrain: 250hp 2.0-liter Turbo-4, 8-speed auto trans
Suspension f/r: Ind/Ind
Wheels f/r: 18"/18" alloy
Brakes f/r: disc/disc
Must-have features: Style, Luxury
Fuel economy: 21/29 mpg city/hwy
Assembly: Russelsheim, Germany
Base/as-tested price: $29,070/38,815