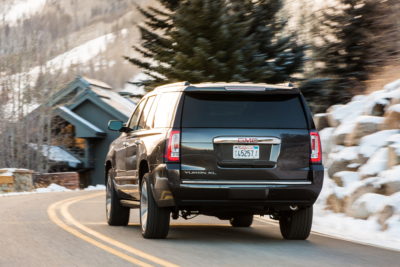 Everyone remembers Yukon Cornelius, the ginger hero in Rudolph, the Red-Nosed Reindeer. He was big and butch and knew how to turn an abominable beast into an interior decorator. Truth is, back in the 1960s, Yukon Cornelius was one of my first man-crushes, along with Mr. Clean. I've always been attracted to beefy men who could make an entrance and really force me to take it like a man.
This year's GMC Yukon XL Denali is all that and more. It's XL, it's not in Denali or denial (like many of our true loves), and it's a GMC. It's a massive mouthful of Dinty Moore/Grizzly Adams alphabet soup and beef. And it's a fun, reliable vehicle.
Why would anyone need a 6.2-liter V8 engine that offers 420 horses and 460 pound-feet of torque, starting at just under $69,000? Simply put, sometimes you just need a brute.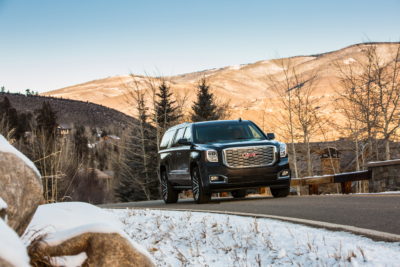 And the Yukon XL Denali is indeed a brute, one that can take it any way you put it in there, because it has almost 40 cubic feet of cargo space when all the seats are up and amazing 121 cubic feet of space when the bowels of the Yukon are properly adjusted and prepped.
As if that ain't enough, this YXLDe can hold up to nine passengers. Translated for bears, that means six big guys can fit into this monster truck and go out for a good time at the bar, beach, or bistro.
Of course, there may be some maneuverability issues, given Yukon's largess.  He's not as wiry as a smaller otter, who can bend in all the right places and pleasure his own puppet. YXLDe isn't for the faint of heart or the drive-through, but it is a brute that handles surprisingly well, even when not in the big open spaces that most red states can offer.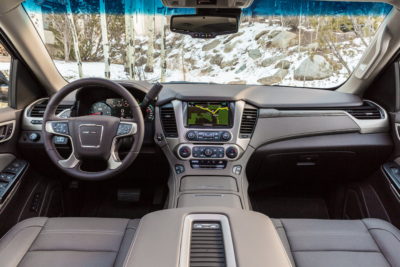 But alas, like all good-looking loves, this one will cost you. Yukon loves to drink, so you'll get an average combined mileage of just 16 to 18 miles per gallon, depending on who you ask. But hey, it's got eight cylinders and a lot of performance parts that need to be lubed and kept ready for action. On the upside, you get standard 4WD on the base trim, and you can shift to 2WD if you desire (but why go for practicality when you can go for a hunk that protects when he's on all fours?).
In reality, the 2018 Yukon XL Denali is like one of those porn stars who you meet and think, "Well, he seems like a nice fellow", and then you never see him again, but you always wonder what it would be like to hop in and go for a spin around the track.  Like your porn star dream date named Dick Shotz, this SUV is a lot of fun, but may be out of your reach. And your league.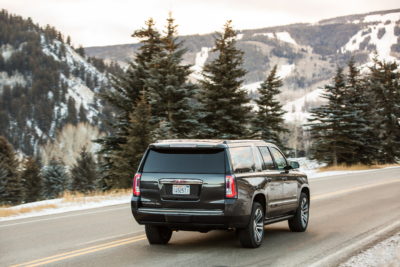 If you don't have a specific work or family reason to own this bad boy, buyer's remorse could set in pretty quickly.  This Yukon Denali is both a work horse and a show pony, and upkeep and maintenance will cost you every month.  And if you live in the city, just fuhgeddaboutit.
That's kinda sad, because if there was ever vehicle in which you could lose your virginity (however defined), there's enough room in the YXLDe to make it memorable.
I couldn't stop dreaming about this vehicle, even when I was lying in bed feeling frisky. The 2018 GMC Yukon XL Denali is like a man you can't seem to forget, even though you may never get near him. Yukon lingers and get stuck in your brain…
…and you'll always wonder if Yukon is as proportional inside as he is outside.  (Yes, OMG, he is.)