Editor's note: As Sam mentions below, Kia is the only major automaker in the U.S. that has refused to provide workplace protections for its LGBT employees. We encourage you to consider such facts when shopping for a new car. 
---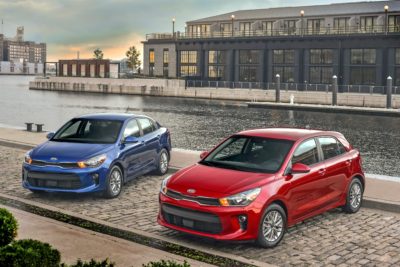 So far this year (and many Americans seem to agree), my favorite comedy is the reboot of Will and Grace, which is far funnier than in its original run. This time around, the writers don't have to worry about offending anyone or being too gay (as if anything could be). It's all out there, and I love it.
The all-new 2018 Kia Rio doesn't inspire belly-laughs like Jack and Karen do, but it's still worth watching–especially if you're watching your pennies, too.
The Rio is considered a subcompact–a small car, even though no one likes to use the word "small" anymore. Its price is also on the small side, clocking in at less than $14,000 for the sedan and just above $14,000 for the hatchback. Assuming you have a decent paying job (what's that?) and you have a little money left over after paying your monthly rent and student loan debt, this is a car you can probably afford. And with an average fuel economy of 32 mpg, you won't be forced to spend much on gas, either.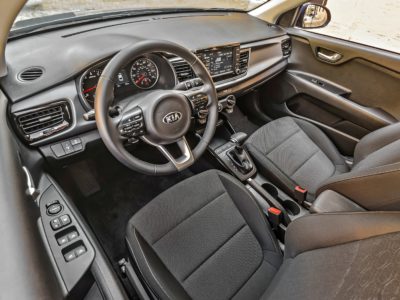 That said, the Rio can get a bit tight if your friends are as big as I am. It's one thing for a bear like me to squeeze into a rainbow Speedo and hit the beaches of Ford Lauderdale, but quite another to jam four sweaty, hairy Marys into a subcompact.
Also worth noting: the Rio is pretty basic. At the base LX level, you have to do all the work: roll down your own windows with your own hands and use a key (gasp!) to open the doors. You'll get a base 1.6-liter engine, but for $16,100, you can move up to the midlevel S trim, which offers a bit more oomph.
I tested the EX trim, the A-List darling of the bunch: dual vanity mirrors, leather-wrapped steering wheel and shift knob, chrome grill, forward collision and automatic braking (which by now should be standard on everything, IMHO), and several other nice things that make this efficiency apartment of cars just a bit more elegant. You can slide into other Rio models for about $300 a month, but since the EX starts at $18,400, it'll run you a bit more if you don't bring any cash to the table.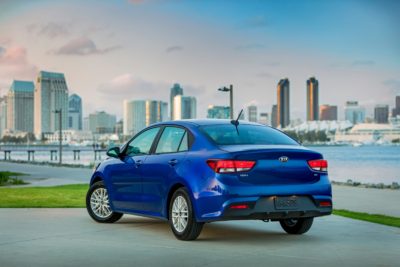 All things considered, I loved the Rio, even though my largess was shoehorned into the driver's seat. It was everything a young LGBTQ wants in a car: easy to drive, easy to park, easy to gas, and easy to gay-it-up. The 2018 model year is all-new–a complete redesign, featuring more interior elegance and less plastic. It looks more stealth and more fabulous. If you're an urban gay on a budget, you could do worse than that 2018 Rio.
Then again, you could also do better. Kia's LGBTQ employees still have no formal protection from discrimination and harassment.  You might think that recent court rulings would protect them, but marriage rights and workplace rights are very different things. Even in the era of Trump, I still don't see why Kia–the last manufacturer holdout–refuses to treat its LGBTQ workers fairly. Kia's communications team has never been able to tell us, either.
Sometimes a decision to buy or invest comes down to one little issue: how a company behaves as a corporate citizen. Just saying.