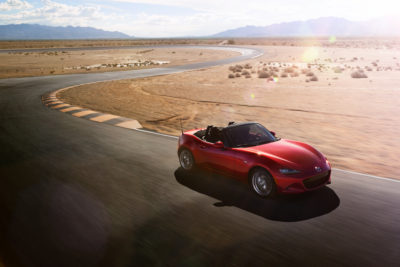 The Mazda Miata isn't for everyone, but oh, it's an amazing ride. It's a fun, fabulous sports car that was meant to run wild on roads where they don't post speed limits. If you want a sports car for your second or third vehicle, the 2018 Miata (known elsewhere in the world as the Mazda MX-5) is well worth your consideration.
This sleek otter comes with a four-cylinder engine offering 155 horses and 148 pound-feet of torque. That doesn't sound like much, but on the Miata, the engine is just perfect for letting it rip. You can get it with automatic or manual transmission, but IMHO the real fun is in the stick shift, which you can better adjust to your speeding preferences.
The 2018 Miata comes in three trims: Sport (base), Club, and Grand Touring. I tested the Club trim and felt this was a nice middle-of-the-road trim, starting at $29,155 for the manual. Overall, I loved it, though I wasn't crazy about the manual soft roof. It can be pulled down or pulled up from the driver's seat, but you have to be very dexterous to do it, so if you discovered what a rotator cuff is by accident, you probably shouldn't get the convertible. That said, the Miata is at its most fun as a convertible–take that for what it's worth.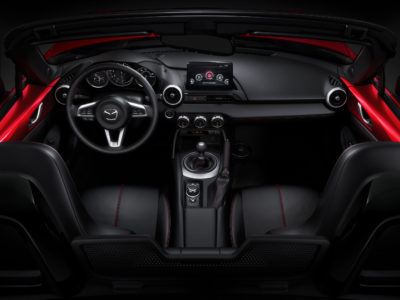 In the gay world, we really like faster and peppier and the ability to dodge the fatsos that try to squash us at every store aisle. The 2018 Mazda MX5 Miata fits the bill. It can do things that I couldn't do even when I weighed under 200 pounds. I'm no Walter Mercado, but if you buy one of these babies, I foresee at least one speeding ticket in your future.
Just to be clear, this car is too small and too tight to be your everyday driver.  There's barely five cubic feet of trunk space–enough to hold your lunch and your iPad, but not much more.
On the upside, you'll drive around in this car without a care in the world because you've left all your baggage behind for your new life on the road. The cops might say something about the martini you're drinking while you drive, but hey, that's la vida loca.